Meet the Referee - Sean Davey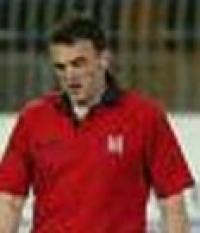 By Mark H
April 21 2005
Any regular visitors to the message boards of SportNetwork's rugby sites will have noticed a growing trend amongst the posters - more and more referees (and people connected to them) are cropping up to try and put us all right on the laws of the game.
With the news a week or so ago of Wayne Barnes becoming the sixth full time referee, we suggested on the message board that some of the referees may like to give us an interview, and were quite surprised by the response.
For those unaware of the refereeing structure at the top level, there are six full-time referees (Dave Pearson, Chris White, Tony Spreadbury, Roy Maybank and Steve Lander, with Wayne Barnes joining them earlier this month), and eight part-timers (Ashley Rowden, Geraint Ashton-Jones, Rob Debney, David Rose, Martin Fox, Robin Goodliffe, Steve Leyshon, and Sean Davey). No-one from outside this group can referee a ZP game. These are the men who get their ears blasted every week by someone, whether they be supporter, player, or Director of Rugby.
We start, therefore, our series of Meet The Referee with one of our locals. 40 year old Sean Davey is just completing his second season as one of the "elite" referees who take charge of Zurich Premiership games, and took charge of our game at home to Quins back in September, awarding Falcons a penalty try in the 22-21 victory, as well as the 25-all draw at home to Leicester last season.
Sharing his Ashington birthplace with Jackie Milburn, the Charlton brothers and fellow referee Dave Pearson, Sean lives in Sussex and teaches Geography and PE at Christ's Hospital in Horsham.
How did an Ashington boy and "Geordie through and through" come to be a teacher at "Christ's hospital"?
Don't worry, my mam doesn't let me forget that I'm an Ashington lad!
The root goes back to University. I met Julie (my wife) and as she is from Kent I looked for my first job near her. Having taught in Ramsgate and then Bedford, the Head of Rugby post came available at Christ's Hospital and the rest is history. I remember having to tell my dad that it was a public school (shock/horror), but when I said it was for kids from underprivileged backgrounds he was happier. You see, my dad is Councillor Michael Davey, Leader of Northumberland CC and Labour through and through! It's tough on my mam and dad, but we are in the North East regularly and own a flat in the city.
Have you ever played the game and at what level?
Yes, although coming from Ashington, everyone wants to be a footballer! I was lucky as at Ashington High School (formally Grammar) they had a tradition for both rugby and soccer. We played midweek soccer games and Saturday morning rugby games. When I was seventeen I remember that in addition to school, also playing Ashington Colts rugby in the afternoon and then Sunday league football!
Frankly, I wanted to be a professional soccer player. I was offered an apprenticeship with Southampton, but my dad wouldn't let me give up my studies; then I spent a month as a trial professional with Sheffield Wednesday, living in Barnsley with "Big Jack" himself. Jack Charlton was straight with me and that University was the best thing for my future. Meanwhile, I soon got fed up with football at college, and went back to my rugby and have played ever since. From Durham University, I played a season for Thanet Wanderers in Kent and then played several seasons at Bedford RUFC, which were a big club then and were in the top league when it all began. I've played in several representative teams (British Colleges, English Students, Sussex County, CLOB).
I'm the only current Zurich referee that has played first class rugby.
Sean refereeing Italy A versus France A earlier in the season.
How did you get into refereeing?
Being a sports teacher you have to pick up the whistle and ref school games. In that respect, I've been reffing ever since I became a teacher. When I stopped being Head of Rugby at Christ's Hospital, a number of people from the RFU encouraged me to take up the whistle more seriously. Frankly, I still wanted to play rugby but they were persuasive!
Can you describe a part-time referee's typical week?
Difficult! I work in a busy seven-day week boarding school and have numerous responsibilities. I have to fit in my training (less of a problem when your involved with sport) normally at lunchtimes, coaching meetings with my mentor Brian Campsall, video analysis, evening society meetings, healthy eating etc. I tend to organise my day/week very carefully and spend a large amount of time on my preparation. I don't see myself as part-time as my time and effort is substantial and professional. The drawback with this and the amount of travel involved, is the lack of time for rest. Having school holidays is my lifeline!!
Who would you regards as:
a) The best ref ever - Tough! I was always a huge fan of Clive Norling, the real one that is!!
b) Currently in Europe - Although we have Whitey and Spreaders, Alain Rolland is fast up on the rails.
c) Currently in world - The three above, but I would add Paddy O'Brien.
d) Zurich - I know this might upset some, but for me the most consistent referee over the years i.e. you know exactly what you've got and what you're getting (from a players and DoR point of view) is Steve Lander!
Are some teams more difficult to ref than others? If so, why?
All teams in the ZP can be difficult to ref. Early season, they all play like headless chickens, and at the end of the season they play as if their lives depended on it. So, every game brings potential difficulty. Some teams allow their fans to wind them up, some teams/players wind each other up, others have big personalities/egos and have unreal expectations, and some have DoR's who put them under too much stress. All teams can experience this. My biggest beef, is when you are trying your utmost to help/manage the players and the match by good verbal instruction and preventative refereeing, they don't listen or rather choose not to heed your advice and then get upset when you penalise them! I privately call them "mugs", but I'm sure they have other words for us!
Who are the hardest players to referee?
The ones that don't listen!
Why do referees allow players who are not the Captain to continuously backchat and "advise" the ref? The extra 10 yards for dissent is rarely used these days but back-chat has proliferated.
I am coached to operate with the Captain on queries, although we agree to do this at "down time" and not as the action is happening. Often we may have the culprit with us as well, but the aim is for the Captain to regulate the behaviour of his players. We've got to be careful here not be too aggressive and unapproachable. I don't mind explaining decisions, if I have the time, as the game is all about the players. Players can be emotional but there is a clear difference between this and being abusive. In my opinion, abuse is very rare and most players behave professionally. However, I do agree that we need to maintain the integrity of rugby and respect for officials as without it we are doomed as a sport. Interestingly, there are several current players who I have coached, like Andy Gommarsall, therefore telling them off is easy as they're used to it! As for 10 yards, I remember Ed Morrison telling me that it reflects badly on the ref as it is because we have failed to manage the situation!
Do refs look at the video of their games to see where they may have made the wrong decision?
Yes. Believe me, our performance is analysed! We receive copies of the game within 36 hours (DVD's now!); we study them, as does the assessor. Brian Campsall and I will review the games each week and we'll have feed-back from the DoR's to consider. The process is a professional one and we are open to constructive criticism. Like players, we want to continue doing the things we do well and strengthen areas of weakness. It is vital that reflection takes place after a period of time so that reasoned discussion can occur. More and more, the DoR's appreciate the need for them to reflect and take emotion out of it, although sadly, there are some more professional than others.
Just about to award Falcons a penalty try, versus Harlequins, 19 September 2004
Do the ZP refs ever meet and discuss/agree on interpretations?
Yes! In fact I was at one last night. We meet formally as a whole group about 6-8 times a season (including fitness tests). Moreover, we have a conference call most Monday mornings, and also receive e-mail directives on a regular basis. You will appreciate that we all are in contact with each other and share experiences.
However, you will never produce robots, as we all have individuality as well as varying levels of experience. Moreover, every game is different and the contexts vary, so skill is a key factor and, therefore, management styles are flexible. Nevertheless, an example would be at the tackle where ZP referees tend to give more penalties for the 'tackler' not adhering to law than the tackled player.
If offered, would you go full time and why?
I think the future will see all referees at this level being full-time. Each season the pressures of Zurich increase. However, the decision is difficult as it is life and career affecting. I suppose I am fortunate in that I have a profession to fall back on and a very supportive family. Let's wait and see.
What's the hardest match you've had this season?
They are all hard! Lately, I suppose the Leeds v Leicester game which was 23-22 to Leeds. Early on in the season Newcastle v Harlequins was pressurised! Both had very tense endings.
Another shot from that Quins game
How do you handle criticism from:
a) Assessors - I don't see their input as criticism, rather that they have added a different perspective to the performance, allowing me to reflect. Spreaders has always told me to take note of the points you think are helpful then throw the report in the bin!
b) Directors of Rugby - yes, a strange breed! No, on the whole they are very supportive. You learn to listen to the wise one's i.e. those that are very experienced and professional in their actions/dealings. If a DoR rants after a game (very rare actually), I ignore it totally, as they have lost the plot in more ways than one. It will come as no surprise to you that they often change their views once they have looked at the video! Saying that, we are open and we regularly discuss points and aspects of a game with the DoR's midweek in a professional manner, as it should be.
c) Supporters - Comes with the territory. Everyone is allowed an opinion in my book. I remember being the ref one week at Gloucester, and the Shed giving me some grief as a few penalties went against them. Two weeks later I was there as reserve ref for Roy Maybank (who has a love/hate relationship there). Anyway, as I ran for my pre-match jog along by the Shed someone spotted me and boos and whistles followed (mind you putting my hand up against my ear didn't help things!). Soon after, Roy strides past to applause and cheers. Roy still owes me for that!
What is the funniest comment I've heard from the touchline?
I was the referee for a match at Leeds when a favourite of yours, Tommy Tightpants (John Pearson) was my TJ. At a lineout, a Bath fan shouted out, "Hey Touch Judge, when was the last time you saw your feet?!"
What's the biggest mistake you've made as a ref?
Trying to get a word in to a one-way conversation with Rob Andrew, after the Newcastle-'Quins game!
What is the most embarrassing thing that has happened to me on a pitch?
Easy. France v Ireland Ladies International, I had my arm in the tunnel of a scrum before engagement when the French team pushed early with the front row standing up. Alas, the Tight-Head Prop (deliberately) forced her breast into my hand bringing several comments, which I can't repeat in French, and plenty of laughter!
What else can be done to improve the supporter's knowledge of the referee's role and vice versa?
There are a number of ways to help, some of which already occur. I feel the clubs themselves have a responsibility and should use the 'programmes'/website as a tool. You could have a referees page in it? There are many good websites that instruct, my favourite being 'Planet Rugby'. Meanwhile, club nights go down well with the committed supporter. Moreover, you can link up with refs on your own websites - I know from experience this seems to be welcomed.
The message is, unlike soccer, we are all in this together and we all need to be relaxed with that that. It's all about building relationships and working together. I'm happy to get involved face to face with the fans. However, my one concern as that with the rise in crowds and 'new' fans taking an interest in our great game there are 'soccer' elements emerging. These are the fans that need targeting in terms of education and support.
Do you ask touch judges to do anything else but mark touch and watch for foul play?
These are their primary responsibilities. Other than that we welcome any trends they may see e.g. off-sides, binding issues etc., but this is advisory only. It is important that the referee referees the game. Saying that, it's useful having someone on your blind-side to spot a knock-on etc. Meanwhile, I do feel happier with a TMO, although I think we should use the technology further.
What would you do in Rob Andrew's shoes this summer?
It's not for me to tell RA how to run his club. However, the potential in the North East is great and Newcastle is a fantastic city and region with huge potential. From my experience, any club will achieve limited success unless they have a pack to sing about. From the chalk face, it is clear to me that if you have a front five that can match or dominate opposition, then you have a realistic chance of becoming one of the best. As Sale are realising, you have to buy wisely and it is no surprise that they've just signed a new prop from France! Finally, I would advise Rob to enjoy his summer holiday.
Finally, do you get mistaken for Dave Pearson?
You've got to be joking. Look at the facts. I'm taller, fitter, leaner and more handsome. Moreover, I was born and bred in Ashington and attended Ashington HS whilst he is from Stakeford (South of the Wansbeck) and went to Bedlington HS. Come on please, these are major differences where I'm from!!
Dave's a top bloke, we get on well and I'm thrilled that he's got his first major International.
Many thanks to Sean for sparing us the time, and for providing us with his photos from the Italy A - France A match.