Falcons At 10 - 2000/01 Review - Our Cup At Last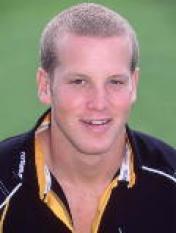 Always, THAT try
By Mark H
August 3 2005
After the calamity that was 1999/2000, Falcons would start the first full season of the millennium with four home games in the first five, and a great deal of changes.
Liam Botham had already signed at the end of the previous season, and was joined by back row forwards Jim Jenner (Worcester) and Andrew Mower (Irish), Tongan international centre Epi Taione (who had helped Tynedale to a 22 out of 22 win record in winning North One), and new full-timers Jamie Noon, Tom May, Dave Walder, Michael Stephenson, Hall Charlton, Allen Chiltern, Gareth Maclure, Mike Howe and Ross Cook.
Unfortunately, there were exits as well, the main ones being Peter Walton and Stuart Legg, both part of the championship winning side. In Walton's case, he was advised to retire by the specialist after neck surgery; for Legg, the chance of a new career and life in Biarritz (and how good it was to see him still playing Heineken Cup rugby last season at Treviso).
Another new points system came in (four for a win, two for a draw and bonus points for four tries or losing by seven or less points), and the season started at home to the European champions. Northampton were sent back south on the back of a 27-20 defeat, but the visit of the premiership champions saw a 25-22 home loss. A win at Heywood Road was followed by defeat at home to Gloucester; a home win followed by an away loss at Bath. The inconsistency problem had still not been sorted out.
And then, a chink of light. Wasps, so often the thorn in Falcons' side since Rob Andrew came north, turned up at Kingston Park with the Sky cameras in tow looking for a fifth consecutive win. The Newcastle response was dazzling. John Leslie put Falcons in front early on with a try set up by Jonny Wilkinson, Kenny Logan scored two tries in three minutes in response, Gary Armstrong went to the sin bin, and it looked like the same old story – plenty of promise, but falling off the game at the vital time. Noonie scored a second try just before half time to snatch the lead back, and then Falcons ran riot in the second half, scoring four tries to take the game out of reach. Wilkinson's scissors pass put Botham over; then Armstrong somehow stole the ball from the back of a Wasps scrum to go in from thirty metres; Armstrong took advantage of a Trevor Leota fumble to run in another; and finally Botham intercepted in his own 22 to make it six tries in all, and a 59-21 victory to which Wilkinson had contributed 29 points.
Andrew's post match comments of "…I do think we are not far off the Baths and Leicesters of this world, the players just have to believe it themselves, but it's no good just winning today, you have to do it next week, next month, next season" could be seen as slightly fanciful, with the side having won just ten of the previous thirty league games, but there was no doubt that the team were growing up together and developing into a better side.
September ended with the eighth league game of the season, and a 20-18 win over Quins at the Stoop to go into third place. As we'll see later, the biggest margin between the two sides in their four games of this long season was just five points, and the games would get more thrilling.
Europe now took over, with Falcons drawn in Pool One of the European Shield, with Treviso, Begles-Bordeaux and Cross Keys. No-one though would have expected it to go so badly wrong so early, with the trip to Italy in the first game ending in a 28-15 defeat. Immediate rectifying work needed to be taken, and the following Sunday it was, with what remains today the club's biggest European win, 99-8 over Cross Keys. Fifteen tries were scored by nine different players, with Botham getting a hat trick whilst Dave Walder kicked twelve conversions (as well as scoring a try). Victories over the French side 26-18 away and 39-15 at home left Falcons in second place in the pool, two points (but with a vastly superior try count) behind Treviso. The return game at Kingston Park in round five would decide the group.
Before that though, two more weeks of cup ties had to be got through before the league restarted. The fourth and fifth rounds of the Tetley's Cup were scheduled for consecutive weekends, and both were successfully negotiated, a 25-13 win at Rosslyn Park being followed by a 32-16 win over Bristol in one of the four all-Premiership clashes.
When the league restarted on 18 November, a full seven weeks after the Quins victory, the momentum that had been built up was thrown out by an indisciplined performance in the lunchtime kick off at Northampton. Tom May was binned within six minutes for preventing a quick tap penalty, and the understrength Saints side – the match was missing a total of twelve internationals, most on the home side – took advantage by going in 13-6 up at half time, and extended that to 20-6 just four minutes after the break with a rare Andy Newman try. Richard Arnold had come on at half time for Rob Devonshire, but only lasted six minutes before he was binned for killing the ball under his own posts. Just ten minutes after his return, he took an even longer walk, throwing a punch at Mattie Stewart in full view of Robin Goodliffe. In all, Falcons played with 14 men for 34 minutes of the game; you have to ask, if the discipline had been better, would the result have been different? May and Inga Tuigamala scored late tries, but a missed conversion from Walder meant that there would be no bonus point from the 26-18 defeat. From that point on, the season took a very lop-sided look – couldn't lose at home, couldn't win away.
All of the old inconsistencies were back. A 32-27 win over Sarries at Kingston Park was followed by a 19-17 Tuesday night loss at Irish, a 27-14 defeat at Bristol, and in the last game before Christmas, a 28-13 downing at Kingsholm.
In between the Irish and Bristol games though was what was increasingly looking like the best route to a trophy. Irish came to KP with the winners knowing that they would play Sale at home in the Tetley's Cup semi-final, the winners of that to play Leicester or Harlequins. The 33-20 home win started to make people dream of another trip to Twickenham. The final match before that semi-final came two days after Christmas with a home win over Bristol in the rapid return fixture. The stage was now set for something special.
Lunchtime kick off, Sky cameras, and a record crowd of 6,257 shoehorned into Kingston Park. Surprise selection Charlie Hodgson kicked Sale in front at the second attempt, but once Wilkinson levelled on 11 minutes, Falcons killed the game off in an electric fifteen minute period. Ross Beattie crashed through some very poor defence to score the first try; Wilkinson converted, kicked two penalties, and after Steve Hanley had been penalised for not releasing the ball, Walder caught Sale off guard with a quick tap to send Tom May racing past a sprawling Vaughan Going to score the second try. The Wilkinson conversion made it 23-3 just 25 minutes in – dreamland! Hodgson pulled seven points back, converting his own try, and in the last action of the half, Richard Arnold was sent to the bin for stamping on Mel Deane.
Wilkinson stretched the lead just after the break, before the combination of Tuigamala and May combined to extend the lead into a winning one. Inga dumped Going on halfway, and as Bryan Redpath tried a kick clear, may caught the ball from no more than two yards away and outpaced three players to extend the lead to 31-10. JW missed the conversion, but his penalty shortly afterwards sealed the win – even late tries from Duncan Bell (described in one report as scoring "with a slow motion dance") and Steve Hanley couldn't spoil the party atmosphere and a final penalty made it 37-25. For the second time in three seasons, Falcons were into the cup final.
All eyes now turned to the Stoop, and the inevitable Tigers win Wrong. Inspired by Will Greenwood against his old club, Quins made it through to the February final. Time now to forget the final and push on for qualifying for the Heineken Cup through the league, but first, Europe called again.
The match against Treviso was really the pool decider. With a trip to Cross Keys to follow, Falcons knew that with two wins, coupled with that superior try count, would mean that they'd make it through to the quarter-finals for the second season running. The 30-19 victory over Treviso was hard-fought and closer than anyone wanted, but it set up the pool win that was confirmed by the 25-11 success in Wales a week later.
The draw had worked out well. Falcons were third seeds, and ended up with a home draw a week later against French minnows Mont de Marsan, whose job was made a whole lot harder by the loss of Waisale Serevi to the World Cup Sevens. As it turned out, Falcons coasted through the game as the French shot themselves in the foot. Botham want over early on before blindside flanker Philippe Alaqui was sent off after just eighteen minutes for punching. Noon and Walder also scored first half tries, and the 23-8 lead provided the ideal base to cut loose in the second half, with further tries from Armstrong, Marius Hurter, and Walder again in the first twenty minutes. Mont de Marsan scored two consolation tries, but injury time efforts from May and Gareth Maclure saw a final score of 61-23.
The ten day wait for the draw seemed like forever, and when it came, Falcons ended up with Quins – again – whilst Narbonne played Agen in the other semi. With the game fixed for Headingley, it would not be too far to travel, but it would also be the fourth game of the season between the clubs, very much a case of last man standing.
One game had to be fulfilled before Twickenham, and the 24-23 victory over Bath ensured that morale would be high going south. 24th February 2001 will live in the memory of all Falcons supporters for a long, long time. With the game being brought forward from its usual end of season slot, some questioned how full the ground would be. 71,000 people answered that question! The first try came after just nine minutes, when Walder and Tuigamala broke away and set up Tom May for a powerful finish. Wilkinson converted for a 7-0 lead, but it didn't last long. Paul Burke kicked a penalty soon after, before Falcons lost their own lineout ball, Pat Sanderson drover the ball on, and Will Greenwood timed the pass superbly for captain David Wilson to put Quins 8-7 up.
Indeed, even though the conversion attempt hit the post, Quins started to take over, with only a last ditch Armstrong tackle denying full back Ryan O'Neill a try with the ball already over the line. Worrying times, especially when Burke increased the gap with another penalty. Wilkinson pulled three points back with one long range effort, but then missed another from 45 metres, and Burke made the last kick of the half count to extend the lead to 14-10; a deserved score simply for the efforts of his forwards.
Wilkinson and Burke exchanged penalties at the start of the second half, before Rob Andrew made the first changes – Ian Peel and Hugh Vyvyan replaced Micky Ward and Doddie Weir. Jonny then missed his third kick of the day, before Burke made it a personal five out of five and 20-13. With the kicking game not working, it had to be tries for Falcons, and Walder sent May clear to go through two tackles, sidestep O'Neill, and score a wonderful solo try. The chance to even the score up via the conversion was missed, and it looked to be costly missed when Ben Gollings, Greenwood and Keith Wood set up Burke for his first ever Quins try. The successful conversion made it 27-18.
With four minutes of normal time left, the slenderest of lifelines was created when Jim Jenner squeezed over right in the corner to make it 27-23. Conversion missed again. The kicks would be costly as the game went into injury time and beyond. Falcons charged, but the Quins held out. And then…
Ian Peel was bundled into touch five metres short of the Quins line, but somehow (and I still can't see how from the video), touch judge Steve Lander gave Falcons the lineout ball. The cynic in me would say that even though it was Ed Morrison's last game at Twickenham, Lander had to make sure that he had the attention on him. Like I say, that would be cynical. Lineout ball into Grimes' hands. Armstrong flung the ball out. Wilkinson created space. The ball found its way out to Noon, who created more space. And then, in an acre of space, Dave Walder. Metres that seemed like miles before the ball was grounded, and everyone of a Geordie persuasion erupted. As if to rub the drama in, Wilkinson finally kicked a conversion – when it didn't matter. Morrison signalled the end, Quins slumped to the turf, and the cup, in the huge hands of Doddie Weir, was coming north.
The cup win didn't bring with it an automatic spot in the Heineken Cup, so in a way it was surprising that the league results for the rest of the season tailed off. Ironically, it was Quins who were the first visitors post-final to Kingston Park, and Burke got a modicum of revenge with a late penalty to take a 24-22 Tuesday night win. On the following Sunday, Sale were disposed of 48-24, with a rampant Falcons side running in five second half tries. The boot was on the other foot for the next two games though. As Leicester completed a title hat-trick in the 51-7 lunchtime demolition at Welford Road, and wasps then won 44-7 on a rainy Wednesday night at Loftus Road.
The countdown was now on to the European semi-final, and with Irish vanquished on April Fools Day 42-35 (this time with five first half tries), things looked to be back on track – something confirmed by a 39-36 win at relegated Rotherham. What wasn't needed was a 34-29 reverse at Saracens and a shoulder injury to Wilkinson that threatened his involvement the following Sunday.
It was an historic occasion, as it would be the first time a non-French side made the final (in the tournament's fifth season), and it was the first Shield match to be shown live on British television, as the Sunday Grandstand audience looked forward to an epic similar to the three games between the sides that had preceded it. What they got was epic alright, but to be watched through hands as the teams battered each other in midfield and managed not to entertain but bore. With the Wilkinson shoulder still sore, he then managed to pick up a neck injury very early on, but carried on at a lot less than 100%. In Quins' case, they had been forced to put an injured Keith Wood on the bench just to avoid a forfeit, as ERC dug their heels in over a replacement hooker, with both Wood and Tana Fuga (who played the full eighty minutes) patently unfit. Wilkinson kicked two penalties in the first half before Craig Chalmers, playing his first match in three months, scored a penalty to make it 6-3 at the interval. Both captains exited just before that whistle for fighting, which seemed to be a case of referee Jim Fleming getting fed up with the pettiness of the game.
Chalmers then dropped a goal just after half time, and then scored a try from Greenwood's pass to extend the lead. When he added another penalty on the hour, the 14-6 looked more than enough. Cue the fightback. Quin Roy Winters was binned with fifteen minutes left, but in an echo of the cup final, Wilkinson (who by this point was looking very groggy) missed the penalty. His next kick was easier, from fifteen metres out and successful, but Chalmers kicked another almost from the touchline to restore the eight point gap. Wilkinson's last significant involvement came with another penalty before he was replaced in the last minute – rumours of bits of him still being on that Headingley pitch are unfounded – but the reliance on him was far too great in a match of that importance. At the whistle, Quins were through to the final against Narbonne, and Falcons had lost a second Shield semi-final in three years.
Was this the start of the problems for Jonny? An injured shoulder followed by a neck injury a week later may not have seemed that significant at the time, and may not have been the "cause" of his long lay off, but the (over?) reliance put in him, by Rob Andrew, Clive Woodward and – at that time – Graham Henry, as well as Jonny's own indestructibility at that point, would not have helped what happened in the future.
The season was over. Yes, there were still the play-offs to come, but that defeat at Sarries had left a trip to Bath in the quarter-finals, and an 18-9 defeat to the home side. The sixth placed finish meant that Falcons were reliant on Wasps beating Gloucester in the fourth of the quarter-finals to give them the last Heineken Cup spot. The 18-6 home win was possibly the first favour that Wasps had done Rob Andrew since he left the club.
Elsewhere, Leicester won both the Heineken Cup, 34-30 over Stade Francais, and the play-off final, 22-10 over Bath. Rotherham's two wins all season saw them finish 26 points adrift of Quins, and they were replaced in the Premiership by Leeds. Quins on the European Shield 42-33 after extra time against Narbonne, whilst Mont de Marsan were relegated from the top division of the French championship and Cross Keys ended up bottom of the Welsh-Scottish Premier League with only one win from their 22 games.
Four years before, five Falcons went on the British and Irish Lions tour to South Africa. Now, the tour party to Australia contained only one – Jonny Wilkinson, who would end up playing in all three test matches.
Around the corner lay a first crack at the Heineken Cup…