Falcons At 10 - My Journal, 25 February 2001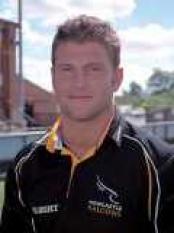 2 tries in the final
By Leipziger
August 3 2005
Something a bit different for our Falcons At 10 series. Leipy shares with us his journal entry from 25th February 2001, written on a plane heading back to Dusseldorf after a truly memorable day.
Yesterday, 24/2/2001, was (and in 2005 it still is!) the best day of my life and I have never experienced such a sudden rush of excitement as at approximately 4.45pm.
I had never doubted that we could win the game, but when Harlequins first took a 8-7 lead doubt crept in. When Burke scored his conversion and Harlequins led 27-18 with 12 minutes left, I firmly believed all was lost. Even after Jenner's try, we were 4 points behind, and needed a try, not a goal. We were giving the ball away and dropping repeatedly, and not making progress. The 3 minutes before Walder's try must've been the most emotionally draining moments of my life, physically feeling the pressure in my head while screaming encouragement at the team.
And it was all worth it when Walder scored in the 82nd minute. Our fans erupted, and I just exploded with happiness. I didn't know what to do, so I jumped and hugged my mother, and shook hands with Martin, Gary and Kylie. As Wilkinson waited to take the conversion, I looked at the scoreboard, reading Harlequins 27 Newcastle 28. After the successful kick, the referee blew up and everything was right with the world. As Doddie Weir lifted the trophy, I felt "this is where I belong", this might've been the best ½ hour of my life.
During the lap of honour, when our shouts kept so loud, 'We Are The Champions' played, and I am proud to say I sang the chorus like my life depended on it. Then I noticed a Harlequins fan and, more notably, his young son standing behind me. I felt so sorry for them. They must've thought it was theirs, and if that had happened to us I would've been sick. But it was our day.
And the beer on the bus home has never tasted better. At Kingston Park as we awaited a taxi, I stood for a few moments on my own looking into the ground and my thoughts were this:
I began supporting the Falcons when they were only on the up. But the last 1 ½ seasons before last summer were trying and at times almost made me think "Why do I bother?" But I firmly believe the tide has turned. We – the fans, players, officials and coaches – have all helped to bring the club back from the fear of Spring 1999. It has been hard, but WE have done it. The likes of Walder, May, Ward and Stephenson are our players. Rob Andrew, Steve Bates and Steve Black have taken 8 or 9 established stars and produced a hardworking, talented and so far promising team, by their effort with the squad, by combining this with the young players. Today was fantastic – but it will get better! And I will be proud to tell my grandchildren "I was at Twickenham 2001!"
I really buy what Rob Andrew is saying. The Falcons are building more than a team – a dynasty at the club. They have started from scratch in 1995 and I don't see why we can't see it through to whenever the end may be. Other clubs are only now starting to see what we are doing and we are 2-3 years ahead right now.
As for yesterday, my smile was and is as wide as the Tyne. The memory of Steve Bates crying on the pitch will live with me forever. And Rob Andrew was entitled to stand and look around the stadium with a little smile. Their dream is really starting to take shape. Their hard work deserves no less.
------
N.B. This is what I thought at the time. Sadly not much of it has come true.