Falcons At 10 - 2001/02 Review - Foot In Mouth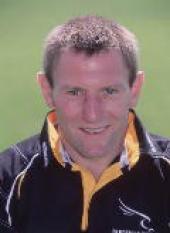 A great man leaving
By Mark H
August 4 2005
The summer of 2001 brought a shock. Pat Lam, who made such a high profile exit after being an inspirational part of the championship winning side of 1998, returned from Northampton amid rumours of a fall out, having led them to a Heineken Cup win just a year earlier.
With the news that the first game of the season was going to be on Sky as well against triple domestic and reigning European champions Leicester, it was the ideal opportunity for Falcons to test themselves early on.
A record crowd of 7,490 were in Kingston Park on Sunday 2nd September, a number buzzing from the football result the night before (Germany 1 England 5). They, and those indifferent to the sport, would be on another high by the end of the afternoon, as Falcons beat the European champions in the first game of the season for the second year running. Dean Richards had decided not to play his Lions, but the only Lion on the Falcons side (Jonny Wilkinson) put the team ahead with two penalties in response to Andy Goode's early strike. As the Tigers pack got on top though, Goode and Freddie Tuilagi scored tries either side of another Jonny penalty, and it looked like the usual tale for the home side – 13-9 down at half time and the champions in control.
When Goode kicked another penalty just after the break, it looked bleak. Thankfully, the fight was still there, even though Micky Ward took it slightly too far when he was binned for handbags with Lewis Moody. The double yellow seemed to galvanise Falcons though; Wilkinson started to impose himself on the game, and Tom May and Jamie Noon were both having outstanding games. Wilkinson pulled another penalty back before, three minutes from time, the excellent Leicester defence was finally breached, with Dave Walder snaffling an Inga Tuigamala pass and jinked under the posts. A 19-16 win over the champions – was it a sign of things to come or another false dawn?
Cue the words that still reverberate today before every Sale-Falcons match (and whenever the Sale supporters want a laugh). Rob Andrew said that after beating Leicester, losing to Sale would be like England losing to Albania after beating Germany. With words like that, teams grow in belief. Opposition teams, that is. Sale subsequently picked up all five points and five tries in a 37-11 demolition. It was a bad day all round, with Lam and Tuigamala only arriving at the ground minutes before the start. By the end of the afternoon, they must have wondered why they bothered.
(England beat Albania 2-0 by the way. Perhaps Rob was hoping to only play eleven players, rather than fifteen?)
A six-all draw at home to Quins followed, before a win at London Irish just a week before the club's first ever Heineken Cup game. Newport made the trip up to Kingston Park, and went away with the points after a 34-21 win inspired by Shane Howarth's 19 points. It didn't get any better the following Friday night, as the trip to Donnybrook saw Leinster win 28-9 with tries from Gordon D'Arcy and Eric Miller. It meant that less than a week in, Falcons would have to win all four remaining pool games to have any chance of qualifying, which would mean having to win in Toulouse – no easy task.
Before that, two more league matches, with wins over Bristol and Leeds at Kingston Park. And then the trip to Le Stadium. With Wilkinson missing, and eight players under 22, the fledgling Falcons found the game over by half time, after three Toulouse tries and only Epi Taione's score providing a bright spot. Even though falcons lay siege to the Toulouse line in the second half, the French side still had too much class as Xavier Garbajosa scored a fourth try. A week later, and with only pride to play for, five penalties from the returning Wilkinson meant a 15-9 half time lead, before one side ran away with it in the second. The Geordie one.
In five second half minutes, Jonny kicked another penalty, before Taione ran from his own 22, going through three tackles, before being stopped on the line. Thankfully, the supporting Vyvyan was there to pick up and score, and after Wilkinson added the extras, he dropped a goal to stretch the lead out to 28-9. With five minutes to go, Taione and Vyvyan broke again before Michael Stephenson scored the try, and the last play of the game saw Lam send Taione on a run in from fifty metres to score under the posts. 42-9, too late for qualification, but Falcons were off the mark.
"I will never forget The Falcons v Toulouse game at KP in the Heineken during season 2001/2. One of the few occasions that I had actually watched a game from the South terrace, my preferred view point being the terrace under the old West Stand, I will never forget the expression on Epi Taione's face as he 'thundered' over the try line at the South terrace end from at least thirty metres out. Every time I hear someone call his name I recall how pleased I am that I was there to see that try." (Westand).
The form continued into the next two league games, a 33-30 win at bottom placed Wasps (yes, you have read that right) thanks to a Noon try in injury time, and a tense 18-16 win over Gloucester at KP, and suddenly Falcons found themselves second in the league behind Leicester, with seven wins and a draw from the nine games so far. Title contenders, however, have to beat the struggling teams as well, and when a defeat at Bath (only their third win of the season) was followed by the first home league defeat of the season – 28-13 to eleventh placed Northampton – the work needed to stay at the top end was put into a harsh reality. Most supporters would have taken third place at the start of the season, but if bonus points had been picked up, it could have been top spot.
Winning ways returned at Vicarage Road, with the first away win over Saracens since they moved to Watford. Next up was the newly renamed Powergen Cup, and the first defence of the trophy. The competition's new format meant that the twelve Premiership clubs came in at the sixth round stage with the remaining four lower league sides, and such was the luck of the draw that Falcons ended up with a home clash against their cup nemesis Wasps. As was the holders' wont, they trailed for most of the game (19-9 at one point), but the metronomic boot of Mr Wilkinson kept them in it. It was the 76th minute before Falcons went in front for the first time with a seventh penalty, but with Tuigamala being binned as the game went into injury time, and Lam giving away a penalty a minute later, Kenny Logan looked to have won the game with his 83rd minute penalty. From the kick off, the ball was somehow recovered and that man Wilkinson attempted a right footed drop goal. As someone was to say a little under two years later in Sydney, "it's up, it's over, he's done it", and Falcons had scrambled their way into the quarter-finals 24-22.
In a way, when a season goes well, you can always pinpoint where things turned and you knew that you'd get success (the 2004 cup win being a prime example). Conversely, when it all goes belly up, you can usually tell where. The events at Kingsholm on 29th December 2001 have been well documented – fighting at the first scrum, a mass brawl, and a full scale war all taking place in the first fourteen minutes, the double sending off of Olivier Azam and Epi Taione, the off field shenanigans that led to Rob Andrew being banned from Kingsholm, threats of legal action – but one thing is for sure, from that point onwards there was not the same style about the Falcons for the rest of the season. Whether it was a case of sides having learnt about how to play us, whether it was a lack of confidence from the players, or a run of bad luck with decisions, we shall never really know. What was clear was that Andrew's outburst after the game, rightly or wrongly, meant that Falcons were swooping lower and lower, and there were any number of people waiting to shoot it down, as can be seen from this
Guardian
article two weeks after the game.
The problems (and controversy) didn't stop at Kingsholm. A week later, and with the weather not wanting to play ball, the Heineken Cup tie against Leinster was postponed twice due to a frozen pitch, Andrew accused Leinster of not wanting to play, and the game was switched at very short notice to Headingley. 1,146 turned up, the club's lowest gate in the professional era, and Falcons missed out on a draw when a battered Wilkinson failed to convert Tuigamala's 79th minute try. When, three nights later, a much changed side went down to Rodney Parade, the 53-17 beating was not a surprise, and the European journey was done and dusted, with plenty of lessons to be learned. (Ironically, at the end of the season the ERC changed the competition rules so that each home club had to have a back up ground available for inclement weather on matchday).
At least there was still the Powergen Cup, and another trip to Headingley for the quarter final against Leeds , where Tuigamala came off the bench to score two tries whilst Epi scored another on his first game back after the three week suspension gained at Gloucester. In theory, the 41-24 win put Falcons into the double header semi-final at the Madejski Stadium. However, with London Irish also making the semis, Andrew was reluctant to hand Irish the advantage of a "home" match, and threw the problem back into the RFU's hands. By the time of the Tuesday draw, the RFU had decided that the teams drawn first and third would get home advantage – and Falcons came out second, meaning a trip to the premiership's form side Northampton. Quins would host Irish in the other semi, but it was just about the worst draw that Falcons could get.
Before then though, two more league games to negotiate, and another win at Headingley (19-9) preceded the 33-17 defeat at Bristol. By the time March 9th came round, Falcons were the absolute outsiders to win the cup. A five o'clock start would help the visiting support get down there, even though it could be a long trip home – as it turned out, a very long trip home.
By the time the Quins-Irish game kicked off, high winds in Northampton had meant that the game had been put back an hour to six. Cue lots of drinking before kick off, whilst watching Irish take a 26-0 half time lead, Quins amazingly come back to lead 27-26, before Irish sealed their first cup final appearance with a 32-27 win. As the winds died, the light started to go, and Franklin's Gardens turned into a cauldron – it was such a hot ticket in the town, the unprecedented demand meant that when Falcons returned some of the allocation, they were snapped up within hours. Falcons went in with Matt Thompson playing only his second game at hooker, whilst Saints left Tom Smith and Steve Thompson on the bench.
It was also the first return of Pat Lam to the Gardens, and although he got a good reception, there were only black, green and gold eyes come kick off (or given the amount of beer I'd consumed, bloodshot). Saints went into an early 13-0 lead, the try coming from Grant Seely, and with an uncharacteristically muted Jonny Wilkinson missing straightforward kick to touch, the usual 'come from behind' operation looked like it would have to be mounted. But then came twenty minutes of the finest rugby that I've ever seen, with Matt Dawson imperious. Three tries in eight minutes, all shredding the Falcons defence, one of which was converted, and a penalty from Paul Grayson after May was penalised for dropping his knees on Grant Seely as he scored his second try. 33-0 at half time, the Gardens was rocking, and the home supporters were already booking coaches to Twickenham.
The second half was bleak; unsurprisingly, Falcons were on a downer, but the excellent Saints defence kept all attacks at bay. A second Peter Jorgensen try made it 38-0, and Michael Stephenson's length of the field interception try merely emphasised how few chances Falcons had had. 38-7; the cup was gone, and in effect, the season was over as far as silverware was concerned.
There was still Heineken Cup qualification to play for though, but the cup hangover saw a 33-19 defeat at the Stoop, before a first home league game for over two months brought a 30-10 win over Sale, with tries from Stuart Grimes, May, and Wilkinson. The obligatory defeat at Welford Road followed, before the Falcons went into the last four games (three of which were at home) knowing that four wins should get fifth place and probable qualification.
First up to KP were Bath, and a very convincing 36-9 win was a major confidence boost for the three games in eight days that lay ahead. It was vital that the first of the three (Saracens) was won with as little fuss as possible, if only to try and conserve energy. With Sarries having struggled for most of the season, the early thirteen point lead they took was a bit of a shock, but three tries in an eleven minute spell either side of half time from Jon Dunbar, Hall Charlton and Marius Hurter turned the tide. Four more tries followed – two from Stephenson, and one each from Vyvyan and Charlton – and the five points were sewn up well before the end.
Three days later, Powergen Cup winners London Irish headed north. It was to be the final game at Kingston Park for more of the championship side, with Inga Tuigamala having decided to retire, and he would be joined by Pat Lam, George Graham, Doddie Weir and Gary Armstrong by the end of the season. A good send off was needed, and with Wilkinson hitting seven kicks out of eight, and tries for Noon (2) and Stephenson, the chance of qualification for the Heineken Cup was there. It would, however, come down to a trip to Franklin's Gardens again, to try and avenge the cup defeat and take a bigger prize.
Fourth place would seal the automatic spot, but London Irish only needed a point for that. Fifth place would be good enough as long as the play-off final wasn't between two of the clubs in sixth to eighth places. Sixth would even make it as long as either the seventh or eighth placed sides didn't make the final. To get fifth though, Falcons had to win at Northampton for the first time in four years. It was an inauspicious start, with Paul Grayson scoring a penalty and a try early on. The tension at the Gardens was getting to everyone, and when Wilkinson, Noon and Lam (who'd only been on a minute) combined to send Hugh Vyvyan over for a simple try, Falcons had a 10-8 half time lead.
Grayson regained the lead with two penalties, before Vyvyan was binned for pulling down a driving maul. From the penalty, Dawson sniped, but finding his way blocked, offloaded to Mark Soden so that he could score. 21-10, but not a comfortable lead by any means. Wilkinson kicked a penalty, then another, and then a third, as the closing minutes became unbearable. It really was a case of the next score winning the game, and it did – Grayson's penalty sealed a 24-19 win, and for Northampton, a trip to the Madejski. Falcons had ended sixth for the second year running, and would be reliant on a run of results to get into the Heineken Cup. Of course, the best way to do that would be to get into the play-off final, but there was one very big obstacle laying in wait.
Gloucester. Olivier Azam. Tom Walkinshaw. A Kingsholm crowd baying for Andrew's blood.
It was never going to be pretty. It was always going to be on Sky First of all, Andrew had to get into the ground, and in the week leading up to the game, was forced into making a climbdown from the accusations he made in December. Should he have made the accusations in the first place? Probably not. Should he have backed down? Well, if he really believed in what he said, then no. As soon as he did, the Shed were ready for him, if they weren't already.
Ludovic Mercier kicked Glaws in front, before Wilkinson was carried off on the quarter hour unable to put any weight on his left foot. A Walder penalty shortly after evened things up, but then four tries before the break killed the game off. Robert Todd, James Forrester, Tom Beim and Junior Paramore all crossed the line, and with only another Walder penalty to show for the efforts, it was 29-6 at half time.
An early try was needed, but Simpson-Daniel outpaced Stephenson to prevent one, and although Walder reduced the deficit to a mere twenty points, the fifth home try, this time by Daren O'Leary, really sealed it. Phil Vickery then stormed over from the 22, carrying Gareth Maclure with him and barging through Liam Botham to touch down, Mercier added a seventh, and Terry Fanolua ended it all with the eighth try in injury time. With the Shed querying quite loudly whether Andrew was watching, all he could do was stand there and take it as his side were destroyed. To me, forget the 83-10 beating at Leicester three years later, the 60-9 Kingsholm reverse was Falcons' worst day; this was a team which, for half a season, had dared to dream, building hopes up in Geordie hearts. There was something to play for here, and the team were patently second best.
Amazingly though, despite the hammering, Falcons still had a chance of making it into the Heineken Cup, but it would need Saints to beat Bristol at the Memorial Ground in the semi-final. Bristol had managed to become the first English side to win at Welford Road since Falcons in December 1997, in a downpour, and then on a pitch which didn't so much resemble a beach but was one, Felipe Contepomi scored all 32 points in a 32-24 home win over Saints, and Falcons were consigned to the European Shield – again.
Gloucester went on to win the play-offs, although Leicester were the champions for a fourth consecutive year. They also won the Heineken Cup again with a 15-9 win over Munster more remembered for Neil Back's handiwork than anything else. Sale won their first trophy in 125 years by beating Pontypridd in the Shield final, whilst London Irish's 38-7 win over Northampton in the Powergen Cup final brought their first trophy in 104 years.
With the famous five of Armstrong, Lam, Graham, Weir and Tuigamala all retiring, it would be a new Falcons side that started 2002/03. Prepare the valium…