Falcons At 10 - Leipy's Journal 2002-03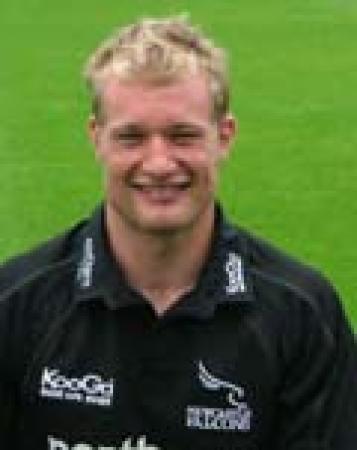 Try against Tigers
By Leipziger
August 7 2005
Two more entries from Leipy's journal, this time looking at the highs and lows of the difficult 2002-03 season. In the whole time I've been supporting the Falcons, my personal lowest ebb was after the defeat at Sale in January 2003.
Sale away, 3rd January 2003
No happy new year for the Falcons, only yet another defeat, this time 38-3!
It was unbelievable, 6-3 down going into half time was recoverable, but 2 quick tries, 1 converted and a penalty all in injury time meant 21-3! And in the 2nd 40 we did everything but score, Sale breaking away 3 times scoring 3 tries! 38-3 and yet another nail in the coffin. After their 4th try I turned around and said "Goodbye Premiership".
Though not wanting to give up hope, I hardly shouted in the 2nd ½ despite our dominance. "The crowd knows", and maybe I know we need a miracle to stay up.
I KNOW we have Wilkinson, Andrews and Britz to come in for Harlequins (no idea at all when Walder might be fit!) but we might be 9 points adrift by then, 6 at least (not knowing the Leeds-Bath result from tonight). We needed 4 points tonight but instead got 0 from another demoralising defeat, now 7 in a row in the league!
Mum doesn't really want to watch a poor team anymore, and Mrs Leipy thinks I am crazy to still want to go. It gets harder to keep faith every week but I and everyone else have to. We played better than a long time tonight, and if we keep trying and believing we always have a chance…
Well, another 4 weeks off league duty until Harlequins and Leeds. Can we pick up then? I hope so and I hope I can still believe too!
Leicester home, 16th March 2003 - BELIEVE
In 13 league meetings before this afternoon we had beaten Leicester only 3 times. After a match packed with incidents, cards and tries, that record now reads 4! A mammoth victory over the Champions, albeit 24-22, but it lifts us up to the dreamland of 10th in the table and four points off bottom. And the quality of our defence against I have to say a fast and brilliant Leicester attack will do our morale the world of good.
The first 10 minutes were poor, the only action being in front of us where the stewards tried to get people to move from the concrete path. It was clear tickets had been oversold. Booth put Leicester 7-0 ahead after 15 minutes, but 2 penalties and a brilliant run, chip and score by Stevo meant a 13-10 lead at half time. Andrews was given a yellow after 50 minutes but we survived it, and a similar chip try by Noon put us up by 21-10!
Leicester gradually brought on the big guns Kay, Back, Rowntree and Garforth, and West nicked a try but it was unconverted. Jonny kicked a penalty and we thought at 24-15 we were home and dry. But no. A succession of attacks allowed Leicester to score a converted try in injury time, and Mower was sent to the bin. 24-22, the game and possibly our season hanging on a knife.
I was so nervous, praying for the whistle. Leicester caught the kick off, and won a couple of penalties in their own half. My stomach in immense pain, I prayed for relief. Finally we got a penalty! Yes! Jonny kicked the ball out and it was all over! Woo-hoo! We had beaten the European Champions for the second season in a row, but MUCH, 100x more important we were off bottom again because of Bath's defeat on Saturday!
The players came back out to applaud the 9,105 record crowd. We all cheered our heroes. The league now looks like so…
| | | | |
| --- | --- | --- | --- |
| | Played | Points | Weekend Result |
| Harlequins | 17 | 35 | Beat Irish |
| Bristol | 17 | 31 | Lost to Gloucester |
| Saracens | 18 | 31 | Lost to Wasps |
| NEWCASTLE | 18 | 30 | Beat Leicester |
| Bath | 18 | 28 | Lost to Northampton |
| Irish | 17 | 26 | Lost to Harlequins |
Obviously it would be nice to climb the table, but to be honest 11th (aargh! Almost wrote 12th!) would be brilliant enough because survival is everything. We can't afford to look up to the Wildcard, although it would be nice. I repeat, survival is EVERYTHING!!!
This piece is entitled 'BELIEVE' because it never entered my head today we might lose, except between Leicester's third try and the final whistle, those seconds seemed like years! I didn't even ask myself if I believed we could or would win – like never before I HAD to believe. We needed to win, especially with Gloucester away next. I knew beating the twice European Champions would require a herculean effort, but in the end that is what we gave. Everybody, the crowd, the club and the players. In the first half I noticed that every time Leicester got a set-piece near our goal (the end we were at), the crowd chanted loudly "Falcons, Falcons, Falcons" and it was important. It gives me a shiver now to realise the inspiration it gave our lads and the effect on Leicester. They felt like they didn't just have 15 men to get past, but 9,000! It was like a wall. 9,000 people fighting for the club, their city! The 9,000 crowd and 15 players and all the coaches played their part to the full, and every true fan at KP today can be proud of the part he / she played in the victory.