Falcons At 10 - 2002/03 Survival Special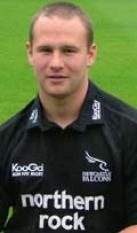 Needs, Leeds, Leads!
By Leipziger
August 7 2005
If there was a single event I could point to and say the Falcons supporter base came of age, it would not be the beginning of professionalism, the Championship, either Cup win or Jonny Wilkinson's World Cup drop-goal, but the relegation battle of 2002/03.
The season began with 5,000 crowds, going down to 2,000 for Christmas cup matches, before the attendance record was broken three times in the final four Premiership matches. Only once (v Bath in October 2003) has KP seen a Premiership crowd under 4,000 since December 2002, and it was in my mind helped in no small part by the intense fight against the drop.
The summer of 2002 saw a change in the make-up of the squad, as we lost five Championship winners - Doddie Weir, Gary Armstrong and George Graham moving to the new Borders team, and Va'aiga Tuigamala and Pat Lam retiring. In addition to this, Mike Howe and Christian Balshen left. Most ludicrously though, was the decision by the management to loan Andrew Mower to Borders, and this was a major factor in the way our season went.
New signings were James Grindal from Leicester, the legendary Joe Shaw from Northampton, Manchester's Soa Otuvaka and Mark Wilkinson from Darlington Mowden Park.
The emphasis was shifted to youth, as Phil Dowson, Craig Hamilton and Nick Makin kick-started their senior careers. The final addition to the playing side was Australian World Cup winner Andrew Blades as forwards' coach.
The pre-season went very badly, as the lads lost away to Borders and Edinburgh in friendlies, the latter match seeing David Walder break his leg. He would miss all but the final three matches of the season, and neither James Isaacson nor David Richardson played in 2002/03 because of injury.
Yet off the pitch it was all happening at KP, with the North and South Stands as we know them up and open by the first Premiership match at home to Wasps, but the West Stand was just a couple of steel bars on the north side, so temporary stands were erected either side of the clubhouse.
The competitive season began well with Shaw and Grindal making their debuts as the team defeated Wasps 24-17, but a week later Northampton, also playing in a nice new stadium, came out on top of a televised match 31-13. Two more defeats followed at home to Gloucester 22-19, in which Epi Taione's last minute try looked to have saved a draw until Jonny Wilkinson attempted to run out of our 22 rather than kick and Gloucester won with a penalty, and then a 52-9 hammering at champions Leicester.
After (predictably) beating Leeds 27-20 and losing 47-23 at Harlequins, we began our Parker Pen Challenge Cup campaign (now in a knock-out format from the start) with two victories over Grenoble. The first leg was won 19-12, with Rob Andrew praising the players after a very physical match, and the job was finished at KP a week later 33-17.
Our first try bonus point of the season was won in a 31-20 Premiership win over Sale at home, but what we didn't know that it would be our last league success for three months. The international period began and we were robbed of captain Jonny Wilkinson and Stuart Grimes, and although Earl Va'a was signed temporarily to cover the former's absence, we lost five league matches in succession to London Irish (24-16 at home), Bristol (38-10 away), Bath (24-20 at home), Saracens (17-13 away) and Bristol again (20-12 at home).
It was the Saracens result that had first seen us drop to the bottom of the table, and two defeats by Bristol had been the first nail in the coffin as they looked the side who would be in most trouble at the wrong end of the league. To make matters worse, Jonny Wilkinson had been injured playing for England against South Africa, and would be missing until mid-January. This left us with only the inexperienced Phil Godman at fly-half.
But hope was in sight – the most capped South African of all time, Mark Andrews was the first of five experienced foreigners to sign, although he wouldn't be available until February, but hooker James Christian had made his debut against Bristol at home following Steve Brotherstone's (another) season-ending injury.
Three cup matches followed, to take our minds off Premiership problems. We overcame a big first leg deficit (27-8 in Italy) to beat Treviso 35-5 at Kingston Park and reach the quarter-finals in Europe, but unfortunately London Irish were triumphant in the Powergen Cup 6th round, winning 17-16at KP in a match which saw the debuts of Mark Mayerhofler and Craig Newby (the latter as a replacement).
Newby, Mayerhofler, Christian and Andrew Mower, returned from Borders, were in the side to travel to London Irish on December 29th. On the other hand, Mark Wilkinson played his first match at fly-half and we did not score a single point in a 20-0 defeat.
Worse was to follow in our first match of 2003, as a 6-3 deficit going up to 40 minutes was lengthened by three Sale tries in first-half injury time, and in the end the Sharks won 38-3 at Heywood Road. In addition to the defeat, James Christian suffered a career-ending injury.
With morale at rock bottom, we travelled to Saracens for the Parker Pen quarter-final first leg, and despite Phil Dowson's early try the Fez Boyz came out on top 31-10. However in the second leg something extraordinary happened. Saracens took a big lead at KP, but a late try from Matt Thompson helped us to a 31-29 win on the day, and although we had went out the result was significant. As depressing as it was to hear David Walder on the radio when we needed him on the pitch, he made the point that to win the match in any form would give some much-needed belief to the team and the supporters for the Premiership run-in.
And so it was, that on February 1st Harlequins visited KP for the official opening of the West Stand and a televised Saturday game which Duncan Madsen called "the biggest in the club's history". He was right. We were 6 points behind Bath, and a loss to Quins would almost certainly mean relegation. With Mark Andrews and Jonny Wilkinson in the team, and Mark Mayerhofler and Andrew Mower back after being cup-tied in Europe, the team simply had to produce.
Eighty minutes later, the record 6,109 crowd had seen a magnificent Newcastle performance as four tries (scored by Noon, Stephenson, Grimes and Vyvyan) secured a 32-17 victory, our first in the Premiership since October 27th. Bath's defeat meant, since they weren't playing until the next Saturday, and that was against Leicester, that a win at Leeds on a Friday night would mean us moving up to 11th in the table, probably for three weeks!
The Leeds match was quite extraordinary, except for the first 79 minutes or so when it looked like we would lose yet another away match. Leeds led 9-7 going into the final minutes, before a Wilkinson penalty put us into a tiny lead. But it was enough, and all Falcons were happy. Until Braam Van Straaten kicked a penalty for Leeds to put us behind again. Then one of the most incredible moments of the season, and possibly the club's whole history (up there with Walder in 2001) happened.
As it happened right in front of me, I can remember it like it was yesterday. Jamie Noon made a break down the left, a last throw of the dice for the Falcons. He passed (amid cries of "forward") to Michael Stephenson, who was tackled and the ball went loose. Oh no, all Falcons thought, Leeds will get possession. As time seemed to stand still, the first pair of hands on the ball were not Tyke – they were Falcon, in the form of replacement scrum-half Hall Charlton, who picked up the ball and ran through unopposed for probably the most important try he will ever score.
Cue mass celebrations from all Geordies in Headingley (mind, I still have no idea the girl I was jumping and dancing with was!). Wilkinson's conversion was the last action of the game and afterwards the team celebrated on the pitch with the fans. As they walked off the pitch, Jon Dunbar turned back to us, threw his hands up and screamed his delight with the result. The rest of us felt exactly the same.
Bath's defeat to Leicester meant we were in the dreamland of 11th for the time being. A friendly defeat to the Cats at KP was followed by our next league game on March 1st at Adams Park against Wasps, who won a tense battle 13-12, most memorable for me personally because I had the sore throat from hell and stood in the ground watching unable to shout for the lads.
Two weeks later it was different though as Leicester visited KP and for the second successive home game we had a record attendance, this time 9,105. Steve Booth scored the first try for Leicester, but tries from Michael Stephenson and Jamie Noon together with one conversion and four penalties from Jonny Wilkinson gave us the lead in the closing stages. Two Dorian West tries threatened to derail the Falcon Express, but the lads pulled out an amazing defensive performance to beat the European Champions and strike a massive blow in the relegation fight (let's not forget the Tigers had beaten Bath in February).
Another friendly was arranged against Borders at Kingston Park on April 5th, the day we were due to play Gloucester at Kingsholm, but this game was postponed a week due to their involvement in the Cup Final. Borders were beaten 41-12, and we now had a clear run of four league matches to save our Premiership lives.
Bottom by one point, we travelled to league leaders and Cup winners Gloucester hoping for a win we desperately needed, although Marius Hurter and Andrew Mower were both missing from the team. Now, I've known many disappointing afternoons watching the Falcons, but for sheer heartbreak, I doubt many matches in the club's history could compare to April 12th 2003 at Kingsholm.
The Falcons not only put up a good fight, but I was even able to send me Mam the following text after the first 40: "Winning 15-0 at half time unbelievable!!! Gloucester missed 4 kicks!" That's right, Joe Shaw and Mark Mayerhofler's tries, plus a conversion and penalty from Wilkinson had given us an excellent lead, yet it could have been more as Wilkinson made a superb break late in the half but when he was tackled in the Gloucester 22, Stephenson was penalised for entering the ruck from the side.
In the second half Gloucester's comeback didn't begin immediately, but we actually extended our lead through James Grindal's unconverted try. The home side got on the scoreboard with a penalty and unconverted try before Wilkinson's second penalty put us 8-23 up, but Gloucester were beginning to take control, and a converted try and another penalty made for a tense end to the match. Finally, right at the death we broke and the last action of the game was Ludovic Mercier converting a try to give Gloucester a 25-23 win. Ian Peel and Jon Dunbar sank to the ground, as heartbroken as all the Geordie fans in Kingsholm. I'm sure I wasn't the only one there who was offered commiserations by home fans.
Our one consolation was that our bonus point had levelled us on 31 with Bristol and London Irish, with 240 minutes to play. There was no respite as we returned to Kingston Park on Easter Sunday to meet Northampton; a game that was my (at the time) wife-to-be's first time at the hallowed ground.
Although we were missing Mark Andrews, Mower was back and Craig Newby replaced Epi Taione at blindside for his first match since January 3rd. Yet another tense game followed, with Hugh Vyvyan scoring our only try in a tight 22-20 victory over the Cup finalists, with Jonny Wilkinson converting and adding five penalties. To add to the excellent win was the sight all Falcons had been waiting since the summer to see – David Walder return to the field as a replacement late in the game, and as he came on for Joe Shaw a huge cheer went up as the KP faithful welcomed back one of our own.
The victory had a massive boost to our league position and other results meant that we had the chance to actually make sure of safety by beating Saracens a fortnight later.
Therefore a win was paramount at KP's final match of the season to avoid having to win at Bath the following week. Mark Andrews lasted only 20 minutes, by which time Tim Horan had scored the opening converted try. Jonny Wilkinson converted his own try to level the scores before Andy Goode's penalty put Saracens ahead 10-7 at half time.
Jamie Noon and Michael Stephenson's tries in the second half, one converted, gave us a decent lead, before Stevo set off on a great run down the left wing. He had only Horan to beat, and as he attempted to pass, Horan did not tackle but offered our favourite Mackem a smash in the face! The home crowd, another record 9,127, demanded blood, but the referee decided against a red card. He did however, signal a penalty try which Wilkinson converted to give us a seemingly huge 26-10 advantage, and at that stage it seemed we would stay up.
But with the Falcons it's never so simple, and two tries and a conversion from Saracens meant a tight 26-22 scoreline going into injury time. The atmosphere was electric as Saracens attacked in our 22 and 9,000 Geordies screamed for their team, and finally none other than Jonny Wilkinson, a talisman since February, stole the ball in a ruck and we were able to clear. And that was the end, the end of the most stressful season, as players and fans celebrated nothing less than The Great Escape.
Down and out in January, the boys had secured Premiership rugby in 2003/04 with a match to spare, and had become an entirely different team in the second half of the season. In the last five games, they won three at home by an aggregate difference of +8, and lost away to the two sides who would eventually contest the Premiership final by a total of –3. If the first half of the season had gone better, that would've been Championship form, considering the calibre of teams we had to play.
But there was the loose end of a game at Bath to tie up, and on the final day the south-westerners were still in danger along with Bristol, Irish and Saracens. Four kicks from Wilkinson were our only points in a 24-12 defeat which kept Bath up at Bristol's expense and dashed any slim hopes we had of making the Wildcard playoffs, as we finished 10th.
But that was fine by me, I don't know about anyone else but the season had completely burned me out – the Wednesday after the Saracens home game I went to work and after a couple of hours stopped for a second and realised how exhausted I was from the stress of worrying whether I'd have a team to support in 2003/04, let alone a Premiership one, and what relegation would mean for the club.
God only knows what it did to Rob Andrew and the team!
But I for one was happy just to see the back of this season, and hopefully it was one never to be repeated (though I'm sure sometime in the 50-60 years this Falcon has left watching the team before I die it will happen again).
So, the season had been stressful, but the club were stronger for it, as they built up a bigger supporter base (evident in crowd statistics in the last two seasons), and we got an excellent player we might not have otherwise – Mark Mayerhofler, who initially signed only for the second half of the season but is still here after two years.
Of course the question had to be asked how we'd got into a poor position in the first place, but we could still be proud of how everyone at the club pulled together to ensure survival, and I for one was very proud!