Falcons At 10 - 2003/04 Review, The Cup of Cheer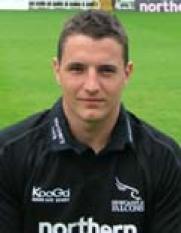 Nice time to score!
By Mark H
August 16 2005
2003/04 was very much a case of starting again for Falcons. The troubles of the previous season would need to be put behind them if the club were to avoid another struggle against relegation.
Losing Jonny Wilkinson and Stuart Grimes to the World Cup would be big losses over the first half of the season, but Rob Andrew had brought in Ben Gollings from Harlequins and the returning Garath archer from relegated Bristol to cover those positions. Neither Dave Walder nor Jamie Noon, named in the 43 man England squad, made the final cut, so both were in the team for the first Zurich Premiership match of the season.
The Middlesex Sevens provided a satisfactory curtain-raiser to the season, with Falcons making the final, having beaten the Army in a semi-final classic. Winning the final, however, proved a step too far, but only after at 12-5 to Northampton, Michael Stephenson broke clear and when looking certain to score, was caught by Saints' Oriol Ripol and hauled to the ground. Saints went on to win 31-5.
Sarries came up to Kingston Park on a blazing hot Sunday afternoon for the first Premiership game, with the queue for the ice cream van as busy as the bars. A fair sized crowd of 7,012 had turned up – just a pity that Falcons didn't for forty minutes. Dave Walder missed the first penalty opportunity of the season before nailing the second, but that was the high point of the first half for Falcons – Paul Bailey scored a simple (too simple) try, Andy Goode converted, kicked a penalty and dropped a goal before being part of the game's controversial moment. Goode crossed the Falcons ten metre line, and as he was about to be tackled, kicked through for the corner. As Joe Shaw pulled out of the tackle, Goode theatrically hit the deck. I was no more than ten metres away from the incident on the East Terrace, and can honestly say that if that's all it takes to knock him over, then he has no sense of balance whatsoever.
To accentuate the…well, to be frank, dive, everyone's favourite referee ran to his touch judge, and then on to the posts. Great refereeing from Steve Lander – or is that refereeing that makes you teeth grate? Either way, penalty try and it was 20-3, the score at the break. Falcons scored whilst I was at that ice cream van, James Grindal going over, before the scrum half set up a sharp drop goal for Walder. The game had completely changed now, with Sarries going backwards, and after Hugh Vyvyan stepped inside two tackles he set up Warren Britz to storm over, and Walder's conversion levelled the score.
Just one problem though – they didn't know when to stop. Epi Taione got isolated on his own ten metre line, Richard Haughton picked up, and had a free run to the line. The points were going south 25-20.
With one home loss already, Falcons couldn't afford another. Three penalties, two from Gollings and one from Walder were enough to beat Sale 9-8, for whom Jos Baxendell missed a penalty with two minutes to go to win the game. The six year losing run at Welford Road then went on, but only after Falcons led 18-3 after 35 minutes; you can't, however, allow yourselves to go down to 13 men (Andrews and Vyvyan binned) without expecting to pay for it, and twenty points in ten minutes changed the whole game.
Gloucester were the next visitors to KP, and finally it clicked. Three tries in fourteen minutes, two from Tom May and one from Jamie Noon, made it 27-10 at the break, but an immediate score from James Simpson-Daniel cut that back. And then came Sky's try of the month. Hall Charlton put up a box kick from within his own 22 that stayed parallel to the touchline about a metre in. Running onto it at pace, May caught the ball, rode the tackle that came in and raced away to complete his hat-trick. With Stephenson adding a fifth try before the end, the 42-22 victory was wrapped up early and there could be some positivity before the two away games that were to follow.
There were £5 seats on offer at Quins the following Saturday, but the fare that was on offer was not good. Falcons had just pulled the game back to 12-8 through a Gollings try and a tremendous forward effort when Mark Andrews was sent off for dropping his knee on Pat Sanderson. Silly, unnecessary and costly, as Paul Burke ended the day with all of the Quins points in the 18-11 victory. A week later, Falcons held a deserved 10-8 lead after a dire first half at Franklin's Gardens, but proceeded to concede three second half tries to lose 33-18. three away games, three defeats – the same old story.
Sky visited for the first time on 25th October, together with a Bath side that led the table with six wins out of six. A thriller saw Falcons come out on top 19-17, with Phil Dowson scoring two minutes after coming on by burrowing over after Britz had mugged Matt Perry. With Steve Borthwick turning down the chance of a penalty at 19-14 to go for the corner, the Falcons defence was severely tested, but they held out for a much needed victory. The away bogey didn't end though, as the following week's trip to Wasps saw a 30-26 defeat at the hands of the champions, with Dave Walder missing two difficult conversions.
A freezing cold Sunday saw an England World Cup quarter-final win over Wales in the morning, followed by a stroll against hapless Rotherham in the afternoon. Tom May scored three and Jamie Noon two of the Falcons' seven tries in the 56-10 win, the biggest ZP victory of the season so far. Rotherham were the next opponents as well, as the run of always getting a Premiership side in the Powergen sixth round continued, but this time the match took place at an almost deserted Millmoor. Six more tries saw Falcons through to the quarters, with a two week wait for the draw.
Before that though, the focus of the entire rugby world was on Sydney. Jonny Wilkinson's boot had accounted for five penalties and three drop goals in the semi-final win over France, and Australia lay in wait in the final. What happened there will be remembered by every English rugby supporter for evermore – Tuquri try, Jonny penalty, penalty, penalty, then the pass to Jason Robinson for a fantastic try. Elton Flatley's boot ended up levelling the game with the last kick of normal time, then an exchange of penalties in extra time. Finally, as the fourth attempt, Wilkinson dropped a goal to win the World Cup for England and start the party. Back at KP, the TV cameras covered every moment, and various contributors to this site ended up on TV and in newspapers worldwide.
A lot of sore heads took the long trip to Reading the next day, and as if inspired by events on the other side of the world, the previously away win-less Falcons ended the Irish unbeaten home record in the rain, thanks to a try from Noon and three penalties from Walder, and then in injury time, Walnut's drop goal stole the points. It was a very happy coach journey home for players and supporters alike. No doubt Rob Andrew, still in Australia, would have had a chuckle as Aussie Andrew Blades had managed to do something he hadn't – win away!
Sky had already decided that they were coming north the following Saturday, and the World Cup came to, as Jonny and Lawrence Dallaglio took the trophy around the ground prior to kick off. Wasps went 13-0 up in front of a record crowd of 10,001 with tries from Tom Voyce and Kenny Logan, but Taione and May conjured up a superb move to send Gollings in to reduce the deficit to 16-7 at the break. Playing with the gale in the second half, Falcons pressed intently and went in front after a try by May and some excellent place kicking from Walder. Victory was not to be though, with Peter Richards scoring a late try for Wasps.
The following day saw the Powergen Cup draw, and encouragingly, Falcons were drawn at home to Irish, with the other three ties being Sale v Saracens, Leeds v Bath, and – bringing a big smile to Sunday Grandstand guest Josh Lewsey – Wasps v Pertemps Bees. The semi-final draw that followed minutes later provided another home tie – but this time against the winners of Wasps-Bees. Hands up who didn't think "it's Wasps if we win then"?
Two weekends of European action followed, with the first round of the Challenge Cup, and a two legged tie against VRAC of Valladolid. What the Spaniards lacked in ability, they more than made up for in spirit, and after a 71-10 win in Spain, Falcons took the second leg 66-27, but not before the biggest cheers of the day for VRAC's three tries. That evening, a Mr Wilkinson became the first rugby player to win BBC Sports Personality of the Year.
A trip to Bath was set for the last Saturday before Christmas, and the home side made it eleven wins out of twelve with a 20-10 victory, the bonus point that Falcons had being lost by an injury time Olly Barkley penalty. The post-Christmas game saw Northampton troop up to Kingston Park, and having had a sharp overnight frost, the pitch was only passed fit half an hour before kick off by Ashley Rowden, despite initial reticence from some of the Saints players. When I went into the ground at 12.30, who should be warming up by a certain J Wilkinson, making his first appearance of the season in a Falcons shirt (and being the main reason for there being another capacity crowd). Saints left out Ben Cohen and Matt Dawson, and deposited Steve Thompson on the bench, but it was Wilkinson who had the main say in the first half as he kicked three penalties to secure a 9-6 half time lead. John Leslie scored four minutes into the second half on what turned out to be his last playing return to his old club, and Saints had a 13-9 lead.
And then…Wilkinson went to tackle John Clarke on the harder West Stand side of the pitch, and stayed down. Prolonged treatment couldn't keep him on the pitch, and off he went to spend what turned out to be the rest of the season on the sidelines. He had played just 53 minutes. Dave Walder came on and we all wondered how the team would react.
Quite well actually. Matt Thompson produced a chip from roughly the spot of Wilkinson's injury, and despite a chase back from Bruce Reihana, he was adjudged to have not grounded the ball correctly by referee Rowden, and Michael Stephenson just managed to touch down before the ball ran dead. From the kick off, Saints recovered the ball, drove forward, committed three offences on the trot (knock on, obstruction, then forward pass) and with a four on two space, if the ball had got past Walder it was a try for Saints. Walnut went for the interception, got it, and ran ninety metres with only lock Mark Connors in pursuit to score under the posts. Saints pulled one penalty back, and then with another, elected to go for the posts rather than the corner even though it was injury time, and Falcons had won a game 23-19 that in all honesty they probably should have lost.
Which was good.
Especially as a week later, Falcons lost a game they should have won. A 29-25 defeat at home to Quins, with prop Ceri Jones scoring the winning try in the ninth minute of injury time, was a painful blow, with the domination enjoyed in the game, and the fact that Walder's 85th minute drop goal looked as if it had won it.
A third home game in successive Sundays brought Montferrand in the second round of the European Challenge Cup, and it was fair to say that no-one really thought that the 10-3 win gained by Falcons would be enough. When the aggregate lead was seventeen points with just over twenty minutes left in the second leg, it looked like a major upset was on the cards. An agonising 85th minutes try by Merceron meant that Falcons were out at the earliest stage in the club's history.
One thing the early exit did bring was two weeks off, and by the time 7th February and a trip to Kingsholm came round, Falcons should have been ready. Ummm…three first half tries soon put paid to that, and despite tries from May and Britz, a 36-12 defeat resulted. The poor run was to continue, but after leading Leeds 20-3 five minutes before half time a week later, the Tykes turned it around to end their seven match losing run and win 28-25. Falcons picked up two bonus points from a game for the first time – something which was repeated a week later at Vicarage Road.
Whatever the rights and wrongs of the first day defeat, there was no doubt about this one. For an hour, Sarries outclassed Falcons in all areas, from the first minute when a Walder drop goal was charged down. From behind his own posts, the genius that is Thomas Castaignede dummied his way past Hall Charlton and set off three quarters of the length of the field. His kick through, perfectly timed and weighted, was meat and drink for Richard Haughton to touch down. Despite Joe Shaw's try ten minutes later, two more tries before the break gave Sarries a 19-8 lead, stretched after the break by a Castaignede penalty and another Haughton try, this time from only eighty metres. Combine this with binnings for Garath Archer (killing the ball) and Epi Taione (high tackle which had the home crowd baying for red), and you can see why at 32-8 with twenty minutes left, everyone thought that a big score was on the cards. Typically, Falcons woke up too late. Britz scored on 69 and Dowson 78 to make it 32-20, and then Walder intercepted the last play of the game and ran even further than his Northampton try to get a bonus point, make the final score 32-27, and leave both sets of supporters frustrated – Sarries for not killing the game off and letting Falcons back in, and Falcons for leaving it far too late. A similar fault in the next game would be a fatal blow to the season.
Grandstand had decided to cover the Powergen quarter-final from KP, but as I woke up in Whitley Bay that morning, there was deep snow and more coming down. The pitch was cleared – slowly – and the 11.30 pitch inspection proclaimed the game on. Unbeknown to any Falcons supporters until they reached the ground, the Irish team had decided to fly up on the morning of the match, and with the airport being closed, they were diverted to Edinburgh and faced a coach journey down, arriving at 2.10 for the 2.50 kick off. Ironically, the supporters who had waited at the airport for things to clear were rewarded about 15 minutes later when Newcastle Airport was reopened. With mounds of snow around the pitch, and both the East and North Stands closed, it was a strange afternoon.
Falcons had to take advantage of any rustiness that Irish had, and did so by going hard out for a try early on, but had to settle for a Walder penalty, wiped out by a Mapletoft effort five minutes later. Two more penalties were split before Charlton and Britz opened up the right side of Irish's defence and allowed Stuart Grimes a stroll round under the posts. With it starting to snow again, the try really warmed the home support up. Two more penalties before the break, the Falcons one seeing Keiron Dawson binned, meant a 16-9 interval lead. Five minutes into the second half, Epi's bullocking run down the left wing enabled him to create the space outside for Walder, and he celebrated his try by throwing a snowball at the North Stand. There were scares after that – Archer binned for a stupid stamp, and a tremendous try saving tackle from Joe Shaw – but Falcons were there, 24-12 winners, and had to wait 24 hours for confirmation of a semi-final against Wasps.
So when I got a text on my train journey home around 5.30 on the Sunday that read "Wasps 24 Pertemps Bees 28 we're going to Twickenham", I have to say that expectation of a semi-final win took the place of hope. The first division side had taken advantage of Wasps' complacency, and booked a trip to KP in a fortnight's time.
By 2.15 on Sunday 14th March, Falcons already knew that they would play Sale at Twickenham if things went well. I couldn't contemplate them going badly. Thankfully, a supremely professional performance vanquished the Bees, as seven tries were scored, five in the last thirteen minutes, as Falcons progressed 53-3. Now for the tickets (9.15 Monday morning, 14 tickets, ticket office superb!).
There were two league matches to be played before the final, and ironically both ended in draws, 30-all at Leeds where a very late Walder penalty from halfway was followed by an even later Gordon Ross miss; and a 25-all draw at home to Leicester, where Vyvyan and Mark Mayerhofler went a yard short of conjuring a last play winning try. All eyes could now concentrate on the cup final.
There was tragic news the next day though, when it was announced that Soa Otuvaka, who had collapsed whilst playing for Mowden Park in the Durham Cup Final eleven months before, had died at the cruelly young age of 25, having previously undergone surgery on a brain tumour. A week before the cup final, the benefit match that had been arranged for him went ahead in his memory, raising money for his family. He was – and still is – sadly missed.
Cup final day was eventful. Early starts all round to get to Twickenham, only to find once there that a burger van had caught fire, and consequently the junior finals that preceded the main event were put back. The fourteen tickets turned out to be in an ideal position on the halfway line, and we could look forward to a memorable eighty minutes. None of us knew that it would be that memorable.
It was, without doubt, the greatest cup final ever. Falcons included James Grindal and Micky Ward in place of Charlton and Marius Hurter, and from the moment Britz went over in the seventh minute, the rollercoaster never stopped. Sale's first attack brought three points for Charlie Hodgson, and soon after Steve Hanley put them in the lead after Falcons had wasted Shaw's last ditch tackle on Andy Titterrell.
13-10 to Sale at half time told nothing of the drama to come. Within minutes of the restart, Vyvyan put Falcons back in front. Mark Cueto then sliced embarrassingly easily through to regain the lead again, and Hodgson's penalty shortly after made it 23-17. A score was needed; it was spectacular. From a ruck on the left wing, Walder and Mayerhofler combined with a mismove which led to Walder's pass finding Shaw steaming into open space, over the line, and momentarily into orbit.
The lead barely lasted. Chris Mayor regained it with his try, before two nerveless penalties in quick succession made it 30-all with eight minutes left. Another transgression – Stephenson not rolling away – and Hodgson made a superb kick from forty metres on the angle. This really was a case of last to score wins. From the kick off, the ball was fed back to Hodgson, whose clearance kick was charged down by Vyvyan. In the scramble for the ball, Hanley had to dot down over his own line. A five metre scrum and this might be the last chance. Walder drop goal to level it?
Now if you remember the 2001/02 review, I mentioned that you could pinpoint moments when seasons turned. Don't ask me why, but from the moment Falcons got past Rotherham, I was convinced that the name on the cup was Newcastle. Nothing had changed my thoughts; Irish getting stuck flight-wise, Bees beating Wasps, and now this chance. I know that I had had trouble convincing people, but this was the moment, this was the chance for my beliefs to come true.
No mater what I write next, I can't do better than what I wrote at the time:-
"Huge picked up from the base of the scrum and made a lunge for the line but was stopped on the gain line. Hall had a go, and made no more than a couple of feet. A pair of hands got to the ball, and suddenly a black juggernaut was going for the line, before crashing down. A whistle. An arm. A TRY!!!!!"
Phil Dowson had done the trick, and Walder's crucial conversion meant that Sale would have to score a try to win. We now needed four minutes of common sense. Jason Robinson finally looked dangerous, and with the ball bobbling around near the tryline, it needed someone to take charge. Noonie did, got the ball back to Walder, and he deposited it out of play on the halfway line. As Sale made another attempt near halfway, the ball was knocked on – Falcons scrum. The clock on the electronic scoreboard hit forty minutes. Smooth delivery from Charlton to Walder, and at that moment, I wouldn't have cared if he'd kicked it to Slough. The grubber kick may not have been the best idea, but it was perfectly executed, and a cup win was there in black and white. 37-33; drama; two great teams, but silverware was going back to Kingston Park. The text that night through my drunken haze read "we won we won we something won". Sweet!
This did, however, mean that the season was effectively over with three games to play. Heineken Cup qualification was assured, so there would be no need for Wildcard matches. Turning up at Edgeley Park on the following Friday night, let's just say that I wasn't hopeful of a result. Despite Tom May's early drop goal, the game will be most remembered by Falcons supporters as an abject surrender, and an even more abject decision by referee Roy Maybank after it appeared that Mark Wilkinson was spear tackled. No arguments about the 41-16 scoreline though.
The luxury of the cup win gave Andrew the chance to experiment, and in the last home game of the season, Barnard Castle sixth-former Mathew Tait made his first Newcastle appearance. After an early Barry Everitt penalty, it was Tait who stole the headlines. Falcons ran the ball out of defence via May and Stephenson, before a first touch for the young man. Taking the ball at pace, he proceeded to skin Michael Horak and take the ball under the posts for a quite sensational start to his career.
That was the high. The low was conceding a try with four minutes to go to bring Irish in range, and then a penalty in injury time to lose a game that should have been won. Now into May, there was still no league win since 28th December, and only one chance to change that.
The last game had banana skin written all over it. Rotherham, winless and with only two points all season, had moved their final game away from the hated Millmoor to the Don Valley Stadium in Sheffield. Novelty or not, 5,203 turned up and saw the home side come as close as they had all season to a win, before tries from Stephenson and Jon Dunbar and the reliable Walder boot produced a 26-20 away win.
Wasps retained their title in the play-off final, beating league leaders Bath 10-6 in an intense final, and completed a double, having beaten Toulouse to win the Heineken Cup a week earlier. Just as in 2001, when Falcons won the national cup, Harlequins won the European Challenge Cup with a late victory over Montferrand.
So what of the 2003/04 season? Cup victory aside, the league form was patchy at best, with ninth place being a poor return in a season where one team was so clearly worse than the others. No wins between late December and the last game was very annoying, as was the fact that Falcons got a league record thirteen bonus points, nine of them losing ones. Turn those nine losses into wins, and Falcons would have been at least third in the table, probably second.
Changes needed to be made, and there was the early announcement of the signing of Radike Samo from the ACT Brumbies. Watching him dominate the Super 12 final, we all licked our lips and waited. That, however, was only the start of the story of the 2004/05 season…