Falcons At 10 - 2004/05 Review, Last Time Out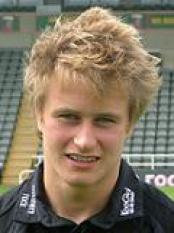 By Mark H
August 17 2005
The drama of 2004/05 started almost as soon as 2003/04 ended. Radike Samo's superb Super 12 final performance, added to his previous work for the Brumbies, had led to Aussie coach Eddie Jones promoting him to the national squad.
Ironically, since the deal fell through (and Falcons have first refusal should he come to England), he hasn't looked the same player.
With Welsh captain Colin Charvis, flanker Mike McCarthy, hooker Andy Long, America's most capped international Luke Gross and Samoan captain Semi Setiti all going, the cupboard wasn't exactly bare, but there was one more big name to come. On 17th June, the club announced the signing of Matthew Burke, Australia's most capped full back and second highest points scorer – the biggest signing for any club of the summer (and met with disgust in my house. Not.).
Obviously, there were leavers. Ben Gollings went to Worcester after just one season; Nick Makin, Garath Archer and Mark Andrews also departed. By the time the media day came round on 10th August, optimism was high. One day later though, the reason for the most noticeable absentee became apparent. Warren Britz had left for personal reasons and had signed for Natal. It left the club without a specialist openside, just six days before the first pre-season friendly.
The Sports Ground in Galway was the venue for the Jonny Wilkinson roadshow and 29 others. Except the 29 others may as well have not been there. Wilkinson's forty minute return to action a little under eight months after the Northampton game took the headlines, but Eric Elwood outshone him on his 150th provincial appearance, kicking three penalties for a 9-3 lead. In the second half, tries from Long (two on his debut), Stuart Grimes and Mathew Tait brought a 32-9 win. Six days later in Limerick, Falcons came within seconds of downing Munster at Thomond Park, losing 13-10 as the twenty or so visiting supporters outsung the home support until the last gasp try. The third and final friendly saw a 46-17 defeat of Pertemps Bees at Kingston Park, and we all awaited a potentially crunch first game at promoted Worcester.
Sky turned up for the Warriors' long awaited first Premiership game, but on a blisteringly hot Sunday afternoon, tries from the impressive McCarthy, Mayerhofler and Grimes brought a 30-9 win. A bigger test followed at the Rec, but for the first time in seven years, Falcons returned home with a win, and even managed to get a bonus point. The tries came from McCarthy again, May (2) and Stephenson, with three coming in the first 26 minutes. The low point was an injury time red card for Phil Dowson for fighting, which earned him a one week ban. At the time, most onlookers thought that he was unlucky to go alone, and Bath captain Steve Borthwick ended up with a two week ban for his part in the incident. Falcons stayed second, a point behind the maximum scoring Saints.
Matt Burke made his debut in the first home game, Quins being the visitors, and his presence was needed as Mark Mayerhofler broke his leg in the 15th minute. Quins led for much of the game, but the match turned on a penalty try for Falcons after Gross was stopped illegally. It was a very narrow 22-21 lead in injury time when Jeremy Staunton went to win the game, but his penalty went wide (not the last time that would happen in the season) and Falcons were top of the league for the first time since winning it. Was this the long awaited return to the top end of the table?
Err…no. After three wins came three defeats – 31-17 at Gloucester, where Joe Shaw was carried off with the ankle injury that was to blight his season; 44-15 at home to Leicester on Sky, Matt Burke becoming the third inside centre to be injured in successive weeks when he didn't even make the game; and 43-29 at Wasps, where a bonus point was achieved thanks to tries from Taione, Noon, Charvis and Stephenson.
The rot had to stop, and to a certain extent it did with a 20-all draw at home to Sarries being confirmed by a last kick Wilkinson drop goal. I missed the first try - as did many of the Sarries supporters as the nightmare journey we shared meant that we got to the ground at 3.05, seven and a half hours after the coach had left Watford – but it was scored by the scourge of the previous season, Thomas Castaignede. The first we saw of him was being helped off after a collision three minutes later, with his head hitting Epi's knee. Taione's break had created space for Mathew Tait, whose kick and chase up the line saw him dive over for an equalising try (and with it the prize for Rugby Club's try of the month). The 10-all half time score (it wasn't a good half) had been achieved despite losing Taione and McCarthy to the bin, but early in the second half, from a Tait clearing kick, Michael Stephenson produced his own kick and chase try. The lead lasted four minutes, when hooker Matt Cairns found himself all alone in space with time to boil the kettle, walk the dog, prepare a three course meal and solve some particularly tough algebra before touching down for 17-all. In injury time, and my god was there lots of it, Mark Bartholomeusz dropped Sarries in front before Wilkinson's equalising score. The Sarries supporters were gutted on the coach home, but at least it only took just over five hours to get to Milton Keynes.
Having fought so hard to get into the Heineken Cup, Falcons had to ensure that they got off to a better start than the three defeats of 2001/02. The Thursday noises from Newport were that they could "take care" of Jonny. By Friday it was irrelevant, as he was ruled out for six weeks owing to a haematoma originally picked up in Galway. On Saturday, the Dragons proved oblivious to the talents of Dave Walder, who chose the wettest day in his career to produce his finest game; his controlled kicking, allied with exceptional management of his backline, were the main factors (along with a mighty defensive performance) in the shock 10-6 away win, captured (thankfully) by the Sky cameras. The result was made even better when you consider that the only try came as a result of first a charge, then a splash down from Mike McCarthy, and that nearly twenty minutes was played with only fourteen men, Luke Gross being dismissed for kneeing Ian Gough in a fight (for which he was given four weeks).
In Europe, you have to win all your home games, and hope to pick up two wins away to qualify. That fact made the Perpignan game a must-win, and the French runners-up were hit by another high profile try from Tait, once again skinning his opponent in the danger zone. Burke's conversion was vital; when Manny Edmonds scored his own five pointer, he missed the extras. Burke also kicked three penalties, Walder adding another, but it was the Aussie legend's tackle over his own line in injury time that assured a home win, and two wins out of two. An overnight coach journey home was never so good.
After the Sunday exertions, it was not surprising that the Friday night game came a little too quickly. Sale took advantage of the situation with a 39-25 win, but only after Falcons led 22-13 with three first half tries. After the start to the season, losing four of the next five league games meant beating Leeds was vital, and the big men stood up; Matt Burke's first try for the club came in the 17th minute, and he added a second and third by the end of the afternoon, which when added to Jamie Noon's effort meant a 29-16 win.
The run, however, stopped at one. Just. The trip to the Madejski ended frustratingly with an 85th minute Irish try to win the game 21-15 after Falcons had led 15-8 at the break. The next opponents to arrive at Kingston Park were Northampton, who had led the table after two games but had then lost the next eight on the trot, picked up four points in those eight games, and had sacked their coach on the Monday before the game. (Editorial note – add "even though it should have been at least two, and probably five weeks before" to that last sentence before putting the story live). Saints were forced into a last minute team change when the RFU refused Ben Cohen permission to play having played the last seven minutes in the previous day's England-Australia game – his only rugby in three weeks – but scored the only try through John Clarke in the first half.
Proof of how I hate Falcons-Saints matches – I didn't know what the score was at half time, despite standing right in front of the scoreboard; that's the sort of daze I go into. The second half saw the score go to 18-16 in Falcons' favour before Colin Charvis (scorer of four tries for Wales on the Friday night) came on and imposed himself. The subsequent 27-16 win may not have been pretty, but when you play the bottom team (as Saints became) you have to capitalise.
Cup rugby (two weeks of Europe and then the Powergen) now took over. First the Powergen draw, and if you've read the previous season reviews, you'll know that Falcons always get a Premiership team in the last 16. This time, the first defence would take place at Vicarage Road. There then followed two games against Edinburgh, both of which had to be won if Falcons really wanted to progress. The half time dressing down in the home dressing room was alleged to have been a paint stripper, with Edinburgh 16-13 up and seriously threatening Falcons' European future. Three second half tries in six minutes from May, Stephenson and Burke meant a bonus point and a 34-24 win. The return game at Murrayfield was just as tense – Wilkinson made a half time comeback; the Scots led for a long, long time; Falcons missed penalties and drop goal attempts; before a touch of genius. Pressing for an injury time try needed to peg back a 10-6 deficit, Burke produced the most delicate of grubber kicks for Stephenson to dive over in the corner and score. The large travelling support went wild, but the conversion was needed, as there was still time to lose the game. An Englishman, scourge of the Scots, with a kick from the touchline on his wrong side.
Never. In. Doubt.
The four wins out of four meant that with Perpignan and the Dragons splitting wins, a win in either of the last two games would win the group. Falcons were also, along with Leinster, the only teams with four wins. For those lucky enough to be going to Catalan country, we were in for a treat.
Now for a cup defence. Or as it turned out for 30 minutes, a cup surrender. 17-0 down and going out of the cup, the Stuart Grimes try before the break gave hope, whilst the queue for half time alcohol just frustrated. The entrance of Wilkinson at the start of the second half, combined with Tait's entry seven minutes later, lifted everyone, and when Tait scored with his first touch, we suddenly had a game – which the rock that is Taine Randell then took away again with another try. Wilkinson's penalty – flashbulb frenzy – brought it to within seven points, and when he went through three tackles before offloading to Charvis, which the Welshman then set up Stephenson for a try in the corner, we hoped that the old Jonny Wilkinson was back. He missed the conversion, from right on the touchline (only hitting the post) and then failed in two drop goal attempts, one from well out, the other from further, as the nine minutes of injury time passed and Falcons went out 22-20; beaten, literally, by themselves.
The only thing consistent at this point was the inconsistency. The trip to Leeds on 27th December brought a record crowd (14,293, up by nearly seven thousand), another Wilkinson appearance off the bench (this time in place of the injured Taione after twenty minutes), and the last appearance of Marius Hurter in a Falcons shirt. The big prop had taken a chance to go home; he would be sorely missed. In another scrappy game, Wilkinson's boot won the day, kicking three penalties and a drop goal in a 15-11 win. The hype for him to start just kept on growing, and the first match of the new year brought that start in a Jonny v Charlie (plus 28 others) clash at KP. The talking point of the game though came on twenty minutes, and probably ended up winning the man in question an England cap.
Mathew Tait, in receiving the ball on the left wing, stepped past Jos Baxendell and was faced with England captain Jason Robinson. No problem, as he barged him off and scored in the corner. Robinson would get his revenge – two tries including one mesmerising run – but it was Tait who would be the focus of attention after the game. A 20-19 half time score hardly did justice to the quality of the match – both fly-halves were on the top of their games, and showing it. Sale regained the lead in the second half, and stretched it out to 29-20 with twenty minutes to go, and looked very good for it. Wilkinson's 73rd minute penalty put Falcons in range, but they still needed either brilliance or a mistake to win the game.
We got both. Falcons twice went for a lineout in the corner, and when Noon made a charge, it was set up for Wilkinson J. A Sale slip saw a big gap open up, and he popped through to get the try and set up a winning conversion. What a boost before Perpignan – fourth in the league and only a point off the championship play off positions.
It was never going to be easy in Catalan country, but news that Kingston Park had been hit by a storm which partly ripped the roof off was the first barrage of the day, with the home side's performance in the final forty minutes being the second. It had all looked so promising, but the compounding of the injuries just made a hard job worse. Already missing Burke and Walder amongst others, Jamie Noon was helped off in the first half looking very groggy, Wilkinson left in the second with a knee injury, and Andy Buist's season ended with a cruciate problem. Add some home town refereeing at a crucial stage early in the second half, and a home pack that looked hungry, and you get a 33-12 defeat that could have been more. Falcons were still in pole position to qualify, but spent the week patching together a team for the now crucial game against the Dragons. At one point, there were only eighteen fit players, three of whom were scrum halves! Add it some garbage being spoken by Jamie Ringer about the Dragons not being shown respect, and you had an interesting afternoon in store.
By 1pm on the Sunday there was a team. Burke had recovered from his knee injury; Noon proved he hadn't suffered a concussion; and Mark Wilkinson took the fly half spot. What wasn't needed was for Hall Charlton to go down in a heap after just four minutes, and subsequently go off three minutes later. Playing with the wind, Falcons went in 13-5 up, thanks to a try from Colin Charvis after Stephenson fell a yard short, and three Burke kicks. With Dragons centre Tuipulotu being binned right on half time, a fresh Falcons had ten minutes to take advantage. It took eleven, but May's try created an encouraging 18-5 gap. When a converted try made it 18-12, it got more than a bit nervy, but with three minutes to go, Burke threw a dummy and sped away to score the clinching try (the picture of the break is on my wall at home). Even a late try from the Dragons couldn't change it, and Falcons – for the first time – were in the quarter-finals. We knew it would be France, just not where, but Toulouse kept the second seeding which meant we would be heading for Stade Francais in Paris.
After a week off, the return to league action was almost mundane in comparison to the European stuff BUT it was still the likeliest way of qualifying for the Heineken Cup. A Friday night trip to Saracens was memorable for one thing only – Ollie Phillips' first senior try – as Sarries hammered out a 32-13 victory. By this time, it looked a near certainty that there would be two Falcons in the England side, and on the Monday, Jamie Noon (for his sixth cap) and Mathew Tait (not 19 until the day after the game) were named as the centre pairing. At this point it would be lovely to say that they both starred…but I can't. Wales won 11-9, Noon was moved from inside to his favoured outside centre position for the French game, and Tait was dropped completely.
Wasps came up to KP to face a Falcons side ever more depleted by injury. Matt Burke was a late withdrawal, so Toby Flood made his debut at full back, whilst Tom May took over the kicking duties. A 16-11 lead at half time, with May kicking four out of four and Mark Wilkinson scoring a rare try, was more than could be expected. The second half started with the try that won Falcons' try of the season. Stephenson threw out a long pass to Mayerhofler on his own five metre line, who in turn fed Taione on the break. The ball kept moving between hands as it made its way up the field, to eventually find Flood going for a debut try. He was hauled down with five metres to go, but popped the ball up for Phil Dowson to finish off the move with a try. 23-11…and then Falcons went to sleep. A try from Erinle cut the lead, and Van Gisbergen's penalty made the gap just two. Walder came on, took over the kicking duties, and nailed one, before a late Wasps try made it 28-26. It took until the 85th minute, but a chance came with a penalty, and Walder's nerve held to win the game.
The luck had to run out eventually. 19th February at Welford Road was a nightmare, all gleefully filmed by Sky. For thirteen minutes, falcons looked good, and Mayerhofler's try actually made a 7-3 lead. In the next 67 minutes, Tigers scored eighty points, eleven tries, and had the bonus point by half time. It was a black, black day; players looked like their confidence was shot by the end of the game. Rob Andrew said that it should be put down as a bad day at the office, but the effects of this defeat would reverberate for weeks, especially as every gory second was shown live. Every problem the team had was open to the world.
Which probably goes some way to explaining why Gloucester were 22-6 up at half time on a freezing KP afternoon the following Sunday. As the snow fell, it was a depressing sight, but whatever was said at half time worked. Tries from Stephenson, Tait and Mayerhofler (who was outstanding in the second half) made it 27-22 before Gloucester sneaked a try with three minutes to go to level it up. Henry Paul missed the conversion, and we had a 27-all draw. Two weeks later came the latest return of Wilkinson at Harlequins – and the exit, injured, 34 minutes later. Quins won their sixth (and subsequently final) game of the season 39-23.
The final round of Six Nations matches saw the deserved Welsh Grand Slam, but also a Calcutta Cup hat-trick for Jamie Noon, only the third in the history of the match. We shall see in the coming season whether Noonie has finally made the number thirteen shirt his own, but it's now questionable whether he can do any more to show how good he is.
With the Heineken quarter-final just around the corner, every player had to be fit and ready for it, so the last thing that was needed was an attritional battle against Bath six days before it. Tom May's try after just 21 seconds was the highlight; the reduction to uncontested scrums as the Falcons front row finally submitted to the injuries that some of them had been carrying for most of the season the low. 9-5 to Bath in atrocious conditions.
Just as before the Dragons match, Falcons went into the quarter final trying to get players fit for what Andrew called "the biggest match in the club's history". Midday on matchday saw a get together for the Falcons support, first suggested by this site, before making our way to the Parc des Princes. Three thousand supporters made the trip, but were disappointed that neither Charvis nor Wilkinson were fir enough for the 22. Matt Burke was though, for his first game since January, and scored the Falcons try. Trouble was, by that point, Stade Francais had already scored five tries, Falcons had gone down to uncontested scrums again after Micky Ward's ankle gave way, and the game had long gone. Whilst not entirely unexpected, the 48-8 loss was disappointing, but there was at least the pride of getting so far – Noon, Burke and Geoff Parling all shone in the sun.
There was still the chance of a home Wildcard draw, but falcons had three sides who were all fighting to avoid relegation. First up were Worcester at Kingston Park, and a frankly abject home side didn't compete with the visitors' passion and desire for a result. If it wasn't for a late Burke try, then there wouldn't even have been the consolation of a bonus point in the 21-16 loss. For the second time in the season, Falcons followed a Sunday game with a Friday night clash, this time at Northampton for the last home game of the season. It was a thrilling game, with Saints scoring two first half tries through Hyndman and Krige, the return of Charvis (from kick off) and Wilkinson (from the bench), the absence of Burke, and the loss of Michael Stephenson to a broken leg, in what turned out to be his last game for the club. Once again, someone who will be missed.
In the second half came the Falcons surge. Two penalties from Wilkinson, and a superb try from Jamie Noon left it at 23-22 to Saints going into the dying minutes, and the terror struck home crowd could only watch and hope that they held on. Walder's attempted drop screwed horribly wide from right in front before, with two minutes left, Wilkinson had a chance to bang the Saintly coffin shut. His kick, from the touchline but near halfway, had the direction before tailing off and falling short. Falcons had missed out, and Saints had kept their hopes of avoiding relegation alive.
With Gloucester's form dropping right off, the last game of the season saw Falcons have a chance of a home Wildcard draw, if they managed to get four more points than the Cherry and Whites. Gloucester were at home to Saracens; Falcons were at home to the still threatened Irish, for whom a loss could have sent them down. A nervy first half saw Falcons go in at 10-8 down, far from the four tries that would have helped, but Wilkinson's book, aided by Irish's lack of try scoring power, saw Falcons home 23-16. The retreat to the bars saw the drama at the bottom happening elsewhere; Worcester beat Northampton 21-19 to leave those Saints supporters at Sixways and watching the big screen at Franklin's Gardens enduring an horrific three minutes where if Quins scored against Sale, Quins would stay up and Saints would drop. They didn't; Sale beat Quins 23-22 and took third, Quins were relegated, and more importantly, Gloucester's point in a 14-13 home defeat to Sarries meant a trip to Kingsholm a little over a week later.
Now if Falcons were suffering, Gloucester had it worse – so much so that James Forrester was playing at inside centre against Falcons. With a try from Matt Burke, Falcons went into the break 13-7 up, but a truly inept second half saw Gloucester allowed back in and, eventually, allowed to take control. Chief architect of the defeat? Two try Forrester. The last chance of the Heineken Cup had gone, and so it would be the secondary competition in 2005/06. As a result of his performance at Kingsholm, Jonny Wilkinson was confirmed on the Lions tour, and for the second tour running, he was to be the only Falcon.
Elsewhere, Wasps finished second for the third year running and won the final for the third year running, beating Leicester at Twickenham in Martin Johnson and Neil Back's swansong; Toulouse beat Stade Francais 18-12 after extra time to win a third Heineken Cup; and Sale stuffed Pau to win a second European Challenge Cup.