Falcons At 10 - Rob Andrew At 10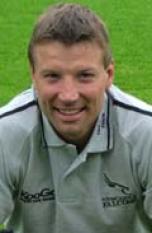 By Mark H
September 21 2005
In the penultimate instalment of our Falcons At 10 series (for now at least), we look at the one constant over the ten years - Rob Andrew. As usual, the opinions contained in the article are those of the author and not necessarily those of www.falconsrugby.org.uk.
Rob Andrew today celebrates ten years of being the man at the forefront of rugby in the north east. On 21st September 1995, after a couple of weeks of speculation in the wake of Sir John Hall's takeover of the club, the incumbent England fly-half decided to leave Wasps and become Director of Rugby at a struggling second division side.
He built a side in that first season which would, after a year of development, grow and win promotion in the second, win the Premiership in the third, and get to the cup final in the fourth. Two cup wins have come since, plus two semi-finals in the European Shield, another semi-final in the Powergen Cup, and a quarter-final in the Heineken Cup. It's a record that most other clubs in the Premiership would want.
For all the cup runs though (and Rob himself has always insisted that Falcons are a better cup side), the league form has consistently been inconsistent, with only one finish in the top half since the championship win – and that was sixth place in 2000/01. As a result, Rob Andrew is the man who divides opinion most in British rugby. Some like him; others (including some contributors to this site) don't. It's purely a matter of personal opinion.
September 1995 was rugby's brave new world, and Christopher Robert Andrew was right in the middle of it. He'd ended, less than three months earlier, a World Cup quarter-final, with a monster drop goal to knock the world champions out. England had subsequently been steamrollered in the semi-final by the All Blacks, but having won 70 caps, Andrew was the nation's most capped fly-half and record points scorer; he'd been one of the few English players to take his game to France to try to improve it; and he was part of a Wasps side that had just finished third in the league and runners-up in the cup.
Then, on 26th August, the game was declared "open", and the shamateurism days were over; clubs and countries could now pay their players for playing rugby. Matt Burke, then forging an international career, now playing at Kingston Park, would later call it "the best job in the world".
On 5th September, Hall's Newcastle Sporting Club bought Newcastle Gosforth rugby club to add another arm to his vision of a Geordie sporting dynasty. Over at St James's, Hall had the highest profile manager in the English game in Kevin Keegan; he needed Keegan's rugby equivalent, so promptly moved for the 32 year old Wasps fly half. After 71 league games and 681 league points, Andrew moved north and was paraded around St James's Park on Thursday 21st September as the new Director of Rugby.
As a result of the 120 day ruling, where you had to wait that period of time before playing for your new club, Andrew had to wait until 25th November and a league game against Harrogate to make his debut, but was already working on constructing a side to put Falcons up there with the best. 1996/97 brought promotion behind Richmond; 1997/98 was the golden season, when nineteen league games were won (a record still unmatched), and the championship was won in front of thousands of delirious Geordies at the Stoop.
Looking back now, this was the peak, as the side that had been assembled started to break up almost immediately through age, injury, finance, and fresh challenges. He had built a side with money; by February 1999, with Falcons teetering on the precipice of extinction as Newcastle Sporting Club withdrew from their non-football activities, he would have to build a team from youngsters. David Thompson's takeover secured the club's future, whilst Andrew put the playing future into the hands of the names we know today – Wilkinson, Charlton, Ward, May, Noon and Stephenson. Falcons since that point have always had a very good Academy, thanks largely to John Fletcher and Peter Walton, and that has continued to produce players that have graced the Premiership and who will have very long careers, with Mathew Tait, Geoff Parling and Andy Buist among them (and it's still happening – look at Ben Woods last Saturday at Northampton).
Andrew has also managed to attract top internationals to the club since the halcyon days of the championship, from both hemispheres. No-one could deny though, that the signings of Mark Andrew and Mark Mayerhofler early in 2003 weren't the most vital that he's ever made. With Falcons rooted to the bottom of the league, the two signings proved a catalyst for an eventual tenth placed finish, something that was beyond most of our wildest dreams just three months before.
How his legacy at the club will be remembered though is questionable, and it's purely based on the league positions. Perhaps the championship at the first time of asking set a standard that was hard to live up to; that side was exceptional, full of internationals and most of all experienced, and it's only now that the experience levels are getting high again throughout the team.
"Winning the championship so early probably became a rod for our own backs as it raised the bar so much" (Rob talking to the Northern Echo, 28 April 2005)
You can also point to the Hall withdrawal as a big backwards step for the club, because it meant that the rebuilding process had to be done with young players, as a time when other clubs were starting to sign the big names. The struggles of 2002/03, as Rob himself alludes to later in the article, meant that a very large sticking plaster had to be in effect attached to the team in order to maintain Premiership status, and consequently a rebuilding process had to be started again before the start of last season.
However, it should be said that over the ten years, only Bath, Leicester and Wasps have been more successful. If you look at last season, you could only really say that four, possibly five clubs would have been happy with their season overall (Wasps, Sale, Leeds, Worcester, plus possibly Saracens). Does that make the rest failures, or does it mean that everyone's playing in the most competitive league in the world? Rob gets slated sometimes for the failings on the pitch (and sometimes rightly so), but he seems to be the target for every defeat, which to me is totally unfair. Take the Bristol match as an example. At last Thursday's press conference, it was clear that Rob was still angry about the eighty minutes, and asked the question, quite reasonably, of what do you do when your players don't take notice of the warnings given to them at half time that they were throwing the game away? You can't take every player off, much as you'd want to.
At times, we have to admit that we're beaten by a better side, and like it or not, at present there are better sides in this league. When we lose, it hurts everyone; supporter, players (just look at Micky Ward or Matt Burke after a defeat), and coaches. We all want the club to be as successful as it possibly can, so there are times when we have to unite; something, it has to be said, we're sometimes not very good at doing.
Tightheed asked on the message board last week "is ten years at one club too long?", to which there's no definite answer. It's too early in this season to answer that – much has been made of the aim of winning a trophy this season.. I am sure that things will be changed if they need to be. On this day, however, I ask you to look back at Rob Andrew's ten years, and give thanks to him for making us an established Premiership side that has the potential to win trophies, and for being as big a supporter of this club as we all are.
--
That's part one of our look back at Rob's ten years at Kingston Park. Part two consists of the five minutes or so that I spent with him last Thursday at the end of the weekly press conference.
I've already mentioned that Rob was still angry. The other things that struck me about him were that he was confident of a result at Franklin's Gardens, and that he was very thoughtful about his answers to my questions. Now I know that you'd like me to have dug really deep – trust me, there's a lot of questions that I'd like to ask – but what I was looking for here was a brief view of the last ten years from Rob's point of view, which he shares now:-
MH – When you first came to the club, did you expect to be here for ten years?
RA – When you do this job you don't know what to expect, you don't actually look at it that way at all. You look for a little stability, I think any club needs some stability, particularly a club like ours which has had to fight for everything. I didn't say in '95, "right, I'm going to be here in ten years time", you just do the job as best you can for as long as you want to do it.
MH – Who's your best signing?
RA – Gosh, we've had some great players here. It's an unfair question, because if you look at the world class players we've had through this club, a club that basically had very little, the likes of Pat Lam, Inga Tuigamala, Doddie Weir and Gary Armstrong, Alan Tait, John Bentley, Nick Popplewell…that team that won the championship, and subsequently we've had the Mark Andrews of this world, we've now got Matt Burke, Colin Charvis and Owen Finegan, we developed Jonny Wilkinson, we've had some fantastic players. If you were really to force me to answer it, then I think probably the one that week in week out, pound for pound, always gave everything that he possibly could for this club, would be Gary Armstrong – but that's not to say that the others haven't been fantastic as well.
MH – What's your most memorable match over this time? Obviously we've had to cup final wins, a championship win…
RA – Again, those questions are very subjective and you could list a whole host as I have with the players. I mean, the two cup finals were sensational cup finals, and on a big stage, but I think that the one that won us the title, although it was a comfortable victory, that winning of the title was quite sensational and has never ever been recognised for what it was in terms of achievement – there's only Wasps and Leicester apart from us that have ever won the Premiership. I think it just sort of happened and it was almost so quick and surprising it was almost like it didn't really happen. That was a sensational achievement and will never be matched – there'll never be a team that comes up and wins the Premiership in their first year, so that has to go down as a phenomenal achievement. There's loads of other games in there as well, I think about the Toulouse game in the European Cup that we played here and beat them 42-9 – that was sensational.
MH – Any regrets over the time?
RA – No, not really any regrets, a lot of lessons learnt, and a lot of lessons that we're probably still learning, but a lot of those lessons have been learnt whilst trying to balance developing a team and trying to keep the club alive. I think that's perhaps an area that a lot of people don't really appreciate - what has gone on behind the scenes over the last ten years, but particularly over the last five or six - to try and manage alongside Dave Thompson the direction of the club but trying to hold everything together financially and on the playing front; and construct this (pointing around the stadium) which we haven't finished yet and we will finish it. That's been a fantastic experience and one that I've enjoyed immensely, but it has been quite difficult at times, and I think that at times we haven't had the team right, particularly the year that we almost get relegated because other pressures were impinging on the situation. When you're trying to keep as many balls in the air as we have been trying to do, I think sometimes you do make mistakes, and when we do make mistakes, we've tried to rectify it as soon as possible. I think that's probably all you can do.
MH – Finally, any message for the supporters, given that we're two games in, one very good performance but not a result, one poor…
RA – Yeah, you know I'm immensely frustrated by that performance (Bristol), probably as frustrated as I've been here in a long, long time, because we've put a good squad together. Obviously injuries will always play their part, and we've had a bad week this week - four more players from the team last week out of contention for this week – but that's always going to be the case. The Jonny thing has been disappointing as well for all of us, but this is a good squad, it's a good group of players, and we've got more strength in depth that we had last year. If people remember, up until Christmas last year, we were fourth, we had just beaten Sale here, we were just about to top the group in Europe, and things were moving nicely, but then our lack of strength in depth caught us out – which we knew it could and would if we ever got to that stage.
We've tried to rectify that this season, I think we have in terms of the strength in depth. We did play well at Sale, that could have been a fantastic victory, and Sunday was just poor. As I say, I still feel very annoyed about the performance, and I've been doing everything I can to make sure we don't have that kind of performance again, because we haven't really had that. Even last year, when we were under the cosh with the sides that we had out, we still produced some reasonable performances, so that's disappointing, and that has to be rectified on Saturday.
--
And as we all know now, it was rectified with the first win in Northampton since January 1998. Thanks to Rob for sparing the time and to Smithy for setting it up.
Enjoy your anniversary Rob.
----------------------------------------------
As I said at the start of the article, the next article will be the last in the series for now, and it'll be looking at what may be in store over the next few seasons for Falcons, based on what has gone before. If anybody wants to add their opinions to this, feel free to contact us at the usual address.