Referee! - Ashley Rowden (part 1)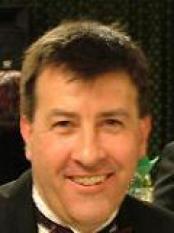 By Mark H
December 15 2005
It's been a long time since we talked to a referee (that's talked, rather than "shouted at"), so back in November, on a cold Northampton morning before their game against Worcester, I had a word with the Premiership's oldest and most experienced whistleblower Ashley Rowden. Mr Rowden is a Berk. (Sorry, that should read "is a member of the Berkshire Referees' Society, although sometimes…) He's also been refereeing at Premiership level, through the Courage, Allied Dunbar, Zurich and Guinness transformations, for the past eleven seasons, so if it's gone on, then he's pretty much seen it. "It" also includes Falcons winning the title, for it was Mr Rowden who took charge of the game at the Stoop against Harlequins back in 1998 that Falcons won 44-20 to grab the silverware. Other notable matches that he's done include the Bath-London Scottish game when Scottish flanker Simon Fenn had part of his ear bitten off, and the Northampton-Leicester game last season when he became the first referee to bin both Martin Johnson and Neil Back in the same game. I'm lucky enough to count Ash as a friend (doesn't mean I ever get a decision out of him though), so on that cold Saturday morning, we got together for a chat on all things rugby. Anyone who's ever met Ash will know that he can talk for England, so the results are going to be in two parts, just to give everyone a chance to breathe in between.
As always with him though, it's interesting.
Mark H – So how did you get started in refereeing?
Ashley Rowden – When I was seven, and most people were watching Jackie Pallo and Giant Haystacks on Saturday afternoon on the wrestling, my Dad asked me to run touch for him, because he used to referee in Berkshire, and I suppose he thought "I'll drag my son along and he can run touch for me" – and that was too many years ago and then subsequently when I was 13, we were at a match one day that he was due to referee and one team was short of players, so dad said I'll play and Ash can referee!
That's worrying that you've been doing it that long.

Were you athletic at school?
Very, very.

I played, I played at scrum half behind a beaten pack to the age of thirteen; I used to do cross-country running which is where I get my natural fitness from, and I used to play football.
So being scrum half you'd be used to refereeing games?
Very much so, very much so!
When did you realise that you could referee at a high level?
Umm, at a high level…what would be your definition of a high level?
Well, sort of leagues and that, and getting up towards first class…
Genuinely, when I started out, I said I wanted to referee Test matches because I think you have to aim for the top, but I didn't have any idea what was involved, and if I actually had the ability.

I suppose, given that I refereed until twenty-one, and then had a break and played football for six years, I do sometimes think "What if?", but hindsight is a useless commodity isn't it?

And I actually enjoyed playing football as [part of] a team, and I think as a referee it's a very lonely life.

When I came back at twenty-seven, I then broke my leg in the first season because I was refereeing and playing football, and someone said "if you want to get to the top – and you can – you've got to give up soccer.

I suppose at twenty-seven I suddenly realised that people knew I had that certain something and don't ask me what it is, because I can't tell you when I look at younger referees what that certain something is.
Is it harder now for the younger referees coming through, that it was for you say, ten, fifteen years ago?
I think it probably is because every game is a league game, and below National 3 they don't have touch judges to look behind them – although saying that, I remember doing Cinderford versus Gloucester United under lights on a Wednesday night, on a cold November evening, and thinking "mmm, I wish I wasn't on my own in the middle".

There were games in our days where you were on your own, so I think it's harder, but then I think it's easier because if anyone shows any talent we now fast track them unbelievably through – you only have to look at Barnesy [Wayne Barnes] who's refereeing today, he was got hold of at a very early age because someone thought he's got talent.
So why didn't you get on the international list?
Ah, why didn't I get on the international list…(very long pause) how long is this interview going to go on for? The simple thing is, is that there's an unwritten law that the IRB say that if you're not doing internationals by the time you're forty, we don't want to develop you, but once you're on, you can stay on until you're forty-eight, forty-nine. So, unfortunately, I got to the top tier at the same time as my good friend Christopher White, we can only really push one referee at a time, certainly in England because we've got so many good referees, and he just happened to get given the nudge in front of me and the rest, as they say, is history. He kept on going forward, and I kept on going forward but not at such a great pace, and by the time I got to forty-one I got a phone call one day from my boss saying, I quote, "You're not gonna (expletive) make it", and that really did hurt…but then you think, ok, we realign our goals, I can be a fantastic Premiership referee, and set standards that other people can hopefully aspire to, and hopefully there are people like Rosey [David Rose] who I know wants to be known as the next Ashley Rowden; you know, be able to handle any Premiership match going – and the bottom line is, seventy per cent of Premiership matches…sorry, all Premiership matches are harder than seventy per cent of internationals played.
You can see that, just watching as a supporter, is that they [Premiership matches] are more intensity…
What they don't have is, they don't have the media spotlight on them, because the Test matches come round infrequently but there's a lot of build up to them – but the likes of Scotland playing Tonga doesn't compare with Leicester playing Northampton, not in a million years.
So how different was Wednesday night?
(Ash was asked to referee Harlequins versus Samoa, just three days before the international at Twickenham)
Wednesday night was different because one, we were trying to keep fifteen Samoans on the pitch, which didn't work!

It's different because they did things that you don't see in the Premiership.

Samoa scored a try from their own 22, before they lined up the conversion I said to the kicker "You can stop that for a start, we don't do that in the Premiership, in the 22 we put the ball into touch".

It's nice to do touring teams like that, but that's sort of like, it's a runaround really for me; I enjoy it, but it's a bit like the travelling around and doing Europe.

After eleven years, every hotel room looks the same, every departure lounge at an airport looks the same, and to me it's a job – get there as late as I can, and as soon as the game's over, get home as soon as I can.
What's your pre-match preparation, say for the Gloucester game versus Falcons?
Preparation, on the day or on the week?

On the week, the difference between the full timers and the part timers is that they have time to one, obviously train sensibly, get up I suppose and train at ten o'clock for a couple of hours, then they can rest in the afternoon – and resting means that, literally doing nothing – and I suppose one day they'll watch videos; not one, but maybe two or three videos of the two teams.

I was reading a lot about Pierluigi Collina this week where he said his preparation for the World Cup Final he did between Brazil and Germany was that he'd watch loads of videos of both teams and look at how players reacted in certain situations.

Well, we're [the part-timers] trying to do that but we don't have the time.
What I would do is look at one video, briefly, if I'd got it, of either team…the thing I've got over a lot of the youngsters is that I know what the teams are gonna do, the players all know me, I know who the naughty boys are, who the nice boys are, who the ones are who are going to have short fuse etcetera, so I've got all this wealth of experience, so my preparation is fairly limited.

I'd watch a video slightly, do a bit of training, and then what I'm trying to do on the day of the game, a lot of people do visualisation, I'm doing the other thing – I'm just trying to calm down and just like relax, and that it's just another game.
(Note – I was at a dinner with Ash four days later, who said "I know what you were on about for the Gloucester game now".

Ash's TJs had commented that he looked hyper when he got to Kingsholm.

It turns out that the poor boy had had a busy night and morning!!!…)
Who are the hardest team to referee?
Gloucester
away, because they play poorly, compared to how well they play at Kingsholm, as they did last week at London Irish.

Leicester are always hard full stop, but they're harder at Welford Road because the crowd is intimidating. It's intimidating because you hear noise, but no more than that, but it's a close proximity ground, and I suppose…certain teams have talkers in, don't they, you know teams that wear black shirts and play out of the High Wycombe area, you know they've got two particularly good talkers, but people have to understand that the talking is done in quite a nice way.

Spectators think that they're refereeing the game; they're not refereeing the game, they're trying to influence the next 50:50 decision their way.

I've never seen a referee yet, and please tell me if you've ever seen it, they've never changed a decision at all…
Nope…
Not at all, so they can't be affecting the decision you've just given, which is what spectators think "Oh he's refereeing the game", but he's not, they're just thinking "oh, he's doing that, right, I'm now working on the next decision to try and make sure he gives that one to us". So I think, again, I think I am lucky, because…I don't have too many problems, I like to think. I think the biggest thing in work is if people respect you, they'll take whatever you do, and they'll know you've made it in good faith, and what the youngsters have to do, even the full time youngsters, they have to go out and prove to the guys on the pitch that they know what they're doing. I did that seven, eight years ago, and then everything else is in the bank. Yeah, of course the DoRs get upset with me. They're human, and of course they want every decision their way, and it's a fact of life that you cannot keep thirty players and the whole crowd on your side. You have to accept that occasionally you're going to make decisions that people are not happy with. Again, you get used to that. I don't worry about that any more, you know, I just do the game, get off the pitch as soon as I can, and get into the dressing room, shut the door, and then an hour later, when everyone's calmed down, you can talk sensibly to people.
So what do you think your relationship is like with the DoRs?
I think I have a very good relationship, my bosses say that I'm too friendly with them, but again, when you've been around so long it's hard not to be friendly, isn't it – and you know, I'm not a teacher, I'm a salesman, and salespeople want to make people feel nice, because that's how they get business.

If you're a policeman, you don't have to have people like you in your job – "I'll just nick you for speeding sir, and now you're done", "Well I don't like you", "Well I don't really care sir, it's not my job for you to like me".

As a salesperson, I have to have people like me, and again, that is transmitted in the way I referee.

Yeah, I am too friendly, and of course I talk to the players too much, but I'd rather referee that way than, shall we say, the way some of the other referees are refereeing and who've got further with their careers than I have!
Do you know how many Premiership games you've done?
Well, it's open to debate.

According to Rugby World it's 106 at the beginning of the season, I think we have to debate is that Premiership, Guinness and Zurich Premiership, or does that include Allied Dunbar and Courage…
This was from the start of the 97/98 season, and that's good because I made it 106 as well…
That then would be the Premiership stats.

I've got in my mind that Whitey and I are very similar.

On average you do, in the senior league, whatever you want to call it, fifteen, sixteen, seventeen a year.

I'd take eleven and times it by that figure, so there's two years missing on that, so you can add another thirty at least.
Strangely enough, Whitey is just in front of you…
He'll probably always stay in front of me.

I won't lose sleep over it.
You're number three.
Ah, I'm number two now because I've overtaken Mr Lander.
No you haven't as yet, you're two behind him.
Rugby World had him at 109, you've obviously got a few more, have you?
I've made it 113, when I counted every match…
Oh well, you'll have to discuss that with Stuart Farmer Statistics, cos he had 109 so I've now overtaken him!

But I'm not into records really, because records are there to be broken, there'll be someone at some stage who'll start refereeing at twenty-five and referee until forty-five, if they can keep going, because mentally is what drains you.

It's not physically, refereeing Premiership is physically easy.

That's the only thing about Test matches and Heineken rugby, they've got the ball and they actually pass it.

Now that habit doesn't appear a lot in Premiership rugby in the last ten years.
What's been your favourite game over all the games you're refereed?
I'd categorise that into…because I've refereed so many games at Twickenham, I'm very lucky so I'd have games at Twickenham that are favourites, and I'd have other games.

My favourite one would probably be last year in the Powergen Cup semi-final, simply because for a part time referee, that's probably the highest fixture I could have got.

In terms politically, while I'm good enough to do a Powergen Cup Final, I'm good enough to do a Guinness Premiership final, the powers that be cannot have a part time referee - no matter if I was the best referee, score on the doors, I still wouldn't be appointed to the game.

The likes of high placed committee men would be saying "Why have we got six full time referees, and that idiot from Berkshire is running round on our pitch?", so the Gloucester-Bath semi final was really nice, it was special, it went into extra time, it went into the last minute, it was a great occasion.

In terms of Twickenham, probably Army-Navy.

While the skill levels were like National 3 at best, forty thousand…if you think Guinness Premiership supporters are one-eyed, that ain't nothing compared to Army-Navy supporters!

That was special as well.
That Gloucester-Bath game, obviously there was the possibility a minute later of drop goals.

Were you ready for it?
I was, not sure the clubs and my reserve referee was, because I had to convince him that I knew the regs and he didn't, but yeah, we were ready to go into it.

I think it would have been an unfair way of settling a cup semi-final – as Ed Morrison says, I'm glad that someone scored a try that decided the match.

It was an unsung hero I suppose for Bath, so that was nice in a way.

It would have been different, wouldn't it, another little bit of history, and I've had a few of those moments.
How do you react to some of…because after that game there was a bit of criticism from Mr Guscott of how you handled it, although I watched the game back two or three times the following week because it was so memorable and I thought, no, the decisions were right.

How do you react, because the rugby television media is very orientated to one or two clubs…
Well he's paid to be controversial, and everyone has an opinion. Eddie Butler said "I like the way Ashley's refereeing today"; Jerry Guscott thought I was a bit of a knob, and he's entitled to his opinion, but until you've been out there in the middle, it's easy to say that I was doing this, that or the other. Every pundit at the moment says that Andy Robinson's picking the wrong team for England – well fine, when you're in charge guys, then it'll be your neck on the block, but at the moment it's his neck on the block and he's judged by results. I tend to agree with some of what they say about this England team, but he's the man in the middle, and he's paid to make the big calls. That's what we're paid to do, and most experts, so to speak, have never refereed a game of rugby in their life, and they've no understanding of the management of a game – anyone could go out and give 45-50 penalties every match, comfortably…but that doesn't make a game of rugby.
So that's part one.

Part two has Ash offering opinions on discipline, law changes and the future, so come back for that.