Biarritz Olympique v London Irish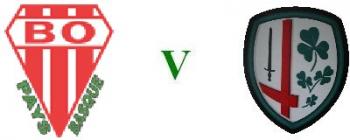 By Sam_R43
August 26 2011
This is the match report for the Biarritz game. I didn't know I was doing the match report but as I was there and have all the updates from the game logged in my mobile phone I thought I better knock something together. So here is what happened in the game and some final thoughts about the game, Biarritz and the future! (It's not my best work, honest!)
10 minutes in, Ben Pritchard drops Magnus Lind on his head and gets a yellow card.

15 minutes in, Tom gets a penalty 22 minutes out (with accompanying wolf whistles.) 0-3
Ben back on defending a 5m scrum. After a reset it wheeled to the left. Dan came across and tackled the number 8 but the number 9 scores a try, 7-3
A lot of kicking from hand, bit of tennis.

32 minutes in ... Penalty on our side of half way (more whistles from the crowd) lands just short.

34 minutes in ... Up and under missed in the air by Tom (who has stayed down), Pritchard jumps on the ball and throws it backwards aimlessly, kick through by BO player, try. 14 - 3
Tom got up fine.

36 minutes in ... Penalty from the restart. 22m out. Tom kicks it. 14 – 6
Pen against Richard Thorpe for crawling along the floor. BO take the 3 (to whistles from the 4 LI supporters,) hit the post and JJ breaks up field and chips through, collected and cleared. Good attack, quick hands, good feet from JJ. Pen in front of the posts. Tom kicks it. 14 - 9

Air raid siren goes. Half time.
Alex Gray and Leo on, Pritchard and Faan off. Good start by Dan B and Alex G.
47 minutes in ... Good defense all round, forwards and backs. But then 1 missed tackle and they run through and score. 19 - 9

Dodge, Guy and James B on for Paice, Darren and Adam.

Dodge and Dan aren't pleased with sir (monsieur actually!)
49 minutes in ... Mark George on for Max L. BO don't miss a tackle! Jamie G having a good game. Siggery on for Richard who didn't have one of his best (I presume he means Thorpie and that he meant Thorpie earlier too.)

54 minutes in ... Good attack from BO, loose defence at the fringes, cross field kick goes dead.

57 minutes in ... Anthony and Shingler on for Marland and Tom.
Knock on from BO, pounces on by JJ, good hands, quick ball, pen on 22. Shingler kicks. 19 - 12.

60 minutes in ... Kieran on for Nick.
66 minutes in ... Strong maul by BO, good inside line, quick hands, defence everywhere. Turnover and cleared to our 22. BO forwards drive on, no match for ours, chipped through and touched down my Marland.

68 minutes in ... Another strong attack by BO knocked on. Justin runs out to shout at players looking angry, drops radio, loses his dignity, shouts at players anyway. JJ off, Jarvis on
70 minutes in ... BO run round Jarvis, good covering tackle by someone. Pen 22m out, BO taking the 3 (Boo!) 22 – 12
74 minutes in ... Can't break the BO defence, Anthony runs round but passes to touch. Loose pass by BO, Shingler collects loose ball on 22m passes to Dan for an easy run in, TRY converted by Jarvis. 22-19

P Synott on, Dan off.

75 minutes in ...Pen conceded on half way as someone ran into Dodge but got a pen for it. BO take the three, it's good. 25-19

Correction, Adam back on for Dan.

Good line break by Guy up to 22m, going backwards, Shingler tries to break through but knocks on, 78 minutes.

Couple of resets, air raid siren goes, BO kick it out? No they knock it on but we can't recover it.

Full time, Biarritz 25 – 19 London Irish.


In summary - It was an average performance against a very good Biarritz team with excellent defence. For some of the game it felt like men v boys but that's because we had a number of 17 and 18 year olds out on the pitch. And with those young players it will always be difficult to compete with quality sides from Europe. Still some work to be done but for what they lack in experience the younger players certainly make up for in determination. But as they say no substitute for experience (and Seilala Mapusua)

And a bit about Biarritz – It was very nice, lovely big beaches and nice little places to eat. Bus travel for a 24hrs for just 2 euros (take note English transport!)! It was also hot, very hot, very very hot indeed (35 degrees) so a few of us returned burnt.

Finally, the future – With one more pre-season game to go it seems like the squad will be ready in time for the double header. They all seem to have bonded well and the attack doesn't seem unorganised. Maybe a few problems in defence but nothing that can't be sorted. Losing to Heineken Cup quarter finalists by just 6 points with a very young squad is a good result. Roll on Munster next week; I'm sure the weather will be more like home, RAIN!