Nearly got it!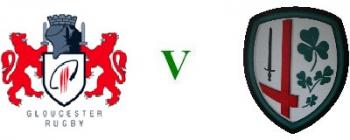 By Jon_R43
October 5 2011
Early start for an away trip involved leaving home at 6.15 am thanks to ESPN for the Early Kick off (1.00pm) and the World Cup schedules putting the England-Scotland Game on at 8.30am. Howth Exile had managed to find a pub near Gloucester prepared to open early so 12 of us settled down to a cooked breakfast and an England game.
Most of us supported the England team all the way through despite a poor performance although at one stage I'm sure one person near me was supporting Scotland. The result means that we should have Joe Ansbro available soon but maybe from an LI perspective a loss for England would have been better as we seem to be running out of props and back rows and have plenty of coverage in the centres so getting Alex, (Delon and Shontayne) back can't come too soon.
After the game we carried on into Gloucester and went to greet the team, we were told the coach would arrive 1hr 30minutes before kick-off but the team were a bit late. Next round onto the terrace (not the shed) to watch the warm up. For those who remember our last trip to Gloucester the warm up described by LKR in that match report is now completely different (the game and result were so poor that she didn't focus on that at all ), if you want to know what happens now seek out LKR and she can tell you in great detail.
Gloucester is one of 4 premiership grounds we still haven't seen an Irish win (along with Leicester, Wasps and Sarries) Northampton is no longer on this list after our last away trip!! However Gloucester had not lost in the premiership for almost 2 years. I wrote a match report on 9 March 2008 another day England had played Scotland (and lost 15 – 9) down in Gloucester with a final score of 31 – 14 so hopefully this time we could get a bit closer
The teams came out and Mr Garner blew his whistle and Steve Shingler started the game. I received the first of a number of texts from Sam R43, now at uni up north in Chester. Did you know it takes a satellite signal longer to get to Chester than a text!! (At one point I told Sam we had scored before it appeared on his laptop!)
A high ball was collected by Chris Hala'ufia (who was taunted by the shed (not for the final time!!)) Chris put up a high ball and made the tackle on the player receiving the ball, the ball was off loaded and a pass was fed to Alex Gray who strolled under the post to score. 0-7 to Irish after 3 minutes (Sam sent me a text saying he thought that they had scored as he had forgotten that Gray was one of ours.)
Glaws got a penalty on our feed at a scrum which was converted by Tim Taylor (3-7) The next restart led to a holding penalty, Tom went for the posts but missed. Glaws made a break from a scrum and a couple of missed tackles and a forward pass later (Austin said so on ESPN so it must have been – Does anyone remember the" try of the season" against us at Bath that had a forward pass in the middle of the move!) Glaws were (10-7) up. I'm saying tighten it up it's too open but the game remained loose with opportunities for both sides. Chris conceded a penalty (No not that one!!) for hands on the floor and Glaws were 13-7 up.
Half way through the half now JJ makes a break and Mr Garner gives us a penalty "You don't know what you're doing" shout the shed. It goes quiet as Tom prepares to kick as the leading scorer in the premiership with an 83% kicking rate - this one must go over . There are a few calls from the shed as he approaches (but nothing compared to the stick Ryan took last year) but unfortunately he missed again. A third penalty is awarded more centrally and this time Tom makes it 13-10 and takes his kicking percentage up to 50% for the day.
Gloucester find a new way to score. Kick the ball out on the full, give Irish a scrum on mid field, reset the scrum and then kick the penalty after penalising us for Max binding on the arm. 16-10
Next up comes a controversial moment, there is a restart which results in Gloucester position, Chris Hala'ufia attempts a tackle, the Shed go mad and the "off, off, off" chant starts. Ref and touch judge (Mr Goodliffe who missed part of the Ashton/ Tuilagi events last year ) are consulting and a yellow card is issued . There may be an anxious couple of weeks at Sunbury if the citing officer gets involved.
However immediately there is some cost to Irish. Lineout leads to maul which leads to penalty (collapsing) which leads to scrum 5 metres out (7 v 8) which leads to pushing to the line which leads to a penalty try. Why did we not have 8 in the pack, I don't know but we're suddenly 23-10 down with 7 minutes of the sin bin remaining. It's going to take some work to stay in this game and we are beginning on the terrace to think about previous heavy defeats. But with Chris still off the pitch there is an inside pass from Dan to Topsy who goes through the centre and scores under the posts. 23-17. Another restart goes out on the full and Chris is back a couple of phases later and the players leave for half time.
The second half starts and within a minute there is an offside penalty giving Tom a chance 23-20 and Tom back to a 60% kicking rate. Fairly quickly there is a high ball chased by Adam who makes a tackle and recovers the ball, as Adam charges to the line he's brought down there is a ruck and the ball ends up going from Dan to JJ, Steve Shingler comes late through a gap and we score again Tom converts and were in front at Glaws 23- 27! But not for long almost straight from the restart Glaws attack down the right wing and Dawidiuk makes it in at the corner 30-27 and both sides one try from the bonus point with half an hour still to go.
There is a period of play where the ball seems stuck in mid field, JJ and Adam created a chance to our right which was stopped by a Sharples tackle which went forward as Adam was heading for the line. More pressure led to a penalty award and a "free play" which was heading towards the line. Tom slotted the penalty making it 30-30.
Chris was replaced by Jamie Gibson to a chorus of boos, Gloucester make a break and there is an offside given against us and Burns kicks it 33-30. Dodge and Guy come on for JJ and Darren, Dodge's reputation is of a defensive scrum half and it seems a bit strange to bring him on as were chasing the game. Gloucester have some good possession with an attacking line out and scrum but are penalised for crossing. Again we are
approaching their line but lose the ball, it's cleared to touch just outside our 22. Dodge hits a box kick that goes out on the full increasing the pressure on the side. Alex is penalised for being offside because Freddie Burns threw the ball at him (The one Sam says he will never give when reffing.) Burns hits the post with an easy kick and we enter the last 5 minutes. The Gloucester hooker give away a free kick for delaying the put in at a line out that gives us possession around mid-field. As the clock ticks down to 2 minutes Dan tries a kick over the top for Topsy to take, he looks to be through but the ball bounces away and is collected by Gloucester who hold the ball at the back of the rucks until the shed count down the clock.
Watching the team come of the pitch they were clearly disappointed with the loss probably because they had come so close and "nearly got it", the most tweeted word from the squad on the coach on the way home was "gutted"
Some things to think about. The squad is looking strong especially with 7 away but will be good to start to get them back over the next few weeks. The tendency to concede just after scoring seems to be back again? Wonder what the effect of possibly losing Chris will be? The support seemed to be very spread out when away this year, the club need to think about the impact of the £2 per ticket admin charge for buying from the offy as it looked like many of us are buying from the away club spreading the vocal support around the grounds.


Craic Members' Photo Archives
Big-Al
View a Printer Friendly version of this Story.
Nearly got it!
Posted by: The Craic www.londonirish.org (IP Logged)
Date: 05/10/2011 12:38
What do you think? You can have your say by posting below.
If you do not already have an account
Click here to Register
.
Sorry, only registered users may post in this forum.