Christmas with the Not-Nots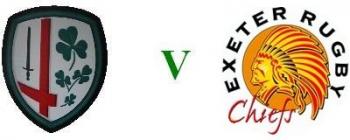 By AMS
December 30 2011
Over the years, people have amused themselves by describing London Irish as the Not-Nots: not in London, nor yet much Irish about them. It seems this uncharitable sniping is more likely to come from the teams we're beating and are unaccustomed to having to put up with such an outrage.
The Exeter Chiefs quickly took over London Irish's former tag of "everyone's second favourite team in the Premiership" last year for having the audacity to not just win promotion but then actually win matches against old and feared rivals... and their fans were obviously having a great time, with dressing up in feathered headdresses and having a catchy Tomahawk Chop to rally their lads - it seemed to me, anyway, that they had much in common with London Irish fans... except the winning thing. Darn them, didn't they know they were supposed to be plucky rivals and make us all feel good by losing in (slight) mismatches, leading to a relegation battle with some other under-resourced outfit and all the other Premiership teams heaving a sigh of relief when it was the newly-promoted bunch who went back down and spared us all?

For me, this match was supposed to be so many things that it was NOT - just like Exeter's thumbing their noses at the critics and staying up.

For a start, the reason I offered to write the match report was that my son (aka the Munchkin) was supposed to be the match-day mascot. A decent exposure to a good mate of his with a hefty dose of chicken pox made me doubt the wisdom of such a course of action - the two week incubation period isn't due to be up till Monday and I had visions of him being London Irish's version of Typhoid Mary, innocently passing on his (as yet unseen and possibly not going to happen) pox. A quick phone call to the club to check on whether it could be changed, and suddenly the Munchkin is NOT to be mascot till January 8. I was in two minds whether even to attend, but decide on the morning of December 27 that it would be a shame to miss what ought to be a decent match with a decent crowd and friendly oppo... so we explained to the Munchkin he must NOT play with any of his mates unless they've already had chicken pox and he can't pass it onto them.

Due to the vacillations about attending, with complications of neighbours arriving bearing Christmas gifts (not to mention mad traffic), we do NOT make it in time for kick-off. Referee Dean Richards has already given the lads the go-ahead as we crossed the car park, and as we round the North Stand, music meaning only one thing blares out: Joe Ansbro has NOT waited for us to get to our seats before opening with a try. Good man, Merry Christmas to you! Tom Homer has his kicking boots on and is NOT going to miss that, and the score is 7 - 0 and the restart's been taken as we finally made it to the East Stand and our seats. Eddie O'Hairy has spotted the Munchkin and clambers down to say hello, and after a quick check that he's in no danger from chicken pox, the two lads settled down to compare notes on what Santa brought. The Munchkin announced proudly that he was to go onto the pitch as mascot at the Sale match and Eddie shrugged eloquently before innocently one-upping the Munchkin, with his going on the pitch at half-time to help Eek vs Santa. Luckily the Munchkin was inclined to see this as them taking turns and was entirely philosophical instead of wildly jealous.

I took advantage of the boys' conversation to try to actually watch some of the match and with some paper nicked from Foggy-Balla and a pen lurking in the depths of my handbag, finally started to make notes. After having a girly moment and admiring the fetching blue of the Chiefs' away strip, I realised I'd been distracted enough to miss Irish giving away a penalty in kickable range and Mieres quickly narrowed the gap to 7 - 3. Darn. I do NOT want a replay of London Irish's previous match against Racing Metro... Meanwhile, the Exeter fans were making masses of noise and I noted with some worry the silence from the home fans as they listened to the Tomahawk Chop... No response from the drummers at this point, maybe they're saving it up for later.

Hang on, what's this? Another penalty? For Irish. Yup, Tom Homer definitely has his kicking boots on and the margin's back to 7 as he makes it 10 - 3. Oh, let's just be honest here and say that given that I've never played the game, I'm bewildered by what infringements are going on... as Dean Richards seemed to be at times throughout the match because I had the full chorus of drummers behind me, calling out advice and offering their collective wisdom to all three officials and funnily enough, not much of it matches what the referee has seen. Offside? Don't be ridiculous. Forward pass for an Exeter try? Surely not. Coming in from the side? Only if you're wearing green. High tackle? Well, if the Chiefs player will duck as Delon approaches...

You know, I'm sure you've read the papers by now and know the scoring sequence, so I am NOT going to pretend any more that this is a match report. It's a Craic report. The Craic is indeed mighty in the East as the one-eyed grumps behind me become increasingly outraged by the decisions on the pitch and some creative singing goes on that I decided not to explain to the two small boys. There is a growing sense that, despite Tom having his kicking boots on, despite Delon looking the hungriest/ most involved/ determined I'd noted in some time, despite all that the Irish players are doing, maybe the Chiefs are going to manage to nick it. The ten point margin at half-time doesn't feel like enough to me. I've been supporting Irish too long to think that's enough!

Santa vs Eek in the interval is easier to follow that the refereeing decisions, at least. The Big Man in the red suit (Santa) has obviously worked exceedingly hard in the last couple of days and has clearly been down a few tight chimneys as he looks way slimmer and fitter than expected. The Big Man in the green suit (Eek) has perhaps been taken in by Santa's suggested training regime of whiskey and mince pies, but is deceptively fast and despite Digger's "help", Santa manages to just win the day before heading back to the North Pole for a well deserved rest. Eddie O'Hairy returned to the Munchkin's side, delighted with having had a gallop on the pitch. The Munchkin had finally finished what healthy snacks we'd brought with us and selflessly shared the popping candy from his Christmas stocking with his mate. For once, I didn't have a camera on the go, but Eddie's face was an absolute picture - first the shock, then dawning understanding and finally, thrilled delight spread as the crackling noises became ever louder and the sugar melted. Santa knows what small boys like!

The second half started slowly, with Exeter making several substitutions in the first ten minutes of play and nothing really seemed to get going until Mieres landed a penalty five minutes in to bring the Chiefs back within seven points - bonus point territory but more worryingly at this point of the match, making a win more possible and bringing the Chiefs' heads back up... They sensed the possibilities and were just getting into it when - thank goodness! - the momentum swung back to Irish with some fabulous passing and intuitive teamwork and what my notes describe as a jinking run, Shontayne Hape scored a well-deserved try which Tom Homer duly converted. More subs appeared from the Chiefs bench and the momentum swung to Chiefs as Arscott scored their first try at 52 minutes into the match, which Mieres converted to bring them back to just the seven point margin... Proceedings returned to normal in the East as Simon kept everyone rallied with Christmas carols and the drummers became yet more vociferous with their suggestions of help/ advice/ opthalmologist appointments to Mr Richards and his assistants... and the occasional too-respectful silence to listen to the visitors' Tomahawk Chop. Just whose home ground is this?

Twenty long slow minutes passed with increasing tension - the closer to 80 minutes Irish get, the more dangerous a single score from Exeter will be with limited time to reply. More and more noise from the crowd (it may not have been the 82000 at Twickenham later that day but at least we were all there for the rugby) and the drummers and Caimh kept upping the ante. C'mon you Irish indeed! 72 minutes and the moment I'd been dreading... penalty. Mieres had his kicking boots on too and was NOT about to miss this. 26 -22. Eight minutes to play, four points in it. Uh-oh. Notes now say in caps "FFS NO penalties now, Irish!" Big Bob Casey appeared to be everywhere, waving his arms, calling out encouragement to the team... They're all in it together... and then thank goodness, Bob again with the indication Irish fans wanted: he looked at the referee and pointed to the posts for Tom Homer to take another kick. C'mon Tom, give us back the 7 point margin, pleeeeeease... Yes! 90 seconds remained on the clock, play restarted and Irish have possession, 30 seconds ticked away, the clock seems to have slowed down, less than a minute to play and WHAT THE ...? Noooooo, Irish have pulled one of those long kicks downfield where Exeter can gather it easily and launch a counter-attack... My nerves can NOT stand this any more but Irish closed this one out - they seem to have forgotten their nasty trick of going to sleep and granting a last minute try for which my shredded nerves are exceedingly grateful. And exhale.

The win sees London Irish remain at third in the extremely congested Premiership table and the players made their way over to the stands to thank the fans. As ever, Big Bob and Declan Danaher are front and centre in their appreciation for the fans... OK, we don't play in London any more but they ARE Irish, we ARE third in the Premiership and the Munchkin does NOT yet have any spots. Life is good. Long may it remain so.