Oranges and Lemons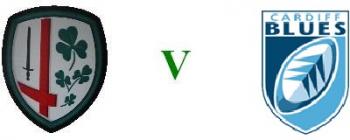 By Ace Reporter Molly
January 15 2012
Now I am 10, it was my birthday yesterday; I thought I should do another match report. This is my first home report and it muddles things up a bit because I usually write what happens "This End" and "That End" but here I am in the middle! I sit in Y22 with Mummy and Dobbin, Chris and his Mum sit behind us, Allison and naughty Graham, who tells the ref off lots and sometimes says bad words, sits next to us and in front we have the Three Wise Monkeys who say things like "Av em Paicey!"Today is also special for Toby he is 10 too. He has been with London Irish for 10 years so that's a bit like a Birthday.

Click here for a larger version.
Before The Match
I am very excited about the match today because I will get to see Gavin again and I like Gavin. I had a really good time when I saw him at Sarries last season, I like going to Sarries and have lots of nice friends there. Gavin is my first ORANGE of the day because he is orangish!
My next ORANGE is of course my lovely Tom,

Click here for a larger version.
no one has such wonderful orange hair as him it is one of the things that make him so special and handsome. He is also very good at kicking and that makes him special too. I am a bit sad that he is not starting and only on the bench today but perhaps it is because he hurt the top of his leg a bit last week. I wonder who will do the kicking, whoever it is they won't be as lovely as my Tom.
My first LEMON is the rugby ball just because it is a bit like the shape of a lemon.
As it seems Oranges are good things I will make seeing our friend Ritchie Rees an ORANGE, he was always a fave with Dobbin and Mummy when he played for us.
Now a bit of a LEMON, I see Sam Warburton is playing, he is very good. It is sad he got told off in the world cup, I don't think he meant to be naughty and tip that man up.
I also think it is a LEMON that poor Steve Shingler does not know if he is Welsh or Scottish. That Welsh RFU is very mean not to let him go and play with Scotland. How would they like it if their parents did not let them go out to play with their friends? I think Steve should just be London Irish because that really is the best thing to be.
This is a Heineken Cup match and it very important we win, we have not won many of these this season and if we want to stay in we must win this one and the one next week in Edinburgh. I think even that may not be enough, it might depend on what other teams do and how many we win by. If we go out that will be another big LEMON. Jon R43 will let us know exactly what is going on there!
Just before we start here are two more ORANGES, there are oranges in Dobbins's mulled wine in her big flask and my Mummy got lots of bags of oranges outside the ground in Treviso when her and Dobbin went to see Uncle Michael there, that was a Heineken Cup match too and we won!
The Match
1st Half
I know at 40 the boys came on the pitch but after that I was so busy taking 31 pages of notes I forgot to look at the times but this is what happened we just don't really know when. It is the right order though.
Gavin does not look great in light blue but his white boots are very nice.
Line out in the middle and Nick gets it. Scrummy bit and lots of kicking.
Good running by Topsy then Irish get a penalty, which is kicked to touch. Another line out. Shontayne has bright LEMON boots on.
Penalty for Cardiff, it is a long one but and they get it. 0-3
Gavin and Delon are the only ones with long sleeves on, they must be cold. Delon gets a bandage put on his arm. Penalty to Irish, no Tom to kick it but Adrian does a good job and it goes over. 3-3
Bad Dobbin shouts for Gavin because he does a good running bit.
Wonderful tackles by Matt and by Shontayne. David Paice down but gets up and is playing again.
Scrummy bit at DRUM end. Cardiff drop the ball and then a good bit by Delon and another good bit by Adam. Topsy dropped the ball and a good tackle by Cardiff number 6. Delon gets Gavin big time and Matt does another good bit and there is a line out.
Mum and Dobbin are shouting a lot because Cardiff did very well and "That was close"! Topsy does a good spinning bit, Spinning Top! Great kick by Darren who is very lively. Line out other end (that is the end that is not drum end).
Lots and lots of daft kicking.
Graham starts shouting at ref then ref gives it to us so Graham claps and is happy. Scrum. Penalty to Cardiff (this is not a post kicking penalty) I think the ref is mean; it ends up in a line out drum end. Cardiff get another penalty this time it is a kicking one but they miss.
Shontayne gets Gavin big time. And Nick does a good tackle. Good kick by Cardiff, drum end. Line out, Cardiff get it but cleared very well by Darren. Graham is really "going" now jumping up and down and shouting, no bad words yet. Topsy does a good bit then there is a bit of a muddle in the middle, Graham shouts some more and one of the Three Wise Monkeys starts to shout too.
Topsy falls over then there is a line out. Boring kick from Delon and the middle monkey says he is being lazy. We all think he should run a bit more and sing run Delon run.
A good pass by Gavin but Cardiff knock on and there is a scrummy bit.
Mum starts to get cross but Magnificent Matt does a good bit and Shontayne gets stuck in and that cheers her up.
I have a little look at Tom who is warming up and running round in his dressing gown.
Irish start to juggle with the ball, there is a scrum and Topsy does another good run and gives it to Paicey. Delon and Nick do a bit like basketball and then there is a penalty for Irish. One of Cardiff players gets a bit moody. Adrian gets it. 6-3
Paicey off, James on. I hope David isn't hurt. Toby and Mr Catt have chat and there is another scrum in the middle. Mum goes to get some hot chocolate. Lots of chat from the ref, Dobbin tells him to "get a move on". Irish get the ball from the scrum and all the Irish boys do a good bit. Darren tries a drop goal and it is penalty to Irish for offside (Graham told me that bit). Adrian gets it. 9-3
Cardiff get a penalty for offside and they get it. 9-6 HALF TIME – the first half was mostly LEMONISH, I don't think we are going to get the tries we need if things carry on like this. Too much kicking and not enough running.
Second Half
Gavin lands on his bottom but this is followed by a very excellent try by Cardiff, that is what happens when you run with the ball. Sam (the world cup man) got it but their number 3 did most of the running. Lots of singing from the Cardiff supporters. 9- 13
A good escape by Irish they get in the small gaps.
Scrum in front of posts drum end. COME ON IRISH! Go Topsy but Matt knocks on.
Another scrum, penalty Cardiff. Mum is cross "fed up with them all" not sure who exactly she means though. The Welsh have really woken up. Lots and lots of nice singing, Gavin looks pretty and clean. Line out other end and lots more shouting from the Welsh people at that end.
Good tackle from Clarke and charge down from Darren drum end. The noisy monkey gets up and shouts (Dobbin says he is definitely not speak no evil). Fann off, Paulica on.
We want TOM. Cardiff change one. Scrum in the middle, lots of messing about, Graham gets stroppy and shouts at ref. Penalty to Irish, Graham claps and cheers. Delon takes it, we are all worried but he gets it, well done Delon. 12-13.
Scrum, Dobbin and Mum enjoy a bit of Gavin scenery and a good kick from Delon. Spinning Top does his bit again and a kick to touch. Booming drums and ringing bells. Ritchie Rees on big cheers from Mum and Dobbin. Clarke off Alex on. Hurry up ref, lots of messing about, penalty Cardiff. 12-16
WE WANT TOM. Wonky kick by Cardiff, Irish line out drum end. Mummy and Dobbin really shouting now keep going Irish, keep going. Penalty to Irish. Got it. 15-16 Tom goes for a little run behind the posts, perhaps he will be on soon.
Gavin gets in there, penalty to Cardiff, they get it 15-19.
Poor Tom should be playing by now, hurry up! Delon is tackled, a little high we think but they get away with it. Line out drum end. Mum keeps shouting for Tom to come on. I think it is because we are all a bit bored with the scrums and kicking. Then suddenly a good bit by all the Irish boys and an excellent bit by Shontayne. Delon ducks just in time or he would have been hit but he is down and must have hurt something. TOMMY TIME?! Penalty for Irish but we don't get it. Delon did get up and play but we were surprised when Adam and Shontayne go off and Delon stays on. Still who cares Tom is on YIPEE!!! and Steve who still does not know if he Welsh or Scottish. Penalty for Irish and they go for the corner. A very good bit by Jonathan Spratt and Topsy drops the ball.
Naughty bad words from Graham. A good bit by all Irish boys. Nick off and Big Bob on.
"Run Topsy, Run Topsy
Run, Run, Run,
You've got Gavin on your bum, bum, bum."
Penalty to Cardiff, they get it, dear oh dear. 15-22 That really is it. I don't think we need Jon R43 to tell us we are out of the cup. What a LEMON!!!
After the Match
We are a bit sad but the best team did win and we head off to see Gavin. We wait for ages near the coach
and see our lovely Ritchie, Sam Warburton and Dan Parks (a very nice man) but no Gavin.

Click here for a larger version.
We see some of our boys and I give Shontayne and Marland one of my cakes, I am saving the other one for Tom and one for Gavin. In the end Tom comes out and he is lovely as usual but still no Gavin. Bob tells us he is coming out soon but then something really strange happens. A ZEBRA gets out of the service lift so we all start playing with the zebra. While we are sitting on the Zebra Gavin goes past and we miss him. Never mind it is not everyday you get to sit on a Zebra at a rugby match!
Never forget how special rugby is:
I was 10 yesterday and the best biggest juicy ORANGE was that wonderful ex London Irish player, my bestest friend Riki, took the time and the trouble to phone me all the way from Italy where his team The Nasty Buzzy Things are playing Rovigo. Dobbin's hero Peter Hewat Tweeted me from Japan to say Happy Birthday and lots of our London Irish and Sarrie friends sent me birthday messages. I have been coming to rugby since I was 3 and feel very lucky to have met lots of lovely players and supporters. I know that sometimes we get sad or cross when we don't win or players get told off or broken but as Riki says, "it is just a game" it is the people and Zebras we meet that make it a very special one.

Click here for a larger version.