Silly mistakes give late win to Northampton Saints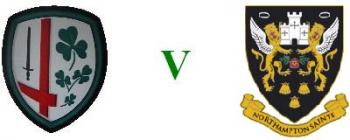 By Talya Varga
February 28 2012
A late try scored by Northampton's Ben Nutley seems to have all but ended London Irish's chances of winning a place in the Premiership play- off spot.
London Irish 23- 30 Northampton Saints

Irish showed their intent early on by running the ball straight from kick off deep inside there own 22, a move which ended up with a line out on the Northampton line. Clearly the team meant business after their disappointment at Newcastle last week.

As a proud supporter of 19 years, when Irish come together to play against Saints it always brings back great memories. My first big match that I can remember watching was London Irish vs. Northampton Saints at Twickenham, in 2002, when they won the Powergen cup final. A year later, and on reaching double digits I celebrated by being a mascot for London Irish on my 10th birthday, although unfortunately we lost the Powergen semi final to the Saints. So I think it is only fitting that my first match report as a student journalist is a league game against Saints. This game is important to ensure that London Irish qualify for the end of season playoffs.

After a strong start for Irish winning several line outs, and a good tackle from fly half Dan Bowden, Saints are awarded the first penalty of the match. A kick from fly half Stephen Myler is pushed wide and skims the right hand post leaving the score 0-0.

Some good tackling from Irish, eight minutes into the game, looks like the team have regained possession, until Saint's winger Noah Cato (also known as the man with the thighs) regains possession and scores. Another missed kick from Saints fails to convert the try. Leaving the score 13 minutes into the game Irish 0- 5 Saints.

Saints scrum half Martin Roberts becomes the next candidate for dancing on ice as he falls over and loses the ball, although this is made up for as Saints win the scrum. A series of errors from both teams, including Delon Armitage being offside and an infringement in the line from Saints, left both sides vulnerable and looking nervy.

Support echoed throughout the stadium, through a mixture of "Irish" cheers and drums from the east stand. This helps to lift the spirits of Irish and they win a penalty kick making the score Irish 3-5 Saints. With more shouts of support from the crowd, could Irish be closer to gaining a much needed victory?

Delon Armitage scores the first try of the game for Irish after great work down the left wing from Losi and Bowden kicks another good kick for us leaving the score Irish 10- 5 Saints, things are looking up. Meanwhile the Saints subs are practicing their dance moves in bright fluro jackets in the dead ball zone. Maybe keep to the day job lads?

After several misses, Irish concede a penalty and this time Myler kicks inside the posts. Another penalty is awarded this time to Irish in the 31st minute and Bowden has another successful kick. Maybe he should be our new 'man with the thighs'? he can certainly kick the ball, loud comments comparing his kicking to that of Ryan Lamb when he was at Irish can be heard in the South Stand.

After some very successful kicks from Bowden, Irish start to slack up and the team becomes more spectators rather then hitting the important tackles. Should we do a swap and be on the pitch instead?

To Irish's advantage Saints lose possession in the 34th minute of the first half, in which the ball is kicked through, bounces back and while Armitage misses, Topsy Ojo is in the right place to scoop it up and pass it to Irish's winger Sailosi Tagicakibau who scores a try.

Irish miss the conversion, that we also missed, because me and my Auntie Andrea were munching on mini eggs (oops)! After several mistakes Irish manage to give away another penalty and undo all of their good work in the first half. Thanks to Myler's uncharacteristically bad afternoon of kicking Irish close the first half with an 18-8 lead. We hope that this is not the end of the good times …..

Irish's performance worsens in the second half and Saints go on to gain most of the possession. Two minutes into the second half it actually looks like there is more white (Saints shirts) on the pitch. Have some of Irish swapped sides?

"The man with the thighs" makes another appearance, although Ojo makes a good tackle, causing him to lose possession. However, Saints manage to get it back and score another try which they convert to make the score Irish 18- 23 Saints.

The next try, was my "try of the match", the stadium went wild as Declan Danaher scored in the 17th minute of the second half. After a series of injuries it was good to see him playing again and he looked like the whole of Northampton would have failed to stop him scoring his comeback try. But the conversion is missed and the chance to go ahead slips away.

The second half seems to fly by, with a lot of the work being done by Saints, Irish seem to have become spectators again and wasted some very easy opportunities. With Danaher's try the game is drawn. In the 33rd minute of the game it looks like it could be moving into drop goal territory, as both teams are desperate to win. Although in the 36th minute it looks like the game is over when Irish give away a penalty, after much messing around and knocking time off the clock, Saints kick and to a very pleased Irish crowd, miss.

When it looks like we're about to finish with a much-needed draw the Irish defence show that they have not been watching a lot of television recently. Everyone knows that the charge down is very fashionable – and so it proved with Saints' Nutley scoring a try in the left corner after a fluffed clearance kick..

While we were close to a win and then nearly salvaged a draw once it was, for me, like déjà vu rugby. The fans once again leaving the stadium disappointed, although there were some good performances from Declan, Losi and Dan Bowden in my opinion are Irish doing enough? I think we all have an answer to that question. With a place in the play- offs almost out of our reach and some tough games coming up, what's next for Irish? Will they ever go back to being the champions that they were ten years ago at Twickenham?