We Won!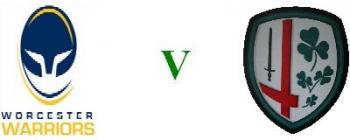 By LKR
April 22 2012
A minibus of 17 supporters travelled up to Worcester for the last away game of the season. Although JonR43 discovered the minibus was physically limited to 62mph, the journey went smoothly – helped by large quantities of food – and we arrived at Worcester in plenty of time, to join a number of other Irish supporters.
I think that many travelled more in hope than expectation, after our recent run of results, and I remember saying last week when asked if we were going to Worcester, "Of course we are going – we might win" and no-one really believing that. Even when someone spotted a rainbow and said it must be a good sign for us, it was pointed out that we had seen many other 'lucky' signs before many other losses!.


The hail and rain started before kick-off so there was the possibility of another kicking game, but in fact , despite further showers, Irish played with ball in hand more than had been seen in recent weeks. Our first points, however, came from a familiar and reliable source – Tom kicked a penalty for Worcester being offside, to put us 0-3 up in the first 5 minutes. It wasn't long before Tom extended the lead to 0-6, after the referee had awarded a penalty to us for Worcester not releasing The young referee next to me thought that Mr Wigglesworth was of the opinion that this was the only penalty that existed at the breakdown, as this wasn't to be the last time this penalty was given, with Irish committing the same transgression only a minute or so later.
Irish seemed to be the stronger side and about quarter of the way through the match, produced a period of 4 or 5 minutes sustained pressure on the Worcester line. Unlike has been the case at times in the past, there were no knock-ons or penalties given away and the pressure from the forwards and backs resulted in Steve running to the right, then passing inside to Joe , who scored just to the right of the posts. With Tom's conversion ,this made the score 3-13. Irish continued to be on top in the match, although we had conceded another penalty a few minutes after the try. About 5 minutes before half-time, the ball went along the line to JJ, who put through a lovely grubber kick into space for Tom to collect and score a try with. So Irish went in at half-time 6-18 up. A comment was made by one of the generally realistic members of our group that we were fine and were going to win this game, but the pessimist among us said that it would go wrong, we would panic and lose.
Worcester changed their half-backs and a prop at half-time, and Irish did not seem as in control as before but still making chances nevertheless. (We can remember 'dodgy 20 minutes', usually after half-time, in Brian Smith's previous time with us.) There was a long break in play as Dale Rasmussen went down badly after a big collision with Joe. Fortunately he was able to get up and walk off, but Worcester had started a 'keep warm' routine earlier than Irish. Whether or not the break hindered our momentum more than theirs, is not clear, but a few minutes later they passed out wide and Mile Benjamin went over in the corner, leaving the score at 11-18. Would Irish panic with the recollection of losing games in the last part of matches or would they hold on (The realistic member of our group was now joining the pessimist in thinking we would lose).
Irish brought on some fresh legs, and ten minutes or so later, there was some good work moving forward from the team, including good distance made by Max and others,
before Steve passed back inside to Delon, who ran in under the posts and Tom added the conversion. This put the lead back to 11-25, and even though Marcel Garvey scored a consolation try with less than a minute left on the clock, Irish had won – at last! The boys had worked really hard, and with 14 of the starting 15 with us next season, gives what was billed as a meaningless game, some positive meaning for next season.
Whilst finishing the food on the minibus on the way back, the travelling support there were asked for their comments on the game. 'We won' was the repeated, triumphant (or relieved) comment, but more detailed comments have been put together below.
Rugby is more than 80 minutes – great game, big win, lucky bus, good game, thoroughly enjoyed, very nice day out with good food (Mr Easy challenges Big-Al as top food man)and good company, good to put names of Craic writers to faces, lovely Wuss supporters (apart from the one who kept yelling about Tom's boots and hair being the same colour!)- but it does feel good when we have a good 80 minutes. (Even Mr Catt was smiling afterwards) A good first away win for one supporter – magnificent and lots of wonderful rugby (And scenery!!) Thanks too, to captain Bryn for leading the players over to say thank you to the travelling support. On the more than 80 minutes point, could the Madejski please learn from Sixways in how to pour Guinness into double pint cups from the bottom to the top.
The first half showed how if you don't kick the ball away you may win the game, and it was good to see the running rather than the boring kicking we have had to put up with recently,(Andy Goode was the one who had a shocking day with the boot) although kick and chase would have been good. The defence was good particularly in that first half too and apart from Irish falling asleep for 20 minutes after half-time, this was a great game with good tries.
We won the Battle of Worcester 2012, with Worcester being the only team we have beaten home and away this season. (They even missed the conversion for a losing bonus point today).The future is looking better and one supporter's bet with a friend over who of Bath and Irish finish higher, goes down to the last game of the season this year. When Brian (looking very suave in his coat) was asked for top6 next season, he said 'Yes'.
Man of the match nominations for Joe and Max.


Craic Members' Photo Archives
Big-Al