Friendly: Nottingham vs London Irish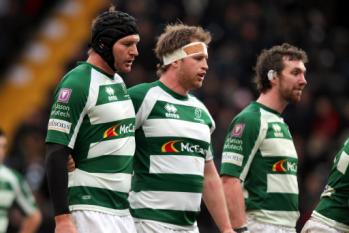 By LKR
August 19 2013
The Rourke family do a lot for London Irish supporters. Oldest of the "kids" Sam gave us a running commentary of the friendly at Meadow Lane on Friday night. Not to be outdone Mum has pitched-in with a match report. Thanks chaps, we would be nothing without you!
This was a key event of the year – the beginning of rugby every week until at least March (assuming the Amlin issue is resolved with a match for that weekend we are booked to go to Madrid). Instead of the usual visit of Nottingham to Sunbury, we travelled up to Meadow Lane for an away fixture. Although travel that day was difficult and for some impossible, we do need to practise away games to try to win them, so for those of us able to get there it was a chance to see our away form for 2013-14. The team was mainly made up of players unlikely (at least before the game) to be in the starting 15 at the LDH but did have a couple of very experienced first teamers in Dec and Topsy.
The game started well, because after 2 minutes, a good cross field kick from Myles Dorrian was taken by Eamonn Sheridan (one of two big centres), who ran through the middle and passed to Andrew Fenby who scored in the corner, with Dorrian getting the conversion.
Nic Rouse collected Nottingham's restart and Alex Lewington chased well. There was a good move through by Gerard Ellis which was taken on to within about 10m of the try line by Topsy, but when we did not keep the ball, we were brought back for a penalty, which Dorrian slotted to make the score 0 -10 after 6 minutes.
The next score came after a scrum resulting from Topsy's kick ahead going dead. Despite the new law changes, the scrum had to be rest twice and on the third attempt the ball went loose and we won it, and soon we were awarded a penalty. Dorrian kicked this (he had now kicked from left, right and centre) and the score was 0-13. After about quarter of an hour, we conceded a penalty – Sam says it was hands on the floor (Dan suggested it was sympathy but I think Sam was probably more correct). And Nottingham's 10 made the score 3-13. I'm sorry but I didn't get names of Nottingham players as I was too busy trying to ensure I knew our new boys.
Fenby nearly got away again a couple of times. First was after we had lost a line out and scrum but got the ball back; however he was stopped by the 22. The second was after he had made a number of metres but the ball was lost forward later in the move. Play continued with a couple of errors – early push at scrum and kick out on the full. The next scrum was reset (with the ref. crouching as well as the players to see what was happening); we won the scrum but lost the ball forward a few metres later. However, after possession by Nottingham, Ellis pinched the ball, passed to Fenby, who ran 50+ metres down the touchline to score. With the touchline conversion missed, the score was 3-18.
From the restart, taken by Rouse, there was a scrum to Nottingham for the ball not coming out of the maul. We were given a penalty at the scrum and when I asked my advisors, their responses were a shrug and 'It's our turn', so I don't know why. The next scrum, we gave away a penalty for the scrum coming up, but their kick went wide, despite the little ball boy putting a ball on half-way in hope. At the scrum after that, even the ref got confused, calling 'Crouch, touch' instead of 'Crouch, bind....' twice. The half ended well for us though as Ellis got the ball, passed to Sheridan (I think as most of the play was across the pitch from us), who passed to Fenby who got his hat-trick under the posts which, with the conversion, left the score at half time as 3-23. Brian and Glenn had a quick debrief with Dec and Rouse before they went in.
Nottingham had made changes at half time but we hadn't. Nottingham pressurised a lot but this meant play was again on the far side of the pitch. The pressure continued for the first part of the second half (this always used to be the period of play when we were not good, the first time Brian was with us) but their most promising moves ended in knock ons on two occasions (one in the act of scoring, which was brought back for a penalty the ref. had been playing advantage before, despite Irish support feeling they had had sufficient advantage). During this time we brought on Richard Palframan for Leo, then Charlie Davey for Sean O'Connell, Ed Hoadley for Tom Bliss and Tom Smallbone for Jonny Harris. Eventually, Nottingham's pressure paid off and they scored in Fenby corner (the corner equivalent to the one diagonally opposite Poo Corner at the Madstad), which, with the successful conversion, made the score 10-25 at 58 minutes.
At the restart, it was good to see Fenby was chasing the kick although it went into the middle where he couldn't get to. Nottingham made a number of substitutions and we brought Sean O'Connell back on into the back row so Gerard Ellis could replace Jimmy Stevens at hooker. Play started to go back our way, and we got a free kick at a scrum and later a penalty, although the kick to touch did not go out. At 65 minutes, after a great break by Alex Lewington, and after a couple of passes, the ball got to Ellis, who scored in the corner, making the score 10-30.
In the next period of play there was a good box kick from Hoadley, chased by our mobile props (Smallbone and Palframan), and not long after a good break by Topsy who passed to Fenby for him to score his personal bonus point under the posts. With the conversion, this made the score 10-37 with 70 minutes gone. The next penalty, Nottingham get (in a central position about 15m out), they opted for a scrum, which I thought was maybe where they felt they had most opportunity, but unfortunately for them, they got pinged for a crooked feed. It was Irish who scored next, with Ellis making a break and after some good passing/offloading, the ball got to Fenby who passed to Scott Moore to score under the posts for a score of 10-44, with four minutes to go. We made our last substitutions, with George Owen on for Andrew Fenby, and Scott Tolmie on for Gerard Ellis. At the final whistle, we had an away win of 10-44.
In general, Fenby was fast and everywhere, looking for the ball. Dec also was everywhere, playing the whole game. There was good chasing and mostly good tackling. The passing and offloading from forwards and backs was very good, with the scrum being the area to work on. The new boys along with the familiar faces were effective and worked well together. Let's hope this was the first of many away victories this season.
View a Printer Friendly version of this Story.
Friendly: Nottingham vs London Irish
The Craic www.londonirish.org (IP Logged)
19/08/2013 11:26
What do you think? You can have your say by posting below.
If you do not already have an account
Click here to Register
.
Re: Friendly: Nottingham vs London Irish
21/08/2013 14:42
Great read - thanks for this.
Sorry, only registered users may post in this forum.
More London Irish headlines
London Irish Poll