FALCONS DOWNED BY BRIS IN ENTHRALLING CONTEST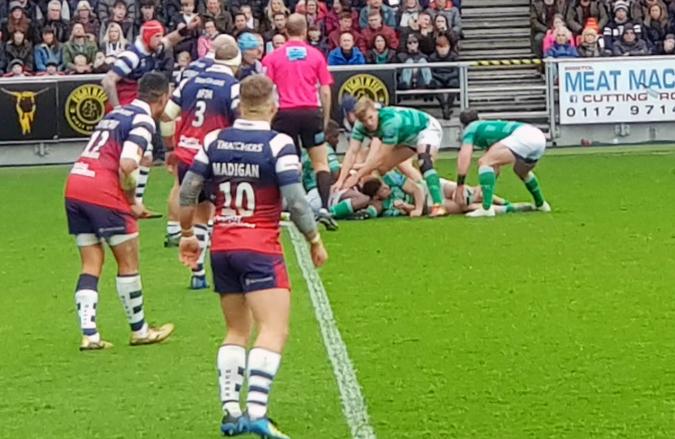 By Ian Todd
December 31 2018
In an exciting game of back and forth rugby Bristol emerged victorious with a five point haul to open up the hint of a gap in the table.
Bristol got off to a great start with Luke Morahan spotting the hint of an opening cut through, wrong-footed the Newcastle centre, and then passed to Harry Randall who sprinted clear. Randall had the awareness to shift the ball to his left arm as he fended off a last ditch tackle to slide over. Fortunately he was not then sick on the referee. Ian Madigan converted to make it 7-nil with just a couple of minutes played.
It was lucky Bristol had managed such a beginning because for much of the remainder of the half things did not go so well. Newcastle narrowed the gap quickly with a Flood penalty. The visitors took play to Bristol, holding on to possession well. Bristol's defence was good, repelling several short range assaults before Goneva, helping out the forwards, powered over the line. Flood converted and added a penalty just a few minutes later. Bristol struggled to keep hold of the ball and the passing was just not accurate enough to allow players to make any headway. Madigan struck a penalty from a rare Bristol visit to the Newcastle 22 before Newcastle's Chick smashed through for a converted try. Bristol ended the half 10 – 20 down and the mood in the crowd was sombre after a largely lacklustre performance.
Bristol looked far more accurate and composed after the break. After a good build-up, Charles Piutau narrowed the gap with a well taken try. This was soon followed by another strike. Randall hoisted a rather short box-kick into the air and Morahan showed lovely skill in plucking it from the hands of a Newcastle player. Bristol pressed forward and quick hands from Harry Thacker, offloading from a curious looking tackle, freed Morahan to go over in the corner.
A Madigan penalty eased Bristol further in front only for a rare moment of invention from Newcastle to equalise the score. Flood made a great grubber kick behind the Bristol defence and the ball sat up nicely for the onrushing Radwan. Unfortunately for Newcastle Flood's conversion attempt struck the upright. Bristol then edged back in front with a penalty from replacement Calum Sheedy. In a topsy-turvy game Flood then struck again to once more level the scores. With just a couple of minutes left on the clock replacement Ed Holmes broke a weak tackle attempt, made ground down the left wing, offloaded to Andy Uren who fed Tom Pincus who ducked beneath the attempted tackles to touch down in the corner. Bristol were in front at 35 – 28. With seconds left on the clock Newcastle had to hold on to possession but, inexplicably, Takulua kicked downfield and Morahan was able to hoof the ball into touch.