NEW ERA, DIFFERENT STORY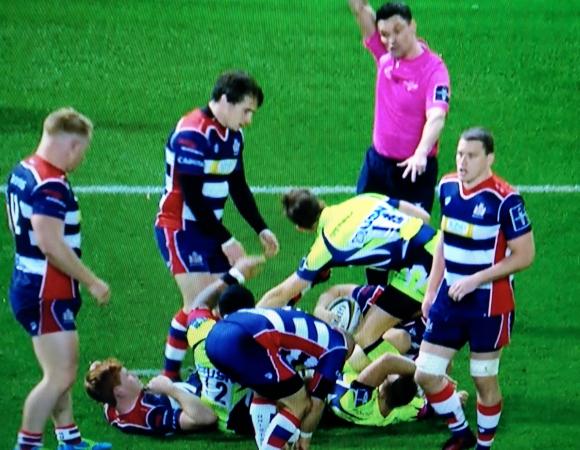 By Dan Small
November 12 2016
A win at last for Bristol. OK, so it wasn't in the Premiership, against a side that wasn't near full-strength and is notoriously poor on the road but it was a win. And quite a good win too. A much heralded new signing made a very positive impact and didn't get injured after twenty minutes and some of the old stagers looked much better than we have seen recently. The defence, while far from perfect looked sharper. The defence of the rolling maul continues to be impressive. Right, who's up next?
From the outset Bristol looked fired-up for the match and went close to the visitors' line within seconds but failed to make it over and Sale cleared the danger. All too familiar: good work from the pack and a failure to capitalise. Was this to be the same theme as the rest of the season? It appeared that way when, despite dogged Bristol defence, Sale edged into the Bristol half and a soft penalty gave Mugford a chance at the points. His kick looked far from assured but his team was in front.
Bristol had other ideas though and put Sale under sustained pressure before Billy Searle sent what proved a well weighted grubber kick into the right-hand corner. There were some groans from the very sparse crowd as it appeared that hard won possession was being kicked away but it was a kick into space behind the defence and there were two men in pursuit. Tom Varndell, who looked revitalised throughout, was there But debutant Jason Woodward was outside him and he had the skill to pick-up the tumbling ball and power over in the corner. What a start for the New Zealander.
As we see in virtually every game Bristol then gave away a needless penalty soon after. It was a long way out and Mugford went close, but not close enough, and his kick struck the bar. The Sale follow up was oddly lethargic and Bristol cleared. Searle, by no means perfect from the tee, made no mistake when Bristol launched another foray into the Sale half and Bristol were 8 – 3 up. This was more like the away performance from Sale that many had anticipated them putting in for the Premiership fixture just a short while ago. Even when the visitors forced Bristol to infringe Mugford was clearly out of sorts and he was unable to peg Bristol back.
When Sale held on to the ball they put Bristol under pressure. The defence generally held firm but when moved about some rather glaring holes did open up. At one point Sale looked certain to score but the towering Nott fumbled the ball just short of the line. Woodward intervened again with an interception that he simply had to pluck from the air, so good was his anticipation. He fed Searle who launched an excellent kick into the Sale half. Varndell was the ball but closed down by the scrambling defence. Bristol piled in and Sale were penalised. The kick to the corner gave Bristol a good attacking lineout. The lineout went really well for Bristol all evening, Ian Evans put in an excellent shift all over the pitch but his physical presence in the lineout seemed to really put off Webber's throwing. Even when Sale did claim the ball the Bristol maul defence was excellent and Sale were able to make little ground. This lineout went Bristol's way and the Bristol catch and drive caused Sale all sorts of problems. Rob Hawkins was steering the pack and he broke clear. Most hookers that close to the line would have simply tried to power over despite what looked like a well-positioned defence but he spun in the tackle and Rhodri Williams was on hand to plunge over. Good play from Hawkins but he then smashed into the tackling player on the ground (presumably he saw something untoward and was handing out justice). Good that he was showing aggression, but Bristol needed controlled aggression and their cause wasn't helped when he was shown yellow as a consequence. Sale tried to take full advantage of their numerical superiority as the half drew to a close but they lacked a real cutting edge in the face of some really gritty defence. At the death it looked as if they had finally broken through but Searle hauled his man down and the player got straight back to his feet and was promptly penalised.
Sale were still a man up at the start of the second half and former Sale player Marc Jones was on in place of Hawkins. Sale pressed Bristol back into the corner and five metres out Aulika smashed Jones aside to go over in the corner. He's one of those front rowers who everyone praises for their ball-carrying ability in open play but looks deeply flawed in the scrum. Which seems a bit strange in a prop. But there was no way he was going to be stopped from that range even if the referee was letting him get away with a lot in the set-piece.
Bristol hit back swiftly with Woodward and Searle combining well to give Jack Tovey perfect ball for him to cut a sweet line through the Sale defence without a hand being laid on him. Searle added the extras and Bristol were 23 – 8 up. Sale continued to nibble away at Bristol and Tarscott took over kicking duties to narrow the gap with plenty of time for them to garner more points. Unfortunately for them replacement Adrian Jarvis promptly cancelled out that penalty with a well taken one of his own. Sale brought on some of their bigger guns in an effort to take something from the game and they kept Bristol pinned back in their own half, often their 22, for the closing stages of the match. The Bristol defence was heroic as it held on for a first win of the season: 28 – 11.
View a Printer Friendly version of this Story.
NEW ERA, DIFFERENT STORY
Discussion started by bristolrugby.net , 12/11/2016 09:51
bristolrugby.net
12/11/2016 09:51
What do you think? You can have your say by posting below.
If you do not already have an account
Click here to Register
.
Edited 1 time(s). Last edit at 2016:11:19:10:05:27 by SenorJuan.
Sorry, only registered users may post in this forum.