Bow meets Marco Stanojevic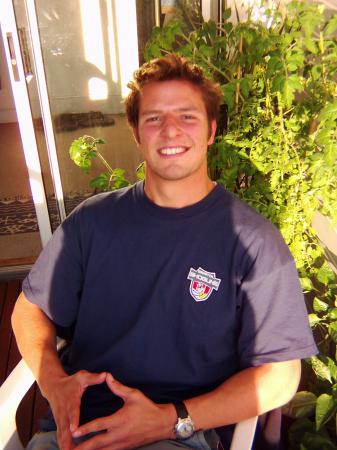 The Italian Job
By Mr Bow Jangles
October 17 2003
Buenisimo! Mr BJ caught up with our Italian import Marko Stanojevic. Find out all about Triple H wrestling moves and Roman Rugby!!
THE BOW FILES: MARKO STANOJEVIC
Personal Stats
Name: Marko Peter Stanojevic
Age: 23
Date of Birth: 1/10/79
Place of Birth: Birmingham
Nickname: Nose/Weapon
Position: Wing/Fullback
Weight: 12st 9
Height: 5'11
Playing Career
Bristol Shoguns (1998 – 2001, 2003 - present)
1st XV Apps: 4 (1 as replacement) 1 try
League Apps 1,
United Apps 35 (don't have sub breakdown) 14 tries
U21 Apps 21, (don't have sub breakdown) 27 tries
Total
61, 42 tries

1st XV debut: 18/12/99 v Northampton (C&G Cup)

League debut: 14/10/03 v Pertemp Bees H (lost 45 – 11)
Club Records (for U21s rugby)
Most tries in match - 5 v Quins 11-03-2000
Most tries in a season - 22 1999-2000
Most tries in career - 27
Most points in a season - 110 1999-2000
3rd highest scorer for the U21s after Barry Reeves 208 and Duncan Hayward 139
Coventry RFC (2001 – 2002)
Coliferro, Italy (2002 – 2003)
1st XV Apps 17, 25 tries
Representative
Midlands U16, U18
Italian 7s International
Background
Family:
Dad: Milan (Yugoslavian) = Retired Engineer
Mum: Bruna (Italian) = Hotel Proprietor
Brother: Alex = Training to be a fireman
Brother: Nick = Investment Banker
Girlfriend: Jess = Travelling
Schools/Colleges/Uni
§ Warwick School, Birmingham
§ UWE (studying Info. Systems with French and Italian)
Rugby Clubs
§ Claverton RFC, Warwicks (wing/centre)
Questions
Bow: What inspires you to play rugby?
Marko: "Well I have tried doing 9-5 jobs before I went to University, and its not really my thing. I like adrenaline sports, I enjoy my rugby, I like physical contact sports.
When I left school (before University) I worked for Volvo in an administration position, and I really hated it, working 9-5 sat at a desk. I preferred letting off steam playing rugby."
Bow: Did you always want to be a rugby player?
Marko: "I did always want to be a rugby player, but at school I wanted to be an RAF pilot…as for sports….no I had no other ambitions. I did consider an athletics career (in 100m, 200m and the long jump!!), but I didn't really cut the mustard!"
Bow: What have you done the 100m in?
Marko: "10.7 seconds when I was at school"
Bow: Who do you look up to at the club?
Marko: "I look up to Hilly first of all because he's been there and done it all before….he's got a wise head on his shoulders. As for player, I look up to a few people…mainly Sean (Marsden) and Dodge (Paul Hodgson), they inspire me by the way they play and they are also leaders off the pitch…they both adopt a really professional attitude to training."
Bow: Who would you most like to meet in world rugby?
Marko: "Maybe someone like Jeff Wilson or Christian Cullen…people like that who have been there and done it before."
Bow: Who would you not like to see on the oppositions' wing against you?
Marko: "Ben Cohen!"
Bow: ..and who would you like to play against to challenge yourself?
Marko: "Marcel Garvey."
Bow: What are your aspirations in rugby?
Marko: "Well having played for the Italian Sevens side..I'd like to go on and win a full 15 cap and become a full international."
Bow: Have you been spoken to by any of the Italian management team?
Marko: "Since the sevens tournaments in the summer, I haven't had any contact with them really. I told them I had come back to England to play rugby at Bristol, but apart from that I haven't really been in contact with them."
Bow: How did you get on in the Sevens squad?
Marko: "In the Cardiff leg we got knocked out in the final of the bowl, which is quite low down….15th place out of 16 teams!! In the London tournament we got knocked out in the Quarter Finals of the main competition against England believe it or not! We did get smashed 50 – 0 by them!!"
Bow: Did you score any tries?
Marko: "I scored 1 try against New Zealand in the pool games from about 40 metres out!!"
Bow: Who's the worst and best dressed player in the squad?
Marko: "Worse dressed is probably Hunty because he only has one shirt! The best dressed……lets go for Hobbo…he's pure style!!"
Bow: Who's the joker in the squad?
Marko: "Probably Adam Billig, he's continually playing pranks on everybody! We like to banter each other with these little pranks!!"
Bow: Who's the quietist?
Marko: "Maybe Mike Griffiths."
Bow: Who's coping the most banter at the moment?
Marko: "Hooky…he has a lot of nicknames."
Bow: Other than Richard Hill, who would you most like to be coached by?
Marko: "I wouldn't mind being coached by Paul Hull again…I really respect Paul Hull. If its anyone in the world, probably Wayne Shelford."
Bow: What irritates you most about rugby?
Marko: "Got to be the old school prop mentality of taking it in, picking and driving not really changing line!"
Bow: What do you think of the City of Bristol (and its fans)?
Marko: "It's a funny old place because it has so many different areas, its so diverse. You can be in the City Centre and in 5/10 minutes you can be in the countryside, and you can be in areas such as Clifton and White Ladies and you can be in different areas like the City Centre and Bishopston….theres something for everyone..St Pauls is a dodgy area, that's where we train at the gym…its not pleasant!!"
The fans have been fantastic. Having played 4 games, we haven't given them a lot to cheer about but we've still had good attendances. Knowing all the supporters are behind you gives you a real lift when you come onto the pitch. You can hear people calling your name or number from the stand and it's a great feeling."
Bow: What's your first memories of Bristol Rugby Club?
Marko: "Memories….my first memories are probably when I went for my first weight session with Dave Bennett and Paul Hull was there…it was the 98/99 season. I had never done weights before and I remember being broken in the gym by Bennett and a few of the older guys, the senior pros….they made me look like an idiot!!"
Bow: When did you first move down to Bristol?
Marko: "It was about 1998, when I went to University…it was only when I was down here that I decided to turn up at a Bristol training session. I just took the initiative and went to a United training session and got a few games for them and by the end of the 1999 season they offered me an academy contract. That was under Bob Dwyer."
Bow: What would you do if you weren't a rugby player?
Marko: "I'd like to be another type of sportsman…maybe athletics or something else. Or I would like to use my languages (Italian and French)."
Bow: Have you got any pre/post match rituals?
Marko: "I'm not particularly superstitious but I do have a routine….I put my left sock on before my right sock and then my shorts and pads…and I always warm up in a different shirt….then I'll come back into the changing rooms, put on my match shirt, tape up my arms and forearms and then I am ready…oh and I'll put my gum shield on before I go out."
Bow: Are you quiet before a match or do you like to psyche yourself up?
Marko: "You get people who are quite loud….like Dodge for example, but I like to stay quiet and focused."
Bow: What do you like most about being a rugby player?
Marko: "I love the physical aspect…getting stuck in and making the big hits and the tackles. I also love beating my opposite man….the feeling of beating or going past someone is the best feeling. I'd rather make a good break and set up a try than finish off a move and just put the ball down."
Bow: What are your strengths and weaknesses as a rugby player?
Marko: "Strengths are my speed and my lines of running. My weaknesses are my contact skills…they're not the best."
Bow: What do you do away from rugby to relax?
Marko: "In my spare time I like to go travelling…experience different countries and different cultures…I love getting involved in other peoples live. During a season I like seeing my friends and socialising. I like having a kick about with the boys too (football)"
Bow: Being able to look in from the outside last season what was your opinion of the proposed B*th merger and move to Oxford etc…
Marko: "I heard that Bristol could get relegated and I was really upset at that. If they had merged they would have lost all that history and tradition. Even if they had spent 1 or 10 years in a lower division I think that's better than merging into one club. Its better to take the fall and come back when you are ready.
I didn't like the Oxford rumour either. You would have lost the fan base and you would have lost part of the City of Bristol. There's 50 or so rugby clubs in and around Bristol…if the move had happened you would have lost the core club of all of them. Its important to keep that club here…not just for Bristol but for all the other clubs too."
Bow: Do you see yourself coaching or managing at the end of your career?
Marko: "I did some coaching in Italy…coaching U15, 16 and 17s at Coliferro and I did an ok job but I don't really think it was my thing. I tried it out but its not for me….I'm not a natural coach. I would like to stay connected to the game when I am finished though."
Bow: What are the prospects for Bristol this season?
Marko: "Having got off to a bad start…its important that we pick our heads up and get some good wins under our belt if we want to make a decent season out of this. I think if we finish in the top half of the table having gone down last season…I think that will be a success."
Bow: How did your rejoining Bristol come about?
Marko: "I played in the Cardiff leg of the Sevens and I got seen by Sue Lapham (Shop Sue) who remembered me from when I played for the Bristol U21s. She came over and said hello. We chatted about Bristol, who we knew, how they had gone down and generally all the highs and lows of Bristol. She asked if I would consider coming back and playing for Bristol….I asked her if she would put a good word in for me. I never expected it to come to anything, but here I am!
Bow: Did you have other offers?
Marko: "Yea I had a couple of offers in Italy, one from Parma and one from Coratto, but the best offer was easily Bristol."
Bow: Whats your funniest moment in rugby?
Marko: "During my first game for Bristol U21s we were playing Wasps at home at Coombe Dingle under Paul Hull. Having scored a try I mimicked the 'triple H' celebration(?!), I ran to my supporters in the crowd as I had a lot of Uni friends watching me and I did the Triple H wrestling move(!!) and from then on Paul Hull told me if I did it again he would never let me play for Bristol ever again. He was really unhappy with me and I got banter off of the boys for years! He was serious about it because he thought it was a mickey mouse celebration and it was degrading/devaluing the shirt."
Bow: What's your darkest moment in rugby been so far?
Marko: "When I injured my right knee…I cracked my right minisc. That was in May 2001, I was just finishing a French placement at University. I couldn't train or run…I felt really down…I was out of action until September of the same year."
Bow: Who do you owe most to for your career?
Marko: "Paul Hull definitely."
Bow: Who will be the surprise package in the squad this year?
Marko: "I think Mike Griffiths has been the surprise package so far and I think Adam Billig will also be one."
Bow: What are the differences between English and Italian rugby?
Marko: "I think the main difference is that the game is more developed over here. Players have been playing a bit longer. In Italy they don't start playing until they are 15, 16 or 17. They don't really have a very organised defence and because of that they concede a lot more penalties in all areas of the game."
Bow: Which player would you have bought with you from Coliferro?
Marko: "Probably the fly half and English guy called John Armstrong. He is playing for Orrell 2nds at the moment. He is a good fly half."
Bow: Where do you think it went wrong during the Otley game?
Marko: "The side we played against was accused of being unambitious, but I think we were maybe over-ambitious, we were trying to many things and it wasn't coming off because we were over-complicating things. We lost our rhythm at set pieces, we lost our pace and our accuracy. Because we don't get the basics right, we don't keep the opposition honest."
Bow: How disappointed have you been not being involved as much so far this season?
Marko: "Obviously I have been very disappointed not to be first choice so far, but I am going to try and work a lot harder in training and keep myself fit and generally impress Hilly as much as I can. I'll just keep pushing the other two wingers as much as I can. There's no animosity between us mind…we're all friendly with each other."
Bow: What do you think of our prospects against Manchester in the cup?
Marko: "I think we have a good chance to beat them, we are second bottom of the table and they are bottom, so we have a good chance, especially at home with our home support."
Bow: What do you think of the lightweight pack label we have been given?
Marko: "I think the best way to counteract that is to react in our defence much quicker. We are not that easy a pushover…if we use the blitz defence tactic we can stop sides more quickly."
Bow: What happened when you left Bristol first time around?
Marko: "I didn't get offered a 1st team contract in 2001. I was gutted and went to play for Coventry for a season. I only played two matches though as I was out for most of the season with hamstring problems."
World Cup
Semis: New Zealand v Australia, England v France
Final: New Zealand v England
Winner: England
Dark Horse: Argentina
Italy? "On paper a good side, they beat Wales (!!)….Quarter Finals are possible
Favourite?
Colour? Orange
Food? Lasagne
TV Programme? The Office
Footy/Cricket Team? Coventry/none
Film? Shawshank Redemption
Drink? Jack Daniels & Coke
Woman? Carmen Elektra
Music? Red Hot Chilli Peppers
Desert Island? Girlfriend
Describe yourself in 3 words? Dedicated, Hard-working, fun-loving
Either/Or
Lager/Bitter? Bitter
Eastenders/Corry? Eastenders
Nurse/Teacher? Teacher
Footy/Cricket? Football
Rock/Dance? Rock
B*th/Glos? B*th
Cohen/Rococoko? Cohen
Curry/Chinese? Chinese
Night in/out? Out
Beach/Snow? Beach
Australia/New Zealand? Australia
Brittney/Christina? Brittney
Bum/Boobs? Bum
Mullet/Crewcut? Mullet
Cat/Dog? Dog
Peroni/Carling? Peroni!