5 MINUTES THAT SAVED THE DAY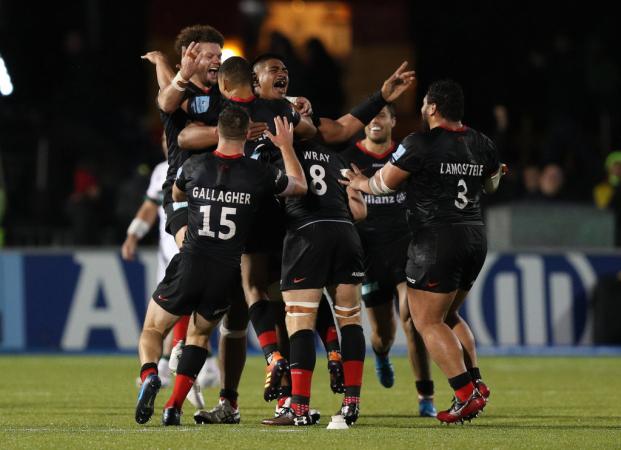 By DG
November 3 2019
Five minutes left on the clock, Sarries trailing 8-13, the wind gusting, the rain pouring – a fitting end to a thoroughly miserable day. A number of "supporters" sitting around us had already decided to call it a day. In a way I couldn't blame them but I remember saying to Little DG "wouldn't it be funny if they missed the best bit of the game". But that was exactly what came to pass.
The game had deteriorated into a series of aimless kicks and it appeared both sides were wet and cold and had had enough. Then Isiekwe charged down an Irish box kick (one of several he'd charged down during the game). The bounce was unkind, the ball was wet and he knocked on. The crowd emitted a collective groan. Handling errors had been a feature of the game as if the disease which affected England this morning had spread across the planet to Allianz (the only difference being the rain at Allianz which was something of a mitigating factor). Irish scrum. Irish had been largely on top at the set piece winning most of the scrums. We could see what was coming. Wind down the clock (as Irish had been doing ever since they took the lead in the 53rd minute) and hope for another penalty to put themselves safe. Should we stay or should we go? We couldn't get much wetter could we – we stayed.
The Sarries' 8 put in a huge shove and won the penalty. Irish led by 5 so the sticks were not an option (thank goodness, both Loz and Manu had already had a go at long shots with zero results) so Wiggy put the ball in the corner. To be honest we weren't hopeful. Woolstencroft, who played the whole 80, had been generous with lineout ball and Irish had stolen 5 Saracen's lineouts. Surely this was number 6? No, Isiekwe rose high above the rest and claimed the ball. The maul headed for the try-line but stopped. Mr Leal said it was illegal and sent Allan Dell to the bin but didn't award the penalty try. Would we risk another lineout or take the scrum lottery? Line out it was and a complete repeat of the previous one with Isiekwe once again rising high and the entire team it appeared joining the maul. This time Irish had no answer and Earl touched down. The scores were level. Could Manu land a very tricky conversion from wide on the right. He set up the ball and poised himself. Before he moved a hoard of Irish were charging towards him. What to do? He looked anxiously towards Mr Leal who seemed to be waving the Irish back. Everyone looked confused and Manu kicked it – understandably a dreadful kick! Mr Leal took charge though and gave Sarries a lifeline – retake the conversion. This time Irish stayed behind their line. Manu seemed to take an age. A much better kick but just where he needed a gust of wind, the breeze dropped and the ball drifted wide.
"Oh well!" said Little DG "A draw will do after the way we've played". I cautioned her that Irish still had to restart and we needed NOT to concede a penalty. Somehow Irish regained the ball from the kick off in the Sarries' 22. This was going inexorably the wrong way. Then somehow Sarries had their hands on the ball and Wiggy box kicked up into the dark sky and out of danger. Ben Earl tackled and allowed Taylor to get his hands on the ball. Mr Leal's arm was raised. A lifeline! A Sarries' penalty. In front but on the 10m line and with an increasingly capricious wind. Manu had already missed a very similar kick earlier in the game. We held our collective breath. Manu placed the ball, and settled himself. The gong had sounded. Last play. Could he do it? Could Manu kick for his own "world-cup glory"? We would find out a lot about the nerve of our young fly half in the next few seconds. A clean kick, the ball sailed towards the posts. The breeze stilled. Surely that was over? It seemed an age before the touch judges lifted their flags. Manu was mobbed by his team-mates with Wiggy in the fore. I have rarely seen such pure joy at the end of a "run of the mill" Premiership game.
So to rewind, we had arrived at a rather sombre Allianz Park, everyone a bit flat after England's defeat to a superb South African Team earlier in the day. The wind was blowing, the clouds were gathering, it wasn't an encouraging prospect. It was good to see Duncan Taylor back in the starting 15 but the team were still missing Brad, Figallo and Mike Rhodes along with longer-term injuries to Goodey, Liam and Malins. Rhodes and Goode were interviewed pre-match but I couldn't hear a word they said so I remain in the dark about when we might see Rhodes again.
Irish started the better and were rewarded with a penalty which Myler kicked. Woolstencroft made an encouraging break setting up a prolonged period of Sarries' pressure but all they got out of it in the end was a penalty – a tricky kick but landed nicely by Loz. Irish seemed to be showing more promise but there was some nice aerial work from Segun claiming the ball a couple of times from rather bigger defenders. Finally Sarries got some front foot ball. A penalty to touch, catch and drive and over it went with Titi, propelled over by Woolstencroft and Isiekwe, grounding the ball close to the corner. Loz couldn't land the extras but Sarries led 8-3 …. Only to give away a straightforward penalty which Myler kicked for 8-6. Things deteriorated from then on. We staggered to half time with no further scores and as the teams came out for the 2nd half the heavens opened. Sarries should have had the wind behind them in the 2nd half but it was if anything a cross wind and not really doing anyone any favours. By now my pad was soggy and illegible so I'm running on memory. The handling deteriorated with the weather. If only Woolstencroft's line-out work matched his ability in the loose he would be a good player but he was profligate with his line outs and the scrum wasn't going much better. Loz opted to kick what can only be described as a very optimistic penalty from half way. It was never going to work. He departed soon after to be replaced by Tompkins who at least brought some energy to the team. Segun's tackle on the tryline forced an Irish knock on but the Saracen's pack couldn't hold the Irish tide on their own 5m line and they knocked on. Irish went for the driving maul and Tuisue touched down. Myler kicked an excellent conversion to give Irish a 5 point lead.
Adams Hale replaced a tiring Barrington and seemed to give the tight five a bit of a boost, so much so that Sarries won a penalty in front close to the 10m line. With Loz off the pitch, it was Manu's turn. With 20 minutes left I suppose it was worth a shot but given the deficit, and the previous attempt from Loz, we wondered if a kick to touch would have been more productive (oh yes – they can't win a line out at the moment can they). The kick went wide. Little did we realise what was to come.
So it was all OK in the end. Not a convincing performance but a job done. Manu passed his biggest test so far – is this the start of a stellar career or another also-ran. Time will tell but so far so good. Taylor played the whole 80 which was great news (and was given man of the match). Mark McCall opted not to use many of his subs with only Barrington and Hunter-Hill being replaced in the forwards and Segun and Loz in the backs. (When did Skelton ever do the full 80?) It was a tight game but that says a lot about the bench – the tank is very nearly dry. Welcome home you England guys, we need you! Hopefully the likes of Singleton and Carre, who haven't had too much game time, will be raring to go. (I suspect it will be a while before Vincent sobers up!) As for the rest, they will be sore and disappointed. They will be welcomed back to the fold with open arms and I have no doubt Saracens will, as always, put their welfare first. This will be an interesting week but right now Castle Grim on Saturday looks a big ask.
SARACENS
Gallagher, Maitland, Lozowski (Tompkins), Taylor, Segun (Lewington), Vunipola, Wigglesworth; Barrington (Adams-Hale), Woolstencroft, Lamositele, Skelton, Hunter-Hall (Kpoku), Isiekwe, Earl, Wray.
LONDON IRISH
Jackson, Williams (Macken), Rona, Stephenson, Loader, Myler, Meehan (Steele); Hobbs-Awoyemi, Fainga'a (Matu'u), Hoskins (Cilliers), Botha, Van der Merwe, Cowan, Ioane, Tuisue
SCORERS:
Saracens (16): Tries: Lamositele, Earl; Pen: Lozowski, Vunipola
London Irish (13): Try: Tuisue; Conv: Myler; Pen: Myler (2)
Referee: Adam Leal
View a Printer Friendly version of this Story.
5 MINUTES THAT SAVED THE DAY
Discussion started by TheSaracens.com , 03/11/2019 08:29
TheSaracens.com
03/11/2019 08:29
What do you think? You can have your say by posting below.
If you do not already have an account
Click here to Register
.
Edited 1 time(s). Last edit at 2019:11:13:11:54:26 by Darraghgirl.
Thanks, DG, captures it well.

I couldn't understand the mindless kicking into the wind in the second half but it was cold, wet and mind-numbing out there!

Successful hills are here to stay
Everything must be this way
Gentle streets where people play
Welcome to the Soft Parade
PS: isn't the Gloucester game on Saturday afternoon?

Successful hills are here to stay
Everything must be this way
Gentle streets where people play
Welcome to the Soft Parade
Darraghgirl
03/11/2019 10:35
Quote:

AP
PS: isn't the Gloucester game on Saturday afternoon?
how right you are! - quick edit required!
TonyTaff
03/11/2019 11:17
Cheers DG. Heroic to stay at your post until the end.
£721.05 (*) donated to the Saracens Foundation due to visits to the Sarries frontpage [
www.rugbynetwork.net
]
Please read and submit articles for publication.
(*) As at October 31, 2018.
It was noticeable that the East Stand (into which the rain was blowing almost horizontally at times) emptied from the bottom!

Successful hills are here to stay
Everything must be this way
Gentle streets where people play
Welcome to the Soft Parade
Barty II
03/11/2019 15:25
East Stand did indeed empty from the bottom but filled up again from the top - looks like they were moving ever upwards to escape the rain. I grew gills and webbed feet and maintained my second
half post standing in the corner right in front of the crucial maul try at the end...

Never a fan of a trip to Gloucester, but don't envy anyone at the mercy of the Shed following this week's publication of the salary cap trials....
The Bard
03/11/2019 17:28
Excellent summary of a soggy afternoon . I'm struggling to understand how Irish got hammered at home so comprehensively the week before
Sorry, only registered users may post in this forum.