NIGEL WRAY, AN APPRECIATION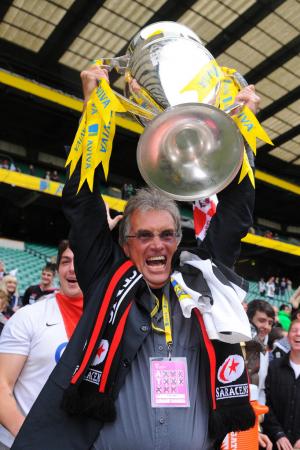 By TheSaracens.com
January 2 2020
On Thursday 2nd January, Nigel Wray announced he was standing down as Chairman of Saracens. He said in his statement: "As we enter a new year, a new decade, it is time for the Club to make a fresh start. I am not getting any younger and feel this is the right moment for me to stand down as Chairman and just enjoy being a fan of this incredible rugby club. I will always be committed to the wonderful Saracens family. The Wray family will continue to provide the required financial support to the Club, and I will remain actively engaged in the work of the Saracens Sport Foundation and Saracens High School, as part of the Club's ongoing commitment to our community in north London."
Some will point to what he didn't say but it would be wrong to allow the events of the past few months to overshadow Nigel's huge contribution to Professional rugby. Without Nigel Wray there would be no Saracens.
I am grateful to Mr Bob Reeves for the following information which was the oration delivered when Nigel received his Doctor of Laws in 2005.
Nigel William Wray was born in London in 1948. His parents owned a printing works and the relocation of this to Andover meant that he became a boarder at Mill Hill School where he became friends with Martyn Thomas (former Chairman of the RFU). Nigel went to Bristol University to study Economics & Economic History in 1967. He was said to be "a good student but a quiet chap" and to have very neat hand writing! He played 7 a side rugby for his university and continued to play for Old Millhillians. After graduating with a 2:1 he got a job with Singer & Freidlander (allegedly because he liked the sound of the name!) earning £35 per week. 20 years later he had gone from graduate trainee to major shareholder when launching the bank onto the stock exchange. It wasn't always easy, and he was hurt by the property crash in the early 70's, but he learned his lessons well.
Nigel shared a flat with Martyn Thomas who was also captain of Old Millhillians. He was clearly not an easy person to have on the team though. Thomas said "not only did he do star jumps when everyone else was doing press-ups, but more pertinently, he never passed the ball!" Nigel also liked to read the dictionary, learning 10 new words every night which he then tried to bring into the conversation the following day!
Nigel developed a reputation for having a sharp eye for investment opportunities and he became financial adviser to a number of Old Millhillians. He also met and married his wife Linda there (they went on to have 3 children, Linda, Lucy - who became an international lacrosse player & Joe). In his 20's, he and Martyn Thomas started a property company renovating old houses in Hampstead and selling them on. He was not a gambler though, rather a man with determination to see things through and a sound judge of people. He developed a reputation for turning things round. He relaunched the Fleet Street Letter to become the first British private subscriber news letter, demonstrating his unparalleled knowledge of the Stock Market and share analysis. In 1983 he met Michael Green and the 2 "gelled". He joined Carlton Communications.
By 2005 Nigel had over 50 directorships. He was described as a "private person". And it was said by Bob Reeves: "To describe him as a philanthropist would be unjust. He does not give in order to satisfy a charitable conscience or to demonstrate that he is a generous man. His giving is unsung. Altruistic he is, and his acts of kindness have assisted countless people, including many of those with whom he has worked over the years. Other beneficiaries have been the organisations, institutions and causes that he admires and seeks to benefit from his backing."
Since then Nigel has continued to invest wisely including Domino's Pizza. He has a diverse portfolio including Prestbury Investment Holdings and Chapel Down Group among others. He is a significant investor among a number of AIM (Alternative Investment Markets) quoted companies along with interests in private companies involved in domiciliary care, computer network solutions, engineering, hotel & restaurant sectors.
One of these investments was of course Saracens. Nigel was approached by Saracens back in November 1995, at the start of the professional era, to become a Sponsor of the team. He declined, instead stating he would invest. He bought 80% of the business (allegedly for £2million) and the rest is history. Back in 1995 he said: ""London is a sleeping giant where no one goes to watch rugby. That can change. Saracens needs a decent ground and is talking with other sports clubs about sharing. It needs some star players and has already signed up the Australian Michael Lynagh. And it needs to exploit its name commercially: I see it as a brand - like the Savoy or the Independent." He was not wrong but I wonder if even he realised how long the journey would take.
Nigel's loyalty to Saracens has doubtless cost him many more millions (he said in 2002 it had cost him £13 million!) but along with cricket, rugby has always been his passion. He said: "I played till I got so slow that even I wasn't enjoying it. No that's not true. I played until players I thought were dreadful were better than me."
His belief that rugby could become a major sport was realised when England won the World Cup in 2003 and public interest rocketed. Nigel has bank-rolled Saracens for almost 25 years. The early seasons were troubled with relegation generally a real prospect and just the Tetley Bitter Cup in 1998 to show. Nigel's support meant the Club moved from Bramley Road, via Vicarage Road, to finally achieving the dream of its own ground at Allianz Park. Success took a long time coming though and it was only when Nigel sold around 50% of the shares to South African investors and brought Brendan Ventor on board that things started to change. Defeat in the Premiership Final in 2010 was followed by victory the following year. Ventor was succeeded by Mark McCall and Sarries have gone from strength to strength winning further Premiership titles in 2014, 2016, 2018 and 2019. Saracens also won 3 European Champions Cups, in 2016, 2017 and 2019 becoming the most successful English rugby club of the last decade.
Nigel's love of sport has led him to acquire one of the world's finest collections of sporting memorabilia, now housed in a museum at Allianz. In addition to rugby there are 2 signed bats belonging to his hero WG Grace. (Legend has it that Nigel wanted to buy his daughter Lucy a flat in Clifton because it had once belonged to WG and had a blue plaque outside! She objected because the flat was too small and she wanted somewhere big enough to share with 4 friends!)
Nigel supports many charities including Lords Taverners and of course the Saracens Sport Foundation which is very close to his heart. In recent years he realised his dream of setting up Saracens High School where the Saracens values "Discipline, Hard Work, Honesty and Humility" are the cornerstones on which the ethos is built. Saracens Primary School, a new Freeschool in Colindale, will be opening its doors in 2022.
Even with his recent difficulties at Saracens, Nigel probably never needs to work again. He is estimated to be worth in excess of £300 million. So why does he? "It's what I do" he said, "nobody said to Don Bradman after he'd scored a few hundreds against England, why do you want to score more? In business, money just happens to be the measurement of success."
But above all Nigel is a fan – a fan of Saracens. He has resigned as Chairman but he will continue to be the team's number 1 supporter. As always, he made sure that the team would be OK (by enlisting the safe pair of hands which are Ed Griffiths as interim CEO for a year) before he stepped down. Sadly the salary cap breach will always haunt him. I believe it happened because he cared too much about his players. This is a culture where 17 squad players are studying for degrees. Players are encouraged to think about a future outside rugby. That Nigel supported their investments has sadly been his Achilles Heel. Nigel justified this by saying : "On the issue of player welfare you can't say that we care about our players and their futures, and then not care about them… it is an investment that can go down as well as up. It is a risk." The RFU investigation disagreed and Saracens were punished for breaching the salary cap. Maybe the club could have appealed but they opted not to, to take it on the chin, accept the fine and the points deduction and move on. No doubt Nigel was behind this too.
I will leave the final words to Stuart Barnes of Sky & Chris Jones, BBC rugby correspondent.
Barnes:-"One of the professional rugby's great innovators with a passionate love of Saracens; a good man"
Jones: "Wray has had a seismic impact on English and European rugby over the past 25 years, both as the beating heart of Saracens and as a prominent and influential voice in the sport. Wray has done as much as anyone to drag rugby union into the professional era and will continue to prop up Saracens financially. While the arrival on the scene of private equity may mean less of a reliance on benefactors in the future, many clubs still lean heavily on them. Without the generosity of men like Wray, the professional club game in England would not exist."
Fitting tributes indeed. Thank you Nigel for all you have done for Saracens, for England and for English Club rugby. Without you we'd be nothing.
View a Printer Friendly version of this Story.
NIGEL WRAY, AN APPRECIATION
Discussion started by TheSaracens.com , 02/01/2020 19:04
TheSaracens.com
02/01/2020 19:04
Trolls not welcome
He was one of us



Edited 2 time(s). Last edit at 2020:01:09:19:16:21 by Darraghgirl.
A lovely, thoughtful piece for a great man.
Thank you Nigel.
Sorry Sarrie
04/01/2020 12:58
Very well written and thank you. It brought a lump to my throat I'm not ashamed to admit. I would have thought his name should adorn the new stand at AzP - has that been officially proposed by anybody? He'd probably object being the man he is!
PS Sorry to be pedantic but Brendan Venter might be a wee bit miffed that you mis-spelled his surname!!
Sorry, only registered users may post in this forum.