SO IT'S GOODBYE FROM US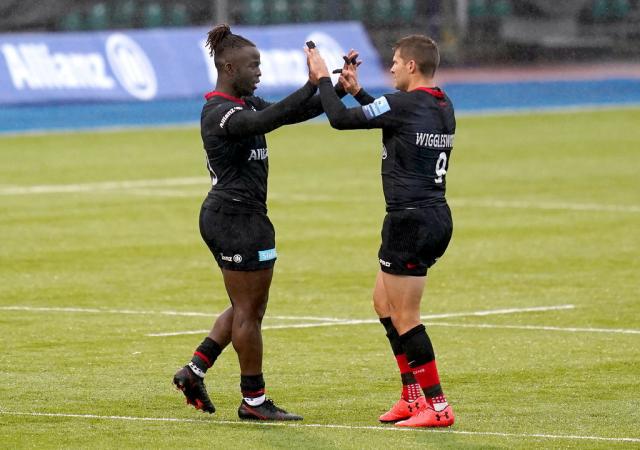 By Jonnybrowne
October 5 2020
I've no idea if John Lennon was a fan of our wonderful sport, but his lyrics "strange days Indeed….most peculiar mama" could have been written about the current state of rugby in general and Sarries specifically - and 4th October 2020 will go as one of the stranger days in the Saracens FC annals.
Who would have thought as we hit the pubs of Newcastle less than eighteen months ago that 2019-20 would end four months late, all of us saying a remote farewell to two players for whom the word "legend" is an understatement, who are spending their last matchday at Allianz with no crowd, with relegation sealed months ago and, as I write, with no certainty that we'll actually have a league to try and get promoted from in 2020-21.
Speaking of remote farewells….I don't know how many of you are on the pre-match Virtual Oasis call, but the surprise appearance of Brad on our screen at 2pm coincides with me getting some dust in my eyes as this dignified and, even after all he's achieved, modest man accepts with characteristic grace the tributes paid to him, and it hits home, with his last day as a Sarries player having finally arrived, who we're losing and how hard it will be to replace him as both a leader and as the highest of high-impact players. I have no doubt that Brad's influence will be felt at the club for years to come.
There are as expected a number of squad changes from the Racing game with, very regrettably but not unexpectedly, no Brad, who sat in the stands, or for the saddest of reasons, Calum Clark. In a late change, Wiggy is captaining the side instead of Jamie. Bath, with a top four place still to nail down, are at full strength including Ben Spencer, who if he finds it strange to be playing against Sarries and his former mentor (Wiggy being at one point referred to in the commentary as Yoda) clearly isn't - as it transpires – going to let it affect his performance. Another familiar face, Christian Judge, is on the bench for Bath.
Rhys Priestland, whose hairdresser needs a good talking to, starts things off, Billy gathers, but Bath halt the move forward and win a scrum. Bath are making a hard fast start and pound our lines with the phases clocking up into double figures before Maro's cousin Beno Obano muscles over. Priestland adds the extras for 0-7 after only 3 minutes. They aren't here just to help us say goodbye to Brad and Wiggy....The next significant action is a Bath maul crabbing sideways with the unusual sight of Maro climbing on top of the pile, feet clear of the ground and causing Bath to collapse. Sarries, settling into the game after a torrid start, win a couple of penalties, one of which, a seemingly deliberate knock on by Dunn must surely bring sanction….but no, Wayne Barnes keeps the yellow card in his pocket.
Dom Morris is hurt in a collision which causes a reshuffle in the Sarries ranks – Roti Segun comes on, Elliott Daly moves into the centres and Sean Maitland moves to full back. The game calms down a little with neither side dominating, but then we're reminded of why we were all so sorry to see Ben Spencer leave: from a Bath penalty on the 22 in line with the posts, he thinks quicker than everyone else, taps, goes, and wriggles through a hole in our defence and over the line. Rhys Priestland converts for 0-14 with less than 20 minutes gone. A period of loose play follows. Sarries, promisingly, march a maul forward following a penalty but Billy is forced into touch and although our lads are trying hard to work their way back into this they're not really threatening Bath's line. At last, and on the the half-hour, Bath's lead is chipped at a little, after the second of two penalties to Sarries in a short spell, this one for obstruction by Dunn, gives Manu the opportunity to go for the posts, and it's 3-14.
Sarries continue to work hard. Sarries win a scrum, but Calum Hunter-Hill is hurt (ankle) and is clearly struggling to have an effect on the shove. The impressive Crean gets plaudits for some good work. BT Sport switch to the Bristol game for an update - Ben Earl's just scored…we couldn't half do with him here…. Sarries push forward but Bath are defending well. Jackson Wray suffers a knock to the head, and looks dazed – he's permanently replaced by Tom Woolstencroft .
Back to the Bristol game for a minute to show Max Malins doing his best Willie Le Roux impersonation as he dives over the line in acres of space…and drops the ball........Continuing the vaguely comic theme, Wayne Barnes shows us exactly why he became a ref, fumbling an accidental Bath pass (at least I hope it was accidental) - the commentary team tells us that he was once a useful inside centre. Wonder how Lee Dickson would cope in that situation? Bath get a warning after three infringements. The first half ends.
In truth, Bath look like the side with a bit more to play for, although they haven't seriously threatened since their opening burst – conversely this feels like one match too many for Sarries and/or maybe the emotions of the season and the day have got to them. A busy and hungry Maro is looking our best player. Joel Kpoku is on for a hobbling Calum Hunter-Hill. Sarries have the wind at their backs in the second half . Manu restarts in driving rain which hasn't yet hit Hornsey.
Sean Maitland takes a blow to the head in the early skirmishes, to be replaced by Harry Sloan. Elliott Daly moves back to 15. Our task gets a little harder not long after when a Bath penalty is neatly tucked away by Priestland, kicking into wind for 3-17. Bath are looking in control once more and grind forward again. Sarries are struggling to clear their lines and gain ground. There's a change in the front row as Clarey comes on for Koch – and then Wiggy comes off to applause from the "crowd", including Brad. Sad moment, Aled Davies comes on. Sarries then start to show more urgency, driving forward with Jamie prominent, but are stopped as Harry loses forward.
Alex Sanderson pays tribute to Wiggy during the "coach's comments" slot. Sarries at last build up some pressure following a scrum 8 metres out. Alex Lewington tries to slip through then we have a penalty scrum 5 metres. Billy goes in hard but it's held up. Another scrum wins a penalty try when a foot prevents Billy from picking up. 10-17 with a quarter of an hour left! A good spell for Sarries who are looking a lot more like themselves in this phase of the game – can we get something out of this????.
Bath's other ex-Sarrie, known to one and all as The Judge, comes on. Sarries have definitely warmed to the task, and a penalty is sent long by Elliott Daly. There's a messy line-out but Sarries work the ball forward through Maro…and Tim Swinson who as always has done a good job today, dives over. Manu converts and stap me it's 17-17 with 10 minutes to go!! Bath, back in an uncertain position in terms of their league position, try to inject some urgency but can't add to their score. The game draws to a close as a maul from a Sarries' line-out marches forward, from which Aled Davies goes on a sniping run but it's a penalty for Bath. Maro gets to the kick, and it's time up.
Sarries have gone down fighting, Wiggy departs with emotion in his eyes, and hard as today has been, it's time to look forward to the next chapter.
Teams:
Saracens: Daly; Lewington, Morris, Socino, Maitland; Manu Vuipola, Wigglesworth; Crean, George (capt), Koch, Itoje, Swinson, Hunter-Hill, Wray, Billy Vunipola.
Replacements: Woolstencroft, Hislop, Clarey, Kpoku, Venter, Davies, Sloan, Segun.
Bath: Watson; Rokoduguni, Joseph, Matavesi, McConnochie; Priestland, Spencer; Obano, Dunn, Stuart, McNally, Ewels (capt), Williams, Underhill, Faletau.
Replacements: Walker, Boyce, Judge, Spencer, Reid, Chudley, Redpath, Cokanasiga.
Scorers: Saracens: Tries (2) Pen, Swinson; Conv: M Vunipola; Pen: M Vunipola
Bath: Tries: Priestland, Spencer; Conv: Priestland (2); Pen: Priestland
Referee: Wayne Barnes
View a Printer Friendly version of this Story.
SO IT'S GOODBYE FROM US
Discussion started by TheSaracens.com , 05/10/2020 21:06
TheSaracens.com
05/10/2020 21:06
Thanks Jonny, a very entertaining read
Let's hope it isn't too long before we need another match reporter!



Edited 1 time(s). Last edit at 2020:10:05:21:08:18 by Darraghgirl.
Thanks, a good write about a game well worth watching. I claim that at half-time it seemed that Sarries could actually win: the weather advantage is there on a calm day, and in these conditions Bath never had enough in the bag to be sure of putting this one away. It seemed also that the effort of building the lead took so much out of Bath that they had nothing more to offer for the second half.

Innings

Points win matches: tries win hearts and minds.
jonnybrowne
07/10/2020 10:56
Quote:

Innings
Thanks, a good write about a game well worth watching. I claim that at half-time it seemed that Sarries could actually win: the weather advantage is there on a calm day, and in these conditions Bath never had enough in the bag to be sure of putting this one away. It seemed also that the effort of building the lead took so much out of Bath that they had nothing more to offer for the second half.
Glad you enjoyed it. Quite see your point, Innings, but my own feeling at half time was that Sarries didnít quite have enough in the tank to haul it back - and how pleased I was to have underestimated us in that regard - and also that Bath should have enough motivation, even playing into the wind in the second half, to close it out. Like beauty, itís all in the eye of the beholder!
Sorry, only registered users may post in this forum.