Donít Let The Green Grass Fool You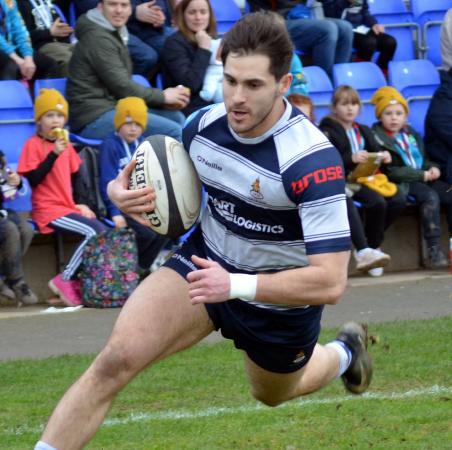 By Mark Forster
September 21 2019
BEFORE a rugby ball is kicked in anger on the new Butts Park Arena pitch, the annual glut of concerns about 'plastic' playing fields has begun.
Time will tell whether Coventry's 3G offering is going to end the careers of those with less healthy knees, or shorten the playing days of those who ply their trade on it.
But given the knowledge we have about the health benefits and troubles of artificial grounds, I'm sure Coventry have looked into it from a playing point of view as seriously, if not more, as a commercial one.
One thing nobody can deny, it's a positive move by the club, especially given the other sporting ties that have blossomed during the Jon Sharp era.
The old grass and mud pitch was bad enough for rugby at times, so goodness knows what the footballers of Coventry United and their opponents felt. Friends on social media who have had the opportunity to test the new 'turf' have voiced their surprise at the give in it, so maybe it won't be as bad after all.
Some of us who played the game will remember rock hard pitches near the end of any given season, and sometimes at the start – not often given the great British summer.
I put a knee out playing against in a game against Derby one April many moons ago, tackled after rushing a kick to touch from my own 22. The ground underneath was like concrete, baked hard after a spring of hot sun.
I was stuck, in pain, as they took a quick line out and ran towards me. The resulting tackle I managed on one leg – big blokes liked to run straight at us little ones back then and I'm sure I was trying to get out of the way – and subsequent ruck seemed to pull off a miraculous medical trick. The knee clicked back into place courtesy of Derby's entire front row, methinks.
Joking aside, the ground was so hard, one of our wingers swapped from studs to rubber pimpled cricket batting boots.
Rugby, for us nostalgics, was not all rain and mud and beer.
If there are issues with the new pitch, as a layman, I'm not sure of the remedies available. Ripping it up and starting again is not likely to be an option.
Mr Sharp hasn't let us down yet. And if he does, he's allowed a failure now and again. I doubt he will have done with the pitch. He's proved a canny operator for Coventry and the club, its fans, owe him a huge debt of gratitude.
We're told the surface will suit Cov's intention of being a running side, an attacking team – the last thought would be to undo all the hard work with unnecessary injuries.
Saracens have an artificial pitch and they've done pretty well since it was installed. Wasps (a hybrid though) and Worcester also have invested in all-year-round surfaces, as did Newcastle Falcons, where Coventry will visit this term, following their relegation last season.
While the Rugby Players' Association insists most players would rather play on grass, in an interview earlier this year, Damian Hopley, RPA boss, voiced common sense about injury fears linked to artificial turf.
'For the first time this year, the Injury Surveillance report has come out saying that injuries last longer on artificial pitches, lasting nine days longer on average,' he said.
'Of all the pitches, Newcastle is the one which is liked the most. When you think that before there was a bog at Kingston Park in December - a pitch that was really difficult to play on - Newcastle comes out of it well.
'But generally, the survey will show that most of our players are not happy with artificial pitches. We've talked about whether there should be just one surface used across the Premiership.'
He points to the hybrid turf already in existence at Sandy Park, Welford Road, Pennyhill Park Hotel (where the England team train), Twickenham, Murrayfield, the Millenium Stadium and Aviva Stadium as a good example, but then admits the cost is prohibitive to most clubs, even given the cash rich environment of the top table teams.
Cash always comes into it in the end.
Watching Yorkshire Carnegie's woes from a distance is a timely reminder that we are lucky to even have a club. And since Mr Sharp stepped in, we've done pretty well.
Of course, Rowland Winter's arrival and his choice in his coaching team, has brought a turnaround in the vibe, the confidence we fans have in our side. We're still not the club we were back in the post-war golden years. Then again, didn't some wit from Willenhall say Rome wasn't built in a day? Maybe it was Baginton.
We've a new season ahead and may well come unstuck again. But we're in the Championship, with a squad that's a campaign to the wise, and should not fear relegation if things don't go our way.
The fact we're in the Championship at all is worthy of wonder.
Go back 10 years and Birmingham and Solihull, the club who edged us out in a bitter relegation battle from the Championship, have become an amateur side over the summer, forfeiting their position in the fifth tier of English rugby.
This is the club that humbled an all-star London Wasps in a Powergen cup tie in the noughties but then hit financial buffers like Coventry did.
Of the 11 clubs that played in that 2009/10 Championship, London Welsh have also exited national rugby, again through financial problems. Plymouth, Moseley and Rotherham Titans are in National League One.
Bedford Blues, Cornish Pirates, Doncaster Knights and Nottingham remain – along with Coventry – while big-spending Bristol and Exeter, now at the top of the tree thanks to planned, sustainable growth, are in the Premiership.
Some of the teams we were used to seeing at BPA during our own National League One years have dropped down. Esher, Caldy and Loughborough Students were all relegated last time out and join Old Albanian and Fylde in the fourth tier.
Cov haven't done too badly at all, in times of greater risk and pressure.
The challenge now for Winter et al is to get this generation channelling their inner Cov warrior, stepping up like Wyman and Walker and Webb, Jacko and Juddy, Gardiner and Gitto. Players who set the standards.