Coventry Rugby 26-17 Bedford Blues - A View on the Game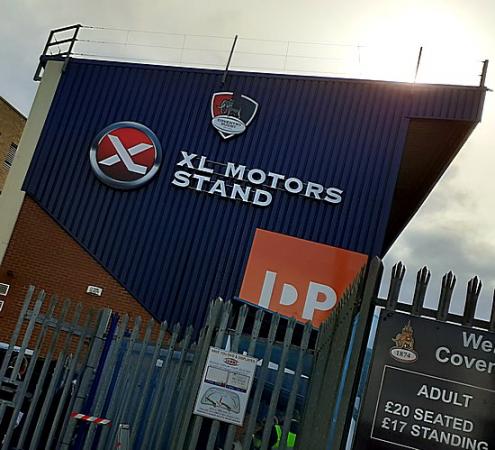 By Mark Forster
September 29 2019
Mark Forster trawled up from Cornwall this weekend, ostensibly to pick up bits and pieces from his old Coventry home, but obviously he was mainly in the midlands for the day's big match, going the extra mile by typing the whole thing on his phone. Kudos. He describes his observations here:
WHEN Muhammad Ali had George Foreman on the ropes in the Jungle Rumble, he could not quite put him away until the second half.
The same could be said for Cov, butchering chances galore against Bedford Blues.
This was a first outing for Cov on the artificial surface of Butts Park Arena, but it was problems with hands rather than footing that cost Cov dear.
There was disappointment in my corner of BPA, but I found so many positives.
Cov's back line found their way through Bedford's scrambling defence time after time.
Rob Knox, Will Owen, Andy Bulumakau, Max Trimble and James Stokes all made valuable yards and I applauded their approach. When Bulumakau was injured, Heath Stevens gave a masterclass performance at outside centre.
Tom Kessell and Rory Jennings pulled the strings with aplomb and it was frustrating Cov couldn't convert.
But fair play to Bedford, conceding three pointers at the expense of seven. They showed a streetwise smartness which meant Sir did not reach into his pocket for a card.
Get away with what you can. Cov would. So let's not have any meanness of spirit there.
I was a little concerned with some high tackles missed by the officials, especially given the heightened awareness in World Cup month.
Maybe the Championship didn't get the memo?
But I was heartened to see the attacking spirit of Cov. And it wasn't just the back division. The forwards were imperious in their approach, effort and execution.
I was glad not to see Cov kick the ball away, but sometimes they appeared to over complicate, relying on well drilled training ground moves rather than show an eye for the gap.
Knox, who moved out to the flank following Bulumakau's injury, was a constant danger, looking for mismatches and showing footwork that should have him on the Strictly dance floor rather than BPA green.
So we spilled the ball yards out.
So passes went wrong.
So we couldn't deliver the coup de gras.
But better to make mistakes in the opposition 22 than our own.
Better to screw up a positive and creative opportunity than not create the chance in the first place.
In the 1970s Cov boasted a backline of international players, though they seldom played together. Bill Gittings at 9, Dick Cowman at fly-half, two players to get those outside them on the front foot.
Peter Preece and Geoff Evans in the centres had a turn of pace and eye for space that could unlock the most miserly defence. Outside them? The fast feet and rugged, tank-like running of Rod Webb and the speed and sidestep of David Duckham, all backed up by Peter Rossborough at full back. And he was no slouch.
In the 80s I felt we had a three quarters to make those 70s guys proud. Steve Thomas, Mark Lakey, Martin Fairn, Stuart Hall and Eddie Saunders among them.
Today, for the first time in nearly 40 years I thought the backs division showed such skill and promise as to be the true keepers of the Coventry flame.
Get the handling errors sorted - easily done - and this should be a rapier like line up to put fear into defences.
I'm sure lessons have been learned from today.
Performances will only get better.
Jennings showed he was a shrewd bit of recruitment. Owen was barnstorming, and impressed with his support work on and off the ball.
Bedford's never-say-die attitude will serve Cov well. Yes it was a cup game and league conquers all, but it was a great test.
In defence, Cov worked really hard. That pack would arguably stand toe to toe with the best Cov has ever put out. These guys relished tackling and running in defence and attack.
Yes there were mistakes, including one miscue from an attacking Cov line out, but it was the second match of the season and these things are an occupational hazard.
That the win was comfortable in the end, despite so many unforced errors shows the potential this Cov vintage has.
The second half, Cov's round eight, saw the home side get the recipe spot on. Darren Dawidiuk was on hand to benefit from a powerful maul.
Stevens set off on a run that was the stuff of 70s and 80s legends and led to Sentiki Nayalo converting - not a bad start for the sub who had barely had a chance to acclimatise to such fast paced action.
Knockout punches either side of jabs, in this case penalty kicks from Jennings and Will Maisey.
I guess the Cov coaches will be demanding more.
I guess the players themselves will acknowledge it wasn't a perfect performance.
When they deliver without the mistakes, it's going to be a game for the ages.
Maybe a season for the ages.
In my rose-tinted vision, the expectation is sky-high.
Scorers:
Tries - Dawidiuk, Nayalo
Cons - Jennings, Maisey
Pens - Jennings (3), Maisey
Attendance - 2042
Pictures - Nick Meredith