Woof!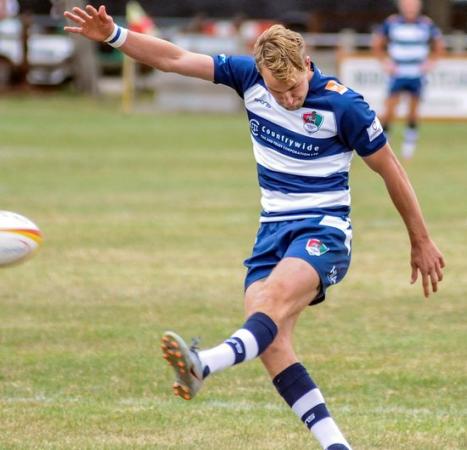 By AdminBTCov
October 19 2019
IT TOOK a while, and we were all on the edge of our (metaphorical or not) seats by that time, but the Cov Dog finally put in an appearance with about ten minutes of a frustrating, error-strewn, yet perversely entertaining match remaining.
Up to that point Cov had alternately flattered to deceive – while managing to cross three times it must be said – and caused the Cov faithful palpitations due to almost countless errors.
However, with the downpours clearing and a rainbow glittering over the Butts Road, and a fully refreshed pack sensing something good, the dog finally broke the chain in the dying embers of the game, snarled viciously, and proceeded to take Bedford's pack apart.
With that rainbow in their line of sight, the eight sensed blood right there on the visitors' try-line, and time and again had Sir pointing toward the south, and a couple of times reaching for his pocket and subsequently flourishing yellow cards in the faces of Bedford's wilting forwards.
It almost had a sense of inevitability about it; that Cov would score that try they so badly needed to finally break the deadlock that had existed since immediately after the break when they'd drawn level at 19-19.
And so it was to be, with the very final action of the half, yet another scrummage took the visitors to task, and replacement scrum-half Kessell collared the ball and joyously flung himself over the whitewash to record Cov's fourth try, guaranteeing the win.
It was far from inevitable though. Cov had had enough chances to be comfortably ahead by this point, and even the normally metronomic left boot of Will Maisey had failed twice to convert penalties deep in the half – kicks that by his own exacting standards would have seemed easy in a 'normal' game.
Coventry vs Bedford games, though, tend not to be easily labelled 'normal'. Nothing's clear-cut these days.
Remember that game at Goldington Road last season? Who could have foreseen the result of that one? And the previous encounter this term at the BPA was one that beggared belief at times – particularly at half time when the home side should have almost been out of sight, but had conspired to throw away chance after chance leaving Bedford in a position where, by dint of a much-improved second stanza, they might well have sneaked the points.
It makes for compelling viewing, but please Cov, no more.
Make it count well before 'no-side' next time.
Final Score: Coventry Rugby 26-19 Bedford Blues
Cov Scorers:
Tries: Trimble (2), Maisey, Kessell
Cons: Jennings (2), Maisey
Attendance: 2128
View a Printer Friendly version of this Story.
Woof!
Discussion started by Unofficial Coventry Rugby (IP Logged), 19/10/2019 19:24
Unofficial Coventry Rugby
19/10/2019 19:24
What do you think? You can have your say by posting below.
If you do not already have an account
Click here to Register
.
Edited 2 time(s). Last edit at 2019:10:27:15:30:00 by AdminBTCov.
AdminBTCov
19/10/2019 20:47
No idea. Can't hear the PA I'm afraid. I'm sure someone will know.
PaulRossborough
19/10/2019 20:59
2160 or similar.

Poor really, I thought this would be one of the higher gates of the season.

All views expressed in this post, are my own
Paul Ingleston
19/10/2019 21:27
The attendance given was 2128, the third home game and the third attendance figure over 2000 this year already. Will look at the attendances in the Rugby Paper tomorrow and I suspect, first or second highest in the Championship this weekend.
Possibly affected by half-term which began yesterday, but perhaps the club are not doing too bad really in attracting a decent support base and, I would probably say, the upward trajectory will continue.
CharlieBravo
20/10/2019 07:59
The match report on the club's official site gives the attendance as 2128.
Sorry, only registered users may post in this forum.