Look. No Mud!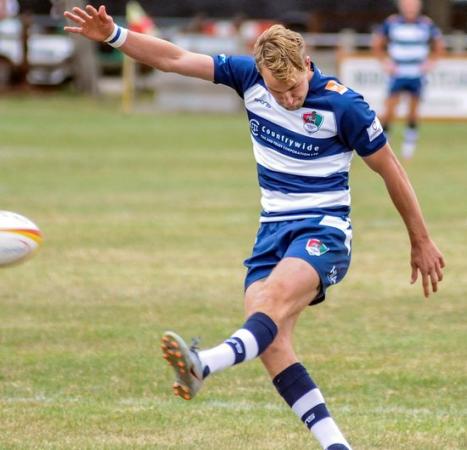 By AdminBTCov
November 10 2019
ONE OF THE things that always, always mark out a sopping wet weekend at the Butts is the sight of forty-odd souls traipsing off the pitch after a mud-fest.
But not now.
There may have been a little rubber crumb hiding in boots and, ahem, athletic supports, but mud? Hah!
The summer installation of an artificial grass pitch at Coventry RFC's home could well turn out to be the shrewdest investment yet.
No, I'll go out on a limb and say it definitely is the best investment ever.
When you turn what is effectively a one-day-a-week ground into a facility that can be (and probably already is) in use seven days per, then you've really changed the game.
Training ground? A non-essential luxury. The team can now train on the match pitch whenever they want to (notwithstanding scheduling other lucrative rental uses around sessions). Other local clubs might be very pleased to have that capability, rather than having to tour the county for years looking for suitable locations.
Forward thinking? You bet.
I noticed, on the way across the car park, a sign on the fence advertising 6-a-side football leagues playing two days a week. Of course, Coventry United have made the place their home for an extended period, and that means regular games for most of the year for both mens' and ladies' teams (if not more).
American football is in the mix. Coventry Bears will, I believe, return to the BPA next season.
Who knows what else could be brought in? We've had Gaelic Footy before, so that's a potential incomer. Kabbadi anyone?
The sky is the limit really – as long as Eric's happy band can cope with all the additional preparation, which is no doubt substantial.
That's all to the good, and to be encouraged and praised.
However, there are still grumbles to be heard around the ground, and as a professional club with what is almost certainly a very bright future, they need to be listened to, and acted upon.
I overheard a conversation yesterday where a rather disgruntled young man was upset that he had been let down (again!) with his order by the club shop. Now, that particular gripe is unlikely to be something that can be laid directly at the club's door, but it probably can be pointed fair and square at the club's suppliers. And that's something that the club really needs to get a grip of. The club, after all, select its suppliers.
(pic: Nick Meredith)
Another ongoing annoyance, mainly for those who partake, is the poor performance of the alcohol distribution points around the ground. I don't indulge, myself, so you'd think it wouldn't affect the likes of me. But, the knock-on does affect others indirectly. It may seem a bit unwarranted, but personally I find it slightly annoying to be constantly interrupted, while trying to watch the game, by ale-toting folk trying to get to their seat after, presumably, waiting too long to be served at half time.
That's not to mention the time half a pint of lager was conjoined with my shirt front and trousers during one such manoeuvre...
Could do better Cov.
Your customers expect, and deserve, better.
Getting back to positives though, on the subject of 'customers' I was quite surprised and delighted by JB's announcement that the crowd figure was a season-high, with 2386 hardy souls braving the expected horrible weather. That says something about the club's loyal, and growing-again fan base.
(pic: Nick Meredith)
I've no idea (as I write) how many Bedford – the other well-supported Championship side (discounting our temporary hawkish visitors from rarified circles) - drew in yesterday, but as they were playing the aforementioned visitors I can only imagine curiosity alone would have added quite a number to their usual healthy total. Their support figures are consistently excellent, and provide a handy target for the club to attempt to overhaul. This season? Maybe.
Getting onto the match, I'll refrain from too much comment as much of what I had intended to say here has already been covered on the forum.
I will mention though, that I was a little taken aback by the choice of Man of the Match (no disrespect to Joe, who had an excellent, and much longer than expected, game). By the time of the announcement I'd decided that James Voss had done more than enough by then to warrant that accolade, not least for his game-changing hit on an opposition runner in midfield. I'm sure the old Cowshed would have rained rust in the aftershock of that one.
(pic: John Coles)
Donny had huffed and puffed fairly ineffectively up to that point, while restricting Cov to one try, it must be said (as much down to inaccuracy on the home side's part it must be said) and really never looked like scoring, unless you count two long range penalties from the big boot of Sam Olver. That tackle seemed to almost signal the end for them. Maybe that was just my perception, but it did seem that the visitors stepped back slightly after that.
Whatever, their fate was then effectively sealed by the most audacious dink over the top of the last Donny defender's desperate finger-tip stretch for an onrushing Max Trimble to gleefully run onto, gather the favourable bounce, and stride over untouched for Cov's second score.
Another game-changer, and game over, effectively.
Five points would have been nice. Four will do nicely.
On to Newcastle.
Cov Scorers
Tries: Buckle, Trimble
Pens: Maisey, Jennings
Con: Jennings