Ampthill Mobbed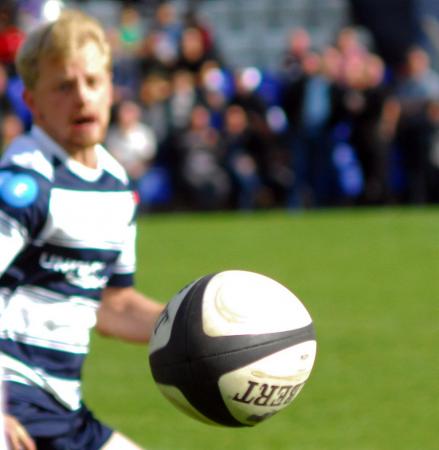 By AdminBTCov
November 30 2019
Maybe the Kingston Park game just two weeks previously had the desired effect on the Coventry side?
That chastening defeat at the hands of the excellent Premiership outfit certainly seemed to underline one or two weaknesses in the gameplay of the BPA outfit, even if individual performances were mostly of a decent standard.
No doubt the performance dept. spent many an hour analyzing and generally picking apart the performance of that Sunday afternoon, and, given that, didn't the team respond in an appropriate fashion?
After a somewhat turgid few minutes struggling to get out of their own half while almost getting on the wrong side of Sir, things suddenly clicked, and Cov began to turn in what was arguably one of their best, most free-flowing displays since - I don't know when. Maybe even since returning to Butts ground.
It was that good for the most part.
The ball was shipped back and forth across the pitch with near-abandon. And not at the cost of mistakes, fumbles, inaccuracies in general.
Pic: John Coles
No, the ball almost invariably went to hand. Was almost inevitably taken at pace by another back (and even the big units up front) and more yards gained. I may have missed one or two, but I only counted two handling errors in open play, and one forward pass. If correct, that's pretty impressive.
It was a sheer delight to behold.
How to single individuals out for praise? Almost impossible. To a man, they played fast, loose, yet precision rugby. If I was going to hand out particular praise though, it might be for the three slightly unexpected starters - Dan Lewis, Will Flinn, and Luc Jeannot.
All put in massive shifts. All put down a marker which firmly said 'pick me. I'll do it'.
And nobody could sensibly argue with that marker.
Cov's return from near-demise has been well documented, and yes, it's all true, but for me, one of the most impressive and important facets of that shining re-polishing is that of the success of the Academy. With gems like these coming off the production line, the future of the club looks assured.
Pic: Nick Meredith
OK, there was a downside to the almost faultless performance out there, and it had an almost-tangible inevitability about it, with Cov slackening the pace in the dying embers of the contest and allowing the visitors to bully their way to two tries in the corner from penalty lineouts, and an undeserved (in my view) bonus point.
On to the final two away Championship Cup games then, at Bedford and Ealing, with a home quarter final the target. Still far from assured, but confidence must be high now.
Full Time: Coventry 64-26 Ampthill
Tries:
Will Owen, Ben Nutley (2), Will Flinn (2), Senitiki Nayalo, Rob Knox, Henry Purdy, Penalty Try, Dan Lewis.
Conversions: Tony Fenner (2), Will Maisey (4).
Attendance: 2067
View a Printer Friendly version of this Story.
Ampthill Mobbed
Discussion started by Unofficial Coventry Rugby (IP Logged), 30/11/2019 19:53
Unofficial Coventry Rugby
30/11/2019 19:53
What do you think? You can have your say by posting below.
If you do not already have an account
Click here to Register
.
Edited 1 time(s). Last edit at 2019:12:07:17:00:59 by AdminBTCov.
CharlieBravo
30/11/2019 21:38
Is it Ant Hill or Amytyville? Either way, they were completely outclassed by a very much stronger Cov team which included a number of development players. On this showing, these development players have staked a very strong claim for inclusion in the first team squad. All, to a man, were impressive and didn't look at all out of place or overwhelmed. Maybe they were helped by the number of first team regulars but clearly these guys have a future.
And what a fairy tale for Henry Purdy to score on his debut. He had a look of determination about him and had several very close attempts to score before he finally crossed the line.
It was a shame that Amytyville scored a fourth a bonus point try. In my opinion, they were completely outclassed for the whole of the game and only scored when Cov switched off and let them back in.
Camouflage
01/12/2019 09:17
Henry Purdy really impressed me especially when he scored in the second half. The acceleration, change of direction and variety of pace will have any team struggling. That team performance was fantastic. And we were without Trimble, Stokes, Oram, Jennings, Tolmie etc. They must have trained really hard for that one.

My only concern is for Tony Fenner. I do hope that he is okay.
HoboAl
01/12/2019 10:42
Fenners injury was more of a downer than Ampthill gaining an undeserved bonus point from Coventry getting sloppy in the last 7 minutes; when we should of been capable of breaking the 70 points barrier.

But over all it was a relentless performance full of stylish rugby. A game where 6-7 players would not of disgraced the MOM award.
PaulRossborough
01/12/2019 11:47
I too, was I.pressed by Purdy. He looked very hungry and his acceleration was very impressive. Having said that, I was also impressed with everyone else who wore the shirt yesterday but if I had to choose MOM, I'd say Nutley. Not necessarily because of his two tries but with ball in hand and his powerful tackling, he is a machine.
Oh Will Flinn too, Rob Knox, Luc...

In the interests of balance, there were two points that weren't great; taking re-starts and letting Ampthill score 4 tries. I feel this made Ampthill look a lot better than they were.

Lastly, I hope Fenner is ok. It was good to see him playing again. On form, hes a very good option at 10 or centre.

All views expressed in this post, are my own
Peter Redhead
02/12/2019 13:17
Young Luc was outstanding against a very old head. He has come on leaps and bounds since his arrival at the Butts.
AdminBTCov
02/12/2019 14:30
Quote:

Peter Redhead
Young Luc was outstanding against a very old head. He has come on leaps and bounds since his arrival at the Butts.
Very true Peter. He certainly had him on the ropes at times. Kudos.
Sorry, only registered users may post in this forum.