A Winter's Tale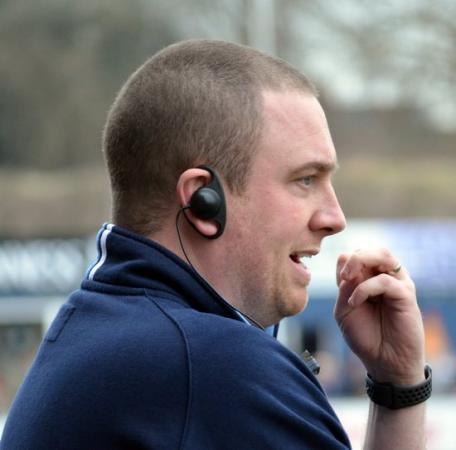 By Mark Forster
December 2 2019
SATURDAY'S trip to Goldington Road marks a personal milestone for a man who has done so much to transform Coventry's fortunes.
The cup match against Bedford Blues will be Rowland Winter's 100th competitive game in charge.
And what a run it's been.
One of the things I like about his tenure is the poetic quality to the maths – Cov have been unbeaten for 66.66 per cent recurring since his move to Butts Park Arena from Cambridge. A number from the east more than the number of the beast.
The win ratio stands at 62.62 per cent.
To put that into context, in the four seasons before he arrived, the percentages worked out at 59.6 unbeaten with a 56 per cent win ratio.
Historically, since the leagues began back in 1987-88, Coventry's unbeaten percentage stands at 54.6, with the win ratio at 51.5.
The promotion year from National League One saw a 90 per cent success rate, Cov's best ever in league rugby.
Last season's first campaign back in the Championship saw Cov enjoy the best success for a newly-promoted club to the Championship since the shake up of English rugby back in 2009/10.
But it is not all about figures when it comes to Winter.
I've been fortunate enough to talk to quite a few players and they've all talked about his passion for Coventry, his understanding of its past and vision of its future. They've wanted to be part of this journey because of him.
Yes, he has recruited some duds, and some new faces have quickly disappeared for various reasons – particularly in the prop department – but anyone who argues Winter has recruited badly has some serious issues.
He has looked for a certain type of player, people who would buy into his ethos, become part of the Cov family and strive to improve – themselves and those around them.
I've been particularly impressed by his honesty, his criticism of poor performances and his hope of more to come when we've cut loose and been magnificent.
I've said it before, but I was suspicious when the rumours of Winter coming started. We'd had a couple of 'nearly' seasons and I was dubious of the changes and the manner in which they'd been made.
I've also said before that I was wrong. Completely wrong.
Winter has rejuvenated the club, from an also-ran side getting gates near the 1,000 mark in National League One to a record-setting near-capacity crowd on the final day of our promotion season that second campaign in charge.
In the Championship, gates have gone above the 2,000 mark as our second season in the second flight has started with a bang.
Yes, we had the draining loss at Jersey Reds, but it's a difficult place to go.
The thumping we had at Newcastle Falcons was as much a vote of confidence in Cov as could be had – Newcastle found Premiership quality form to stop the blue and white army in their tracks when the relegated club had struggled before. They knew they had to up their game to beat Cov.
The narrow cup loss at home to Ealing Trailfinders was more than made up for with a draw at their place in the league.
Now, I know chairman Jon Sharp has done much to change fortunes at BPA around, but Winter has very much been the public face and interface with his own ideas about Cov's future. It's clear to see he's proud of Cov, the club, the place it has within the city.
But he's been marvellous with the fans, finding time to talk, to share visions, positives, problems and to listen to feedback.
He has been shrewd with his coaching picks. Nick Walshe and Louis Deacon have been proven to be top drawer, Luke Narraway did so well for us in National League One many felt his subsequent exit hurt us in the Championship, while Anthony Allen, coming in as defence coach bodes well for this season. Not to forget Ross Stewart as head academy coach.
Winter has a knack of getting the right people for the job. And he has shown faith in players who have paid him back.
Rob Knox, the one survivor of the pre-Winter era, continues to get better and other players have thrived in the atmosphere Winter has helped foster.
I hope RW gets a moment in the spotlight on Saturday from Cov's travelling faithful. For others, like me, who can't be there, I hope they will join me in raising a glass to him and celebrating - win, lose or draw - what he has achieved for our club.
View a Printer Friendly version of this Story.
A Winter's Tale
Discussion started by Unofficial Coventry Rugby (IP Logged), 02/12/2019 10:01
Unofficial Coventry Rugby
02/12/2019 10:01
What do you think? You can have your say by posting below.
If you do not already have an account
Click here to Register
.
Edited 1 time(s). Last edit at 2019:12:09:21:10:36 by AdminBTCov.
Peter Redhead
02/12/2019 13:34
Remember so many classic games against Bedford at Coundon Road, always a hard game fought with spirit.
The fixture has taken on an even more significant meaning with the number of the Butts lads having a link with the club. Looking forward to an exciting pre Christmas spectacular to warm the cockles of your heart.
CharlieBravo
02/12/2019 15:02
Very interesting point Mark. 100 games is quite a milestone. I wonder how many of the staff at BPA are aware. Bedford's game at Ealing on Saturday was very much one way traffic, and clearly the Blues supporters are starting to become a little uneasy. In addition to which, Bedford's Championship season is not anything like as good as usual. Their very lowly position in the table gives evidence to this. So Saturday could be very interesting. Unfortunately I can't go, but I have abiding memories of our game there last season and hope that we can go just that little bit better this time.
AdminBTCov
02/12/2019 18:46
Yes, I think Mark and the site have stolen a march over the club and the Bellylaff with this one
(I haven't counted the games personally, though, but I expect MF is confident).
Not that it matters; it's just nice that people are made aware. Let's hope RW can celebrate this milestone in style.
CharlieBravo
02/12/2019 19:39
I thought it was an unwritten golden rule that a journalist never revealed his sources!?
HoboAl
02/12/2019 19:55
RW is the man who went to Jon Sharp with a plan and Jon's backing has been vital. But Winters vision and ability to deliver has been impressive. Nobody gets all the recruitment right and sometimes there has to be stop gaps. Last year we carried a few in contract because we achieved promotion a year earlier than expected.

If someone really hasnt been upto it they have been moved on quickly. Winter is supportive of players and tries to develop them off the pitch as well as on it.

He is open with the fans and the forums have been excellent. His delivery is eloquent, at times humorous but he is quick to tell fans when he thinks their opinion is wrong. He certainly can have a ruthless streak.

Those 100 games have gone quickly. I have tickets for Saturday and hope Coventry can reward Rowland and his family with the win he deserves against Bedford.
Diesel74
03/12/2019 19:36
Quote:

Cliff Bennett
I thought it was an unwritten golden rule that a journalist never revealed his sources!?
Ha ha. Without on the record sources, 90 plus per cent of stories would never be written.
Or wouldn't back in the day. Nowadays, a rumour on social media counts as a source
But RW is a stat man, too...more of which to come.
Mark
Camouflage
04/12/2019 05:58
100 games....let us score 100 points away at Bedford to celebrate.
Sorry, only registered users may post in this forum.