Reeling in the Years - Scottish Encounters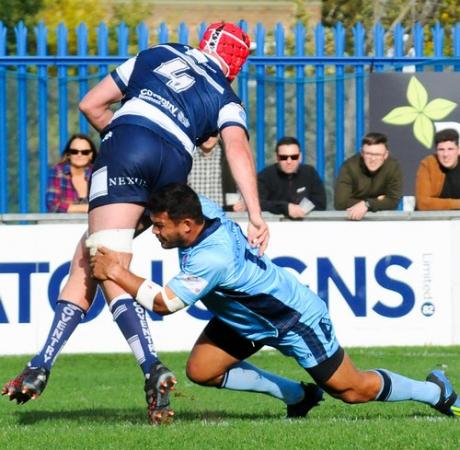 By AdminBTCov
January 16 2020
AS JOHN BUTLER pointed out in his recent column, Cov and London Scottish have managed to avoid each other in league footy terms very ably over the last few years, only resuming hostilities last season after a fairly long absence.
Of course this means that there are few programmes available, and besides, it's nice to go back slightly further than 1987 for these articles where possible, and so I've chosen a game from forty years ago, as well as one from our previous level two stint, in 1998.
So, two games almost twenty years apart – displaying stark differences in and quality and content – and not just in the programmes themselves!
Beginning, logically enough, with the match that took place at Coundon Road on the 9th of February 1980, it's plain to see that we were very much in the amateur era still.
The front and rear cover are of a fairly basic paper quality (maybe 100gsm?) and are all printed with standard non-dating content, with a greyed-out image of David Duckham on the charge on the front, and advertisements everywhere else. The inside front and rear facing pages, too, are non-dating ads, and there are a total of seven and a half pages of ads out of 12 (including outside covers).
So not a lot of content for our outlay of 15p...
Ads include those for well-known local businesses including Coventry Economic Building Society, Cartwright Holt & Sons, Rugby Autocar (with a Mk2 Escort displayed) giving only their Pickford Brook address, and Niall Bailey among many others. Perhaps the most interesting though (to me at least), is a quarter pager for the Walton Hall Hotel business of the late Danny La Rue and partner Wayne King! I remember it well as a good friend's jazz trio used to play there on a Saturday evening. Interesting times with Danny being as flamboyant and charming as always when in attendance. The ad mentions 'Dinner Dances and Cabaret most weekends', and they were always well subscribed and good fun with excellent food prepared by Lino (of the later 'Lino's' restaurant fame if you recall that too?).
I digress (easy to, with such memories!).
The first actual content (page 4) is a photo of Bill Beaumont, Phil Blakeway, Clive Woodward, and Fran Cotton, who had been training at Coundon Road along with the rest of the England squad in preparation for the France game (which they won, I understand, without checking).
The main content of the prog, edited by JB, sits in the centre pages, with the teamsheet, a blurb about the visitors, and a fair bit of 'home' stuff, including Supporters' Club Notes.
In the 'Visitors' section, mention is made (obviously!) of the 1973/74 win by 26 points to 6 at Twickenham in the Cup Final. Still relatively fresh in the memory then of course, but doesn't it seem a long time ago now? Also mentioned is the fact that today's game was the first meeting between the two clubs at home since 1971/72. So big gaps are nothing new, eh John?
'The Home Front' recalls the fact that the club had embarked on a set of eight fixtures that would see the club playing at Coundon Road (to the exclusion of any away trips) until the 22nd of March (a visit to Maestag). The previous week had seen a 19-9 home win over Waterloo, with Graham Robbins weighing in with his first two tries of the season.
John also records the fact that The Extras had travelled to Guys Hospital the previous Saturday and returned with a huge 66-3 win. Surgical indeed.
The up-coming SC Dinner Dance was scheduled for March 7th in the clubhouse, with David Duckham as Guest of Honour, and tickets on sale a £4.50, and the Club Shop was open on matchday selling sweaters, shirts, ties, badges and stickers, together with Five-Nations calendars and Cov team photos (65p for the latter item).
For the record, Cov narrowly prevailed by 13 points to 12, with tries from England Internationals Graham Robbins and Huw Davies, and a penalty and conversion from Steve Thomas.
MOVING ON eighteen years (ish), the overall quality of the programme has of course improved quite considerably, with nice glossy paper and quite a lot more content (but still the same Editor – and nowt wrong wi' that!).
The front cover is now date-specific (and carries an action photo of three of the Cov players (a major prize – well, a tick in the box – to the first person to correctly identify all three. Note that only two were to play that day). (pic to follow as and when).
The late, missed, Roy Evans starts off the programme's content and mentions the fact that Paul Lydster had recently moved on to Nuneaton, with Gareth Rayer making the switch to Newbury too, while Alan Sharp was now back in contention following injury, and able to add his considerable grunt to the front row once again. And while on the subject of front rows, Virgil Hartland had recently been selected for England's u21s. There's a name I'd almost forgotten.
David Hawkins followed up with an article on Julian Hyde (my next-office neighbour at Jaguar Radford, and a force in Cov's second row). Julian recalls playing against Bath in his early days, and a tough session lined up against Quins and England lock Paul Ackford. Perhaps someone will also recall a later frosty episode involving Julian, a nearby League club, and water?
'Backchat' (by Richard Blundell) mentions Jason Minshull's Man of the Match performance the previous weekend against Waterloo, when he ran in a hat-trick of tries.
Louise Hill's Player Profile this week covered Richard Lloyd, who, as Louise points out, had the unenviable task of gaining game-time at openside while in the same squad as Derek Eves. An unenviable task. He also competed in the National Shot-Putting Championships in his earlier days, and then slimmed down somewhat and took up squash. Phew!
There are 'Extras' reports (by Mark Carver-Smith) and Ian Carvell's Colts Report (in which he reports that Hooker Matt Williams, Lock Alex Hadley, No8 Adam Balding, Scrum-half James Grindal, and Fly-half Andy Goode had all been selected to represent the England side).
Ian also stated that they'd all committed themselves to the club for the future. We all know how that turned out, though, but that's for another time, perhaps.
JB added his usual in-depth current and historical analysis of the past record of the home and visiting clubs in their previous clashes over many years of competition, while also briefly previewing the upcoming Bristol match.
The centre spread was a pictorial representation of the day's match squads, by position.
The remainder of the programme carried the usual records of Allied Dunbar Premiership Two results-so-far, league tables (Cov lying sixth with 19 points from 17 games; LS on 23 from 17 and occupying second place), fixtures, the league's leading points scorers (Jez Harris on 118 – replacement today, with James Brown at stand-off), and Cov appearances.
Interestingly, the Jewson National 1 league table is also shown on the Tables page. Interesting because the leading two clubs were Worcester (fairly well clear) and a club called 'Leeds'. I seem to recall them! Third place was occupied by another club that has seen its troubled times, London Welsh, and then yet another – Rugby Lions. Current Championship side Nottingham also feature, lying in sixth, well off the pace on 22 points to Worcester's 40 (two points per win remember).
Cov finished the day with an excellent 37-10 win, with Gareth Jones, Tigger Dawson (2), and Andy Smallwood (2) tries, and James Brown topping up with 12 points from the boot (2P, 3C). I have a vague recollection of at least one sending-off, but maybe I'm wrong?
View a Printer Friendly version of this Story.
Reeling in the Years - Scottish Encounters
Discussion started by Unofficial Coventry Rugby (IP Logged), 16/01/2020 17:33
Unofficial Coventry Rugby
16/01/2020 17:33
What do you think? You can have your say by posting below.
If you do not already have an account
Click here to Register
.
Edited 1 time(s). Last edit at 2020:01:18:22:15:40 by AdminBTCov.
AdminBTCov
17/01/2020 12:23
Now with added pixels!
Sorry, only registered users may post in this forum.