Newcastle. Were You There?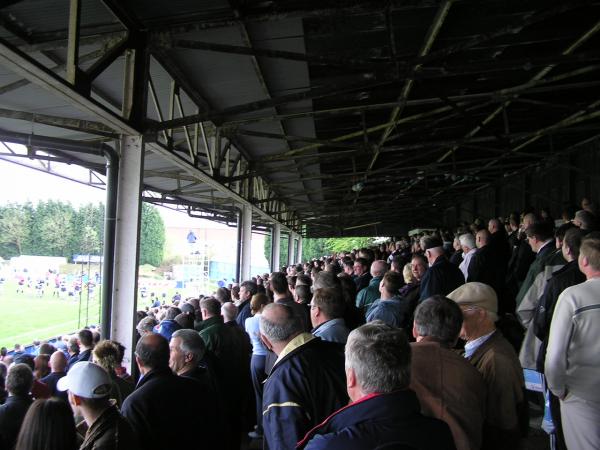 By Kimbo
March 15 2020
WELCOME Back, Newcastle.
Yesterday's fine win at Doncaster won't hurt the feelgood factor of Cov's fans going into next Saturday's big game against Newcastle Falcons, ending an away drought in similar fashion to the corresponding game last season – even improving on it slightly with a 5-0 result.
Those of us old enough (or at least Cov supporters for long enough) to remember the time Newcastle Falcons came to town at the dawn (ish) of open professionalism in the game, will probably hold the day in their memory banks for the rest of their lives.
Remember the Hotline? Ever use it? 'Just Especially for You'
Personally, it brings with it some fond memories.
Tickets for the game were on sale for a couple of weeks prior to the day, as it was plainly obvious that this was going to be a sell-out. We (daughter No.1) and I both had season tickets, so that wasn't an issue, but as my brother-in-law and nephew had decided to grace Coundon Road with their Welshness, it was down to me to do the business. So, sneaking out from my eyrie in the GEC Block at Browns Lane, I called into John Butler's 'office' (more a shed at the Moseley end of the ground to be honest) to reserve a couple of places, and fit in a pint in the Coundon while I was at it (well, it'd be rude not to, eh?).
Greatest Scrummager Ever (IMO)
Come the day, the Coundon was full to bursting point, so the usual pre-match ritual had to be shelved, but fortunately the club had made alternative arrangements and a marquee was set up in the school playing field, and a convenient fence section removed from the ground's perimeter.
Wonder how many sneaked in that way without cash changing hands eh?
Anyway, drinks duly imbibed, we made our way into the ground so as to take up our normal place at the left-hand end of the Cowshed, in front of the Tea Bar.
Or not.
That Early Narrow Home Loss to Wakey Had Already Hurt Cov
The joint was absolutely heaving, and the best we could do was get to the front at the scoreboard corner. Still, at least Lucie could see. It's sometimes useful to have a small one with you when trying to get a good view. I couldn't get away with that now, what with her being 5ft 10. We'd very quickly be told to sling our collective hooks!
The Sir John Hall-backed Falcons side were already strongly-fancied to win promotion to the top league, replete as they were with a squad of internationals drafted in by his recently-installed Director of Rugby Rob Andrew.
Of course, Andrew was still plying his trade on the field at that point, and, practicing his place-kicking from the touchline in front of us, and aiming – successfully - at the nearside goalpost, things looked fairly ominous even before kick-off.
However, as the match progressed, and the visitors failed to breach the Cov line (Andrew was the sole scorer with five penalties and a drop goal), with Cov keeping in touch at 6-9 with a couple of Jez Harris penalties at the quarter-game mark, belief grew, and a Wayne Kilford try just before the half-hour mark lifted the crowd, and with it the team.
With half-time showing a scoreline of 11-9 hanging on the nails, the stage was properly set for a monumental second stanza.
And we were not going to be disappointed.
In some ways, Newcastle were architects of their own fate, with John Bentley's impetuous swing at Andy Smallwood resulting in a red card being produced from Nick Cousins' pocket, although a yellow for Lee Crofts shortly after his introduction, following an Andy Blackmore injury, helped even things out for a while – bodies-wise at least.
That yellow immediately resulted in a further Andrew penalty, and was topped-up shortly afterwards with another leaving the Blue 'n' Whites trailing at 11-15
Lesser sides might have folded at that point, but Cov simply ramped it up, with Andy McAdam going close, before Smallwood went over with an unconverted try to retake the lead.
Pic: Coventry Evening Telegraph
And then, the worst happened with just minutes to go, and Andrew dinked over a drop goal to put the visitors back in front. Talk about gutting.
But, you know what they say about the Cov Dog? That's right – he wasn't going to lie down this time, as yet again the hero of the moment, and the game, Jez Harris popped up again to slot another three points from the hand in stoppage time to make the final score 19-18.
What a match, and what a crowd.
7,000?, 8,000?, 9,000? I doubt it'll ever come out for sure, but it's certain in my mind that the crowd was the extra man that day, willing those tries and goals over the line for a victory that remains a bright spot in my 50+ years of following this club.
Pic: Coventry Evening Telegraph
What's certain is that Lucie and I travelled home very happy that night, chilled to the bone by the weather, but warmed in the knowledge that something special had just happened – and hot-dogs and a roaring bonfire at the school's Guy Fawkes party just up the road when we got home helped a bit too!
Can it happen again next Saturday? We all know the depth and width of the gulf that has been engineered into the game between the top two levels in the intervening period. Cov are very much a second-tier side with aspirations, while Newcastle are a Premiership club with all the assets and funding that their exalted status brings. They may be on a sabbatical with the lesser 'community' game for the moment, but nobody is fooled these days. They are going back to the top table for very good reasons.
Will we ever see their like again (following Saracens' inevitable cruise back to where they see themselves belonging next year)? I strongly doubt it – but sincerely hope so.
Or else, whither rugby?
Cheers all.
Steve
Footnote 1: As I write, we may or may not see our visitors next week for obvious reasons. Let's hope we do, as the club needs days like these. Times are hard enough for the Championship as it is.
Keep praying/hoping everybody.
Footnote 2: This may well be my final 'column' on the unoffy. As I hand the reins back to Russ, hopefully he'll get a fortnight now to find fresh content to enable the site's forum to remain open. Please, if anyone has content that can be used to aid this endeavour, pass it on to Russ.
View a Printer Friendly version of this Story.
Newcastle. Were You There?
Discussion started by Unofficial Coventry Rugby (IP Logged), 15/03/2020 16:00
Unofficial Coventry Rugby
15/03/2020 16:00
What do you think? You can have your say by posting below.
If you do not already have an account
Click here to Register
.
Edited 1 time(s). Last edit at 2020:04:10:08:36:44 by Kimbo.
CharlieBravo
15/03/2020 16:35
Thanks mate for a really stimulating piece of memory jerking writing, supported by some excellent pictures too. You've added impetus to my (in fact surely every Cov supporter who had the privilege to be there) ability to say "I was there".
On behalf of all users of the message board may I congratulate you on what you've done, wish you the very best in respect of the circumstances which have led to you giving up the moderator's role, and also wish you the best for the future. When I will next see you again is entirely in the lap of the gods, but whenever it happens I will gladly come and shake you by the hand/throat.
Now you're back to being Statler to my Waldorf ( I realise that not every one will understand this) but it does help me to feel almost equal to you. Huh, there's a laugh.
poplarside
15/03/2020 18:34
I am another who can say ''i was there''. All through the game I had the feeling that it was 'our day' but even still the finale was breathtaking. That was some Newcastle team containing 12 full internationals and a number who represented the Lions too.

You've done a fine job of taking over the reins of the board Kimbo, good luck for future.

Regards,
Daimh
Tip (JJ Teeling)
16/03/2020 10:05
Yes I was, the relief when Jez's kick went over was palpable, also I believe that a light fitting was smashed by a Newcastle player on the way into the dressingroom out of frustration
John Butler
16/03/2020 11:31
JW & I have put together a piece, relating our joint memories of that game, which includes light fittings, fish & chips, the build up etc, would you believe.
It was intended to be for Saturday's match programme - now very unlikely !
I have sent it on to Chris Wearmouth, so hopefully will be circulated at some point.
Kimbo
16/03/2020 13:11
Wasn't intending to tread on any toes John. I'd done most of the prep work a week or two back, intending to publish it after the Donny game.
Hope to see your article in the prog, or failing that, on the Offy.
Cheers
Sorry, only registered users may post in this forum.