Play-off semi-final preview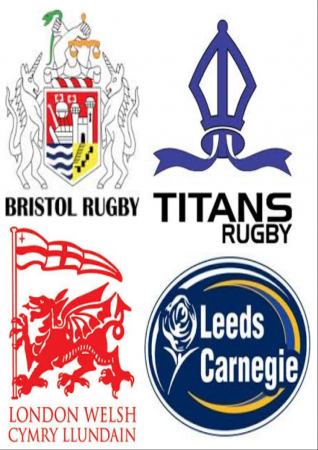 By Mark W-J
May 6 2014
The structure of the Championship season has changed regularly since the second tier was rebranded five years ago, but one of the most contentious features - the promotion play-offs - appears to be here to stay. Since we were last here the ridiculous eight-team group stage has been ditched, and the top four clubs will now fight it out to decide who replaces Worcester in the Premiership next term.
The season started almost eight months ago with the double-header, which created a 23rd fixture. It was apparently included at the behest of a majority of Championship clubs, but we are led to believe that it's being scrapped for next season, and it's hard to see many fans bemoaning its removal from the fixture list. The top four sides - Bristol, London Welsh, Leeds and Rotherham - have occupied the play-off berths since roughly the midway point, and many Welsh fans have taken great heart from the fact that our head-to-head record with our play-off rivals is the strongest of the four clubs. Prior to our defeat at Bristol on Good Friday we had recorded home-and-away wins over both Yorkshire clubs, and also beaten Bris 22-7 at the Kassam in November. That victory was built - as has much of our success this season - on stout defence and clinical attack. Bristol dominated both possession and territory, but their season has been built on attacking, and - more specifically - scoring tries. The spurned numerous kicks at goal as penalties in attacking positions were directed into touch, but the Welsh defence held firm, and two breakaway tries, plus one from a scrum against the head, saw us home. In the rematch three weeks ago, Bristol made their pressure tell, although our defence held firm for almost 40 minutes before George Watkins crossed. When they wrapped-up the try bonus with almost a quarter of the match still remaining it looked like we were heading for a demoralising defeat, but three late tries put a gloss on the scoreline which - if we're honest - didn't truly reflect the dominance of the home side.
To put the challenge of Leeds into perspective, they were the only team to win at Bristol in the regular season, both teams collecting a try bonus in their 28-22 win on 1st December. But on top of that they also won at Bristol in the semi-final of the B&I Cup last weekend, both teams again scoring four tries as Carnegie triumphed 25-30 to earn a place in the final against Leinster on 23rd May. As has been pointed out elsewhere, both clubs fielded what amount to second-string XVs, but if the result therefore indicates that Leeds have greater strength-in-depth that Bristol then we're definitely in for some battle! Despite the fact that we won both league encounters with Leeds, we should also be mindful of the fact that two of our four defeats have come against opposition from the bottom half of the table. Leeds did lose to Nottingham in the double-header at Doncaster on the opening weekend, but our defeats at Bedford - which brought an end to our unbeaten start to the season - and Plymouth - who inflicted our heaviest defeat of the league campaign - suggest that we are arguably more susceptible to upsets than our fellow play-off contenders. And while we have the experience of winning the play-offs, Leeds did beat Newcastle at Headingley in the first leg of last year's semi-final.
Leeds finished the regular season in third place in the table, four points behind Welsh, with a record of 18 wins and five defeats, two with bonus points, plus ten try bonuses. The double-header and the two games with Welsh aside, they also lost at home to Bristol and at London Scottish. Despite finishing fourth in the table, Rotherham were the only club not to lose to anybody below them in the table, with their six defeats being home-and-away to the top three, a statistic which suggests that they will struggle to overcome Bristol over two legs. Both Welsh and Leeds scored 84 tries in their 23 fixtures, some way behind Bristol's 111, but we also had the two meanest defences. We conceded just 38 tries, including eleven in eleven games at the Kassam, while Carnegie's defences were breached on 44 occasions. Their equal top try scorers are dual-registered scrum-half-turned-winger, Jonah Holmes, and David Doherty, who returned to his hometown club last season after six years away with Wasps (including a solitary loan appearance for Welsh in December 2007), Sale, Jersey and Cornish Pirates. Holmes also started last season with London Welsh, coming off the bench during our Premiership debut against Leicester, and also playing on the wing as a replacement in the 'A' league against Quins eight days later. He is still contracted to Wasps, but has scored ten tries in fifteen appearances for Leeds this season, level with Nick Scott and one behind Seb Stegmann. Both clubs also have two players each in the top 10 goal kickers, with Leeds' Glyn Hughes in fourth place overall with 141 (barely half of the total of the Championship's leading kicker, Rotherham's Juan Pablo Socino, with 280), while Alex Davies (127), Gordon Ross (123) and Carnegie's Alex Lozowski (118) are placed eighth, ninth and tenth respectively.
Leeds Carnegie were formed in 1992, from the merger of Headingley and Roundhay, and we have met them 20 times since our paths first crossed in September 1995 in what was then Courage Division Four. We were promoted to this level - than called Allied Dunbar Premiership Two - together, in 1998, and it's interesting to note that the top six teams in the table at the end of the 1998-99 campaign were: Bristol, Rotherham, Worcester, London Welsh, Exeter and Leeds. The Warriors' relegation was finally confirmed last weekend, and while it's certainly been on the cards for a long time, give their twelve month losing streak which only ended with their solitary win of the campaign at Newcastle on 30th March, the fact that it took so long for the mathematic certainty to be established is down to the Falcons' poor form. Worcester's troubles have, to some extent, masked the fact that Dean Richards' side have won just three games all season, and lost their last fifteen Premiership matches. In fact, the two clubs have won a combined total of just four matches out of the 40 they have played this season - and two of those were the head-to-heads, which were always likely to generate two victories, one way or the other. Last season, we won five of our 22 games, and scored 412 points which - with one round remaining - is more than each of the bottom four clubs in the current Premiership table.
Many people have already installed Worcester as clear favourites to bounce straight back next season, despite the fact that at least three very strong teams, plus a steadily improving London Scottish, will be looking to build on their successful 2013-14 campaigns and doing everything in their power to stop them. We were only away for one year, but the competition in the top half of the table this year has shown that the Championship is a much stronger environment than the one we left behind, and as two of last year's semi-finalists - Nottingham and runners-up Bedford - have proved this season, standing still is not an option. Over the weekend, Leeds' Executive Chairman, Sir Ian McGeechan, put forward some very controversial proposals for the future of the Premiership, and - by extension - the Championship, yet all of the evidence suggests that the second tier is stronger than ever, and whoever emerges victorious in the first week of June will fancy their chances of survival next season.