WHY I WAS A HOOKER: PART 3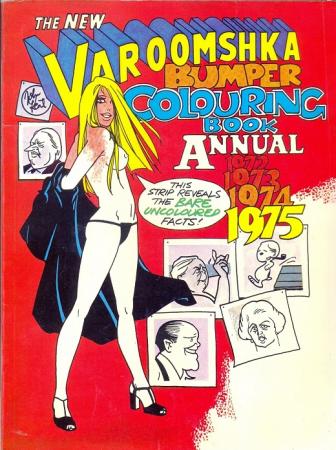 By Innings
July 8 2019
This final part of the rugby trilogy should be called The Game Against Varoomshka. After Sandhurst, I was separated from rugby for some years. Service in foreign lands, service in jobs that prevented getting involved in rugby, meant that I lost touch with the game. I had also played rather better hockey than rugby, so that rather took over for a while. Indeed, after leaving the Army, realising that it was no career that appealed to me, I played hockey in London for three or four seasons. Then one day, I met up with old school friends for a drink in Surrey. They had just formed a new rugby club and wanted players. The oddity was that almost with no ground, facilities or fixture list, they had a sponsor, a proper, real sponsor with money and discounted beer. Courage Breweries had a fund for such projects, and so, as we sat together in the Four Horseshoes in Chobham that day, my friends had a priceless sales proposition, 'Come back to rugby and enjoy cheap beer.' A local farmer had offered a field with a derelict barn alongside it, to be pitch and clubhouse. On player's parents had a retired caravan that could be pressed into service, with some adjustments, as a place for getting changed, scarcely home and away facilities but better than the open air.
In those days, before leagues and formal fixture lists, getting fixtures was often a matter of ringing up friends in other clubs and blagging a game where possible. The Fixture Exchange tried to bring together clubs lacking games, and so the journey began. We played at The Lensbury Club, which was the Shell sports club, at various banks' and insurance companies' grounds, and even against other pure rugby clubs. In those early days it was always against these clubs' Third or Fifth XVs, or their Extra As, Vets or some such. Sometimes there were mismatches and we'd win or lose by embarrassing margins, but things settled down quite quickly, and within three years we had a reasonable core of like-minded clubs against who to play each season. The London Society provided referees, and our First XV was therefore better refereed than were most of the clubs we played.
With a pitch that had to be swept before every game for stones that had worked to the surface, or dog mess that worms had failed to take below ground, a club-house that showed all too many signs of its recent history as an abandoned barn, even the ground address, Martyrs' Lane, was against us. However, we had some considerable advantages. Obviously Courage Breweries was one, and our club colours, red and gold hoops, the Courage house colours, were our acknowledgement of their support. The second was that drink driving had yet to be invented, so we offered tremendous hospitality, with every un-PC aid to after-rugby entertainment that could be devised. Our third was The Four Horseshoes, our spiritual home. Saturday evenings, after games home or away, tended to gravitate us to the bar there. Shirley was a very long-suffering, but getting richer after every weekend, landlady, who controlled behaviour when it threatened, as it often did, to get out of control.
Gradually the new club became an established part of the local rugby scene. The fact that there was a core of players who had known each other since early school days helped. That many players brought their sisters and girlfriends to games could not be a disadvantage, and indeed many matrimonial matches happened through the club's early existence.
As a result of the family element of the club's support, an early annual highlight was to be the Boxing Day mixed-sexes game. This was a shortened game, probably about 15 minutes each way, out of respect for the weaker sex, in this case the brothers and boyfriends nursing severe Christmas Day hangovers. And so it was that the Game Against Varoomshka came about. One player, always reluctant to bring his girlfriend to watch games, indicated that she was willing to take part in the Boxing Day match, for which, sight unseen, she was selected. Nobody knew what to expect, but nobody was disappointed when a long, glamorous girl with long blonde hair emerged from his sports car. Unwrapping herself from this small vehicle involved unfolding legs that went on and on. Atop these was a pair of tiny running shorts and the whole was rounded off by the boyfriend's gold and red club hoops. She was ready to play.
The game was never one for serious scoring, but on this occasion every male player was more than willing to score, or to help her to score. However, there was a significant problem: we had a couple fairly speedy wingers, but this proved irrelevant when the girlfriend received a pass for the first time. She simply left the entire field standing and strolled in for an easy touchdown. The name Varoomshka was immediately given her. Later, we would learn that she was hovering on the edges of the British Olympic athletics squad as a sprinter.
Very wisely, boyfriend removed Varoomshka from temptation after the game, and although many were willing to discuss tackle technique with her, or to show her exactly how best to handle a ball, she was gone from our lives just as she appeared, mysterious and memorable.
I played at Chobham for about ten seasons. Sometimes I played for the Thirds, sometimes for the First, but rarely for the Seconds. Selection politics were unfathomable. As the age of forty approached, and small children were around, my wife became increasingly unwilling to commit to collecting me for A&E departments around the Surrey and Middlesex area; yet another broken rib was the usual reason for being there. Rugby was getting more demanding, and my bones were getting more unreliable, and so, on our tenth anniversary as a club, I turned out for one last game, former players against the President's XV. With a good supply of former forwards, the captain of the former players was short of backs, so for the first and last time in my life I played in the backs, at inside centre. As I write for this website about Sarries matches, I feel that this experience as a centre gives me a unique qualification to comment about all things to do with back division play.
Chobham Firsts will play next season in London 2 South West league. Despite all the years, the amateurish collection of fixtures as we played against whoever would give us a game, I was amazed to see that this league includes Battersea Ironsides and Old Cranleighans, two sides who gave us fixtures fifty years ago. Much changes, but some things remain the sam
All good things do end, and my playing career ended after many highlights. However, the Game Against Varoomshka is one that I do recall as having something that marked out the day as different and special.
View a Printer Friendly version of this Story.
WHY I WAS A HOOKER: PART 3
Discussion started by TheSaracens.com , 08/07/2019 20:11
TheSaracens.com
08/07/2019 20:11
Thanks again to Innings for keeping us entertained - and giving me breathing space to do the EOS Poll



Edited 2 time(s). Last edit at 2019:07:25:13:11:36 by Darraghgirl.
SarrieSaint
08/07/2019 21:39
Nothing to add other than to say this series has been a fantastic read.
Many thanks for letting me enjoy vicariously a rugby life I never had but would have liked to.
Excellent stuff.
TonyTaff
09/07/2019 09:58
An entertaining series. Thanks.
£721.05 (*) donated to the Saracens Foundation due to visits to the Sarries frontpage [
www.rugbynetwork.net
]
Please read and submit articles for publication. (*) As at October 31, 2018.
Great read Innings thanks having experience of a Catholic school though State rather than private where you got detention for kicking a football found this good fun.
I reckon you're about 10 years older than me, Innings, because I started playing Senior Rugby in the 1980's from school rugby in the 1970's.

Your splendid series of articles have brought out a rare moment of contrition from me.

I played in the back row, mainly 6, because I liked scoring tries. I liked seeing my name in the Kent Messenger or the the Kent and East Sussex Courier, as a man regularly on the score sheet.

The front five always suspected as such - forgive me, I found rucks and mauls boring, ditto jumping in the lineout or pushing in the scrum. In the days when shortened lineouts were common, and you could detach from the scrum early without being penalised, I was always to be found lurking between the outside centre and wing waiting for an easy scoring pass....

Unsurprisingly while I was young and fit I excelled at 7's. Sorry Bboonie and Co...

~ You never knowingly let the facts get in the way of the story. ~
Unlike my son, who wrote in an early letter home from school, aged about ten:

'I played at flanker. In the first scrum their scrum half came round my side of the scrum, and I tackled him. In the next scrum their No 8 came round my side of the scrum, and I tackled him. After that no-one came round my side of the scrum.'

He enjoyed a different aspect of flanker play.

Innings

Points win matches: tries win hearts and minds.
Squawker2
10/07/2019 17:33
A great series - thanks for writing!

-----------------------------------------------------

Stuart Barnes is a Cock Womble
BramleyRoad
11/07/2019 03:32
Another fabulous trip down memory lane; reminds me of just how much I/we sometimes take this amazing sport for granted along with the accompanying bonhomie so notably absent from our round ball cousins.
Thanks again for taking the trouble to share the joy and good to hear that your son followed in his old manís footsteps. My medic son had top tackle count (from second row) at St Georgeís and my fondest memory of watching him at schools level was seeing him track and absolutely nail an opposition winger who had broken through the defensive line and looked set to score until...
Best wishes and please keep writing.

Supporting Saracens for 52 years
Quote:

seeing him track and absolutely nail an opposition winger who had broken through the defensive line and looked set to score until...

You are HRHRH's father, the winger was Tuilagi and I claim my £5.
Innings
Points win matches: tries win hearts and minds.
BramleyRoad
12/07/2019 05:08
Quote:

Innings

Quote:

seeing him track and absolutely nail an opposition winger who had broken through the defensive line and looked set to score until...


You are HRHRH's father, the winger was Tuilagi and I claim my £5.
Close but unfortunately no cigar...
Supporting Saracens for 52 years
derbyshire fan
14/07/2019 21:29
thanks so much for these three pieces - have loved reading them
Sorry, only registered users may post in this forum.