OUR FAVOURITE GAMES # 1 SARACENS v SOUTH AFRICA 17.11.09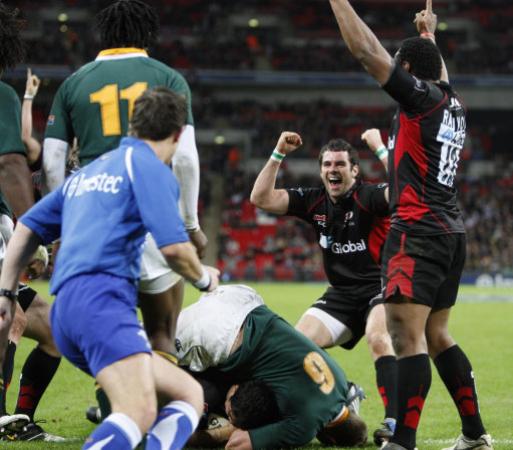 By TheSaracens.com
March 22 2020
Our second trip down memory lane is the game between Sarries and south Africa at Wembley in 2009. Josh Black reminds us of a remarkable day for Sarries and for Stuart Tinner
To come from behind twice, when the game seemed completely against them, to play enterprising rugby and to dominate the scrum of a famous rugby-playing nation? Certainly, it was effectively a South Africa A-team, but this was worthy of being called championship-winning rugby.
Thankfully for us fans, there was someone at Saracens sober enough this morning to put up the match highlights, so we can re-live the memories of last night. They will hardly satisfy the appetite to see some of those great moments again.
Sarries flying out of the traps, winning and converting their first penalty. Wikus van Heerden's heroic efforts, symbolic of a defence that all but enveloped the South African attack for thirty minutes and was then resurrected to clinch the deal. Those big tackles from unlikely sources – Michael Tagicakibau in the first half, and Derick Hougaard, who in the second half picked himself up from being smashed back by Wynard Olivier to return the favour in the next play (assisted, it has to be said, by Mouritz Botha).
The turnovers we won. Our dominance in the scrum after CJ van der Linde went off early in the first half, Rhys Gill and Richard Skuse shunting the Bokke backwards. Ernst Joubert chasing the ball like a number seven, charging down the kick and scoring in the corner
The backs' moves we haven't seen enough of this year. Brad Barritt stepping inside and releasing Hougaard. Kevin Barrett's flick, and Andy Saull's inside offload, which Rodd Penney came so close to converting into a try for Tagicakibau. Alex Goode, still only twenty-one, changing the game when he came on and looking as keen to run the ball back at South Africa as though he were playing for his school. Barritt at first-receiver, driving over for the second try with rare power
There were moments from the Bokke, of course. Earl Rose, as full of tricks as a Harlem Globetrotter, with his back-hand pass that sat up so nicely for Adrian Strauss. The slick passing, and interplay on the wings that nearly brought two tries, let alone Juan di Jonge skipping through the tackle to dive over. They might have been lucky with their first and third tries, but especially in the first half their greater physicality, their prowess in the lineout and the hits that belied the assumption that neither side would take it seriously
In the second half they were surprised by Saracens' return to form, encouraged by a certain Stuart Tinner's mood-lifting win and rejuvenated supporters who were more than a match for the predicted hordes of South African ex-pats. They briefly looked like they might come back into the match, but their tendency to play 'on the margins' saw them penalised more frequently (and especially for forward passes, despite the one that counted). With the scrum barely holding up, and with Ruan Pienaar's wayward kicking all they had to rely on, they never reached out to snatch at victory the way Sarries did when it was within their grasp.
South Africans are known for being a bit handy at drop goals. There was Nas Botha's famous swivel against England, Joel Stransky's World Cup winner, and Jannie de Beer's five against England before Francois Steyn ever came along. Derick Hougaard, having missed four or five from the half-way line, isn't in the same league. But as in many aspects of Saracens' performance, it was endurance, and the continued effort to manufacture opportunities that led to the winning kick, sailing, as boos broke into cheers, through the posts to secure victory by the narrowest of margins
The Bokke had been out-fought, out-played and out-sung. Though a development team, they apparently had less to prove than Saracens, whose ambition and hunger are fast changing the face of English club rugby. The whole team had proved outstanding, even with a league derby against Wasps fast approaching. In their desire for the Springbok scalp, Sarries produced one of the great performances in their history, but the way this season is shaping up, victory could prove neither a full-stop, nor even an exclamation mark. Here's hoping it's a semi-colon, and the rest of the sentence is as good
And as Stuart Tinner said when ushered into the dressing room; 'I idolise you guys.' I bet a lot of us felt that way, even without a quarter of a million pounds.
Saracens: Horak; Cato, Ratuvou, Barritt, Tagicakibau; Hougaard, de Kock; Gill, Reynecke, Skuse, Botha, Vyvyan, van Heerden, Melck, Joubert.
Replacements: Nieto for Horak (49), Penney for Cato (40), Barrett for de Kock (38), Brits for Reynecke (40), Goode for Skuse (49), Saull for Melck (47).
Not Used: Kruis.
South Africa: Rose; Ndungane, de Jongh, Olivier, Nokwe; Pienaar, Adams; van der Merwe, Strauss, van der Linde, Hargreaves, Bekker, Deysel, Potgieter, Johnson.
Replacements: Viljoen for Olivier (68), Bosman for Pienaar (68), Hougaard for Adams (40), Maku for Strauss (68), W. du Preez for van der Linde (10), Rossouw for Bekker (40), Raubenheimer for Johnson (68).
Att: 46,281
Ref: James Jones (WRFU).
View a Printer Friendly version of this Story.
OUR FAVOURITE GAMES # 2 SARACENS v SOUTH AFRICA 17.11.09
Discussion started by TheSaracens.com , 22/03/2020 08:00
TheSaracens.com
22/03/2020 08:00
What do you think? You can have your say by posting below.
If you do not already have an account
Click here to Register
.
Edited 2 time(s). Last edit at 2020:03:26:07:33:58 by Darraghgirl.
myleftboot
22/03/2020 13:53
I remember very little of that evening, for which I entirely blame Schalk Burgers dad's wine!
Sorry, only registered users may post in this forum.