Christmas comes early at the Stoop...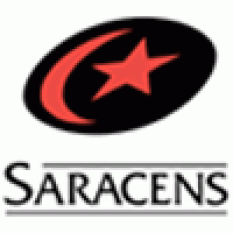 By DOK
September 30 2012
As Harlequins gift Saracens a 16-18 win. A rare off day with the boot by Nick Evans matched by a rare on day with the boot by Owen Farrell meant Harlequins lost their first game of the 2012/13 season. We can argue from here till doomsday about the performance of Andrew Small and his optically challenged compadres, but the basic fact is that Harlequins missed four penalties when scoring even one would have given us victory.
I knew before the game it was likely to be tight. Saracens have one of the meanest defences in the premiership. Top of my head I believe they'd only let in two tries before our game. Therefore discipline, penalties and kicking the points was always going to be the order of the day.
With the Saracens defence it was unlikely we'd find many opportunities to flood the channel and make the breakthrough. And so it transpired. Saracens dragged us down into an arm wrestle of a match and although we'd have won with even one of the four missed kicks going over, it wasn't a pretty game to watch. The game was mainly played between the two 22 metre lines, with neither side having to do much do or die defending of their line. We knew beforehand we were going to struggle with their double tackling, but didn't seem able to take advantage of it when we did manage to evade it.
I saw someone on twitter describing it as an entertaining game; I can only assume that was a Saracens fan! I know what Saracens were doing. We have beaten other teams with our fitness and our ability to run just two props for eighty minutes straight. Saracens nullified this by only playing for three minutes at a time before stopping for a breather.
I was a bit surprised to see that we seemed to have the edge over Saracens in the scrums. I know we seemed to achieve parity with Leicester last week, but I was expecting our boys to be under the cosh this week. It didn't happen. From the very first scrum we had them on the back foot and it stayed that way all game.
So do you want to hear what happened during the game? Well it started well enough, with a penalty to Harlequins around the three minute mark. This was duly converted by Nick Evans. This was followed by a penalty to Saracens for offside converted by Owen Farrell, then a penalty to Harlequins converted by Nick Evans and you could see the rest of the day was going to go like this. However, an early pointer to the future had occurred around the 9 minute mark when Nick Evans managed to bounce a ball of the right hand post after gaining a penalty against Will Fraser for collapsing a maul .
And indeed, around the 20 minute mark Harlequins gave away a penalty for Nick Easter failing to roll away and Farrell levelled the scores. A storming Harlequins attack came to nothing when Nick Easter failed to find Mike Brown but passed to Chris Ashton. Shortly after that Schalk Brits managed to release Ashton flying down the right wing but he was forced into touch by Mike Brown.
Then around the 34 minute mark Chris Wyles failed to find Alex Goode for an easy run in, but the referee was playing advantage for another penalty against Harlequins and Owen Farrell duly gave Saracens the lead. Indeed the tide of battle seemed to be flowing their way with Olly Kohn sin binned for failing to retreat 10 metres. However, Saracens were unable to take advantage of this and indeed fell behind to the game's only try. Danny Care ducked under the attempted tackle of Petrus du Plessis and scampered over for a try under the posts from the 22. Nick Evans kicked the conversion to make it 13-9 at half time.
Although it had been a disappointing first half, this was a bit like the game at Wembley last season, so I was hoping it would open up a bit in the second half. Some hope! The most entertaining moment of the day came when Nick Evans launched a great clearance kick early in the second half. It unerringly found a gentleman carrying a number of pints. The ball struck the poor soul on the head, spilling both the man and the pints!
The arm wrestle carried on. First Saracens got a penalty and Owen Farrel kicked his fourth from about 45 metres out. A good kick through from Brits led to a great chase over the line by Ashton. The bounce of the ball beat both Ashton and Brown but fortunately Buchanan was there to sweep up.
Saracens were then penalised at the scrum around the 52 minute mark, but Nick Evans dragged the kick past the left hand upright. This was not good news as a penalty at the breakdown to Saracens around the 55 minute mark gave them the lead.
At the 62nd minute mark Nick Evans again had a chance to put Harlequins ahead when replacement prop Mako Vunipola was penalised for entering a ruck from the side, but he skewed the kick past the right hand upright. Crud!
Finally in the 66th minute Nick Evans got the chance to give us the lead when George Kruis of Saracens managed to get himself sin binned for holding on. The ball finally sailed between the uprights and we had the lead again.
Nick Evans had the chance to put us four points clear a few minutes later. My brother and I were arguing over whether a catch and drive was better than taking the points. In the end he won because Nick Evans went for the kick and again pushed it right of the uprights. Rats!
A terrible clearance kick from Nick Evans led to Mike Brown giving away a penalty for offside(the ball went backwards) and gave Owen Farrell a chance to regain the lead. A well taken kick sailed between the posts and despite a lot of huffing and puffing by Harlequins that was the end of the game.
Conor said afterwards we couldn't seal the deal. It became the game Saracens wanted in terms of flow. It wasn't a good game of rugby, but it was tight. We weren't clinical. We gave them penalties and they kicked them. He didn't want to blame Nick Evans, said there were plenty of other reasons we lost. Nick Evans has won us a million games in the past and will win a lot more. We didn't hang on to the ball, we gave silly penalties and we got turned over far too often. Saracens didn't threaten us much in terms of their game; we just gave them the penalties to keep the scoreboard ticking over. He thought Tom Guest was outstanding today. It's a long season and one game isn't so much in the overall scheme. Next week is Exeter and it'll be tight. Joe Gray has no damage to his eye, just a black eye. 20 points after 5 games isn't too bad. Disappointed but move on. We never get carried away when we win, we're not going to get carried away when we lose.
"Tough day at the office, apologise for the kicking you have days like that, but she is a long season and again thanks for your support" — Nick Evans (@nick10evans)
Attendance 14,224
Ref: Andrew Small