UNLIKELY VICTORY: London Irish 28 - 31 Harlequins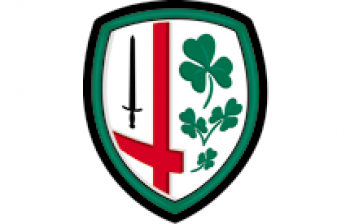 By Alanquin
October 29 2012
Brinkmanship appears to be the latest facet of Harlequins' game. Little regard is paid to the less than therapeutic effect upon the cardio-vascular health of their supporters. On Sunday they left it until 58 seconds from the end to score the try that gave them victory over London Irish by 28 – 31 and needed the assistance of the television match official to do so.
Two early penalties duly slotted by Ben Botica had given Quins an early lead with Irish fly-half Ian Humphries falling short with his first attempt. Little time had elapsed before the Exiles struck back. A good kick chase had taken play deep into Quins' twenty two where they were fortunate to regain possession under great pressure. The in-goal area at the Madejski is the depth of soccer's six yard box. Attackers have little distance to cover. Despite using all the space available to him, Botica saw his kick charged down and lob into the grasping hands of Guy Armitage who had only to flop off his feet to score. Humphries added the conversion to give Irish a one point lead.
Harlequins response was, as always, to attack and almost immediately an interception saw Danny Care scampering forty metres to score between the posts. Botica duly added the extras and Harlequins led 7 – 13.
The frequesnt sound of the whistle signalled a rising penalty count from which the principal beneficiary was Humphries who duly scored with three good kicks to Botica's single score that levelled the match at 16 – 16 at the interval.
A rather harsh yellow card for Mike Brown for an alleged deliberate knock-on reduced Quins to fourteen for the final three minutes of the first half and the early minutes after the interval. The Exiles had gained no benefit as Humphries penalty had missed and as Brown returned Botica had kicked Quins into the lead again. Almost immediately Humphries took the opportunity to level the scores again.
But Quins struck again with a superb try. Easter fed Care from the base of a scrum. Care fed Hopper whose superb backhanded pass to Botica put the fly-half on a curving run past two defenders and a perfectly timed pass put Tom Williams in at the corner. Botica added the extras off the post.
But the whistle continued to penalise Harlequins and Humphries gradually pulled Irish back level and then into the lead as Botica fell short with a long distance attempt. A penalty at a lineout had given Irish a 28 – 26 lead with eight minutes remaining and left Quins staring at a third successive Premiership defeat.
The Irish method was to kick long and hope to keep play in the Harlequins' half. The Quins matched was to keep ball in hand, They did so effectively and determinedly. Picking and driving, off-loading and protecting possession they gradually worked their way towards the Irish try-line with the Exiles trying desperately not to concede a penalty. A sudden attack almost put Monye into the right-hand corner and his attempt to pass inside was intercepted but the clearance was hurried and skewed into touch only ten metres out. Retaining possession, Quins continued to attack and the ball was worked left with quick accurate passes and there again was Monye only prevented from a score by a fine tackle from Armitage. Once again Monye managed to throw the ball inside where numerous replays showed that Tom Casson had missed the ball which rebounded forward off his leg and he had fallen on the ball over the line, The Irish howl of disbelief which greeted the awarding of the try will echo long around both Reading and Sunbury. There remained only time for Botica to miss with the conversion as Quins returned to the top of the table.
After the match Conor O'Shea said "I think if you watch it [Casson's try] in real time it doesn't look like a try, it's a great piece of covering work by Armitage. "But by the letter of the law it's a try so I think it was a good decision and it's why we have the TMO system." "We know that at the end of the season you look back and you have games like this. It's a massive four points for us to come away with because Irish played well and it's a tough place to come.
London Irish Watson; Ojo, Joseph (Shingler, 63), Armitage, Tagicakibau; Humphreys, O'Leary (Allinson, h-t); Lahiff (Griffiths, 78), Paice (Lawson, 68), Aulika (Haslavatau, 63), Evans, Garvey, Danaher (capt), Gibson, Hala'ufia (Treviranus, 53).
Harlequins Brown; Williams, Hopper, Casson, Monye; Botica, Care; Marler, Buchanan (Ward, 48), Johnston (Collier, 67), Kohn, Robson, Guest, Easter, Robshaw (capt); (Fa'asavalu, 31)..
Referee T Wigglesworth (Hull). Attendance 10,247.