ENGLAND RUGBY
OCTOBER 2008: IN REVIEW
---
First up we had a report on the Association of Elite Sports Officials (AESO). A new organisation bringing together the cream of refereeing and umpiring from rugby union, rugby league, football, cricket; with the launch day of 7 October at Twickenham Stadium.

Chris White
Part of the Active Members Group

The AESO's main aims are:

· Improving standards of officiating in sport through inter-sport exchange of ideas and practices

· Developing and supporting a positive image of sports officials

· Engendering a greater appreciation of the dedication of sports officials and their key role in sport

· Assisting sports governing bodies to recruit and retain sports officials, especially amongst females, young people and ethnic minorities
---
Next up we focused on the England 7s training squad and IRB 7s 2008/9 schedule. The 26 will be looking to prove themselves to gain selection for Head Coach Ben Ryan's 12 man squad who will travel to Dubai to take part in the Emirates Airline Dubai Sevens (November 28 & 29, 2008) which is the first leg of the IRB Sevens World Series.
In case you missed it, here is the training squad in full:
Training Squad
Jack Adams ( Gloucester Rugby )
Greg Barden ( Bristol Rugby )
Kevin Barrett ( Exeter Chiefs)
Tom Biggs ( Leeds Carnegie)
Chris Cracknell ( Exeter Chiefs)
Rhys Crane ( Bath Rugby )
Ollie Cook (Sedgely Park)
Isoa Damudamu (Army)
Carl Fearns ( Sale Sharks)
Ollie Frost ( Worcester Warriors)
Charlie Gower ( London Irish)
Matt Jess ( Exeter Chiefs)
Dan Norton ( Gloucester Rugby )
Josh Ovens ( Bath Rugby )
Ollie Phillips ( Newcastle Falcons)
James Rodwell (Moseley)
Tony Roques (Cornish All Blacks)
Charlie Simpson-Daniel ( Gloucester )
David Tait ( Sale Sharks)
Guy Thompson ( Gloucester Rugby )
Adam Thompstone ( London Irish)
Matt Turner ( Bristol Rugby )
Rob Vickerman ( Leeds Carnegie)
Tim Visser ( Newcastle Falcons)
Mark Woodrow (Pertemps Bees)
Micky Young ( Newcastle Falcons)
More here, including the full 2008/09 schedule
---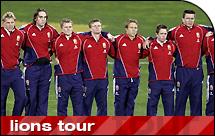 The upcoming Lions tour was up next and Unofficial England Rugby ran a feature on Lions and England and Ireland legends respectively Jason Robinson and Brian O'Driscoll. Both took time out to chat about the forthcoming tour to South Africa, what it means to be a Lion and much more.
They have been taking part in a series of HSBC Rugby Festival's offering their training tips to the next generation of rugby stars.
As well as talking about these festivals, in this interview Brian and Jason talk about their Lions memories, Brian's chances of making the 2009 squad to tour South Africa, if Jason has any plans to come out of retirement for the tour, and Jonny Wilkinson's latest untimely injury.
---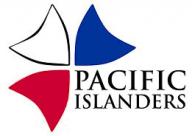 As a special treat, Unofficial England Rugby was proud to present an exclusive interview with Pacific Islanders team manager Sitiveni Rabuka, who spoke to us prior to his team's departure for the UK.
First of all the Pacific Islanders team is made up of players from Samoa, Tonga and Fiji. They were formed in 2003 and tour as a combined team every two years. They will meet England, France and Italy on their 2008 Tour.
Sitiveni Rabuka is a former Fiji Prime Minister but is no stranger to rugby union having played Test rugby twice for Fiji as a prop forward in the 1970s. He is also a Trustee of the Fiji Rugby Union.
Q.
Sitiveni there was some talk in the press that this match should have been played at Old Trafford (Manchester) to spread the game around the country. How important is it to you to play at Twickenham the home of rugby?
A.
Every Rugby player's dream is to play on Rugby's holy ground, i.e. Twickenham. While spreading the game around would be great for the hosting spectators, the touring players will have something to tell their parents and grand children – that they have played at Twickenham.
<>
Q.
Sitiveni you used to play rugby and many players have pre-match rituals, routines and superstitions, how about you?
A.
I personally had very few. One I tried to observe during my playing years was polishing my Rugby boots on the morning before the match, and I always bought new laces and tightened the spikes personally. I never have haircuts on match days because of the Samson story in the Old Testament book of Judges. Samson lost his strength when his hair was cut, so I felt I would too if I had a haircut on match days!
---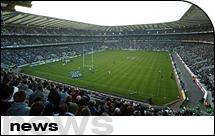 Twickenham Stadium launched it's brand new Rugby Store and England stars David Strettle, Danny Care and Shane Geraghty were on hand at the unveiling.
Part of Twickenham's south stand development, the new flag ship Rugby Store is the largest specialist rugby store in England, with over 7,500 square feet of retail space. What's more, The Rugby Store is the only retailer to plough 100% of its profits back into the development of the game in England
Offering everything for players to England's youngest fans, the store offers technical expertise and a range of products for the dedicated rugby player. The store also carries an extensive range of rugby souvenirs, memorabilia, and leisurewear for the many international visitors Twickenham stadium receives throughout the year.
As well as all top brands, there's also a full range of Guinness Premiership club merchandise and the largest range of England replica and supporter's shirts (including the women's and children's ranges),plus a printing service that allows fans to personalise their shirt or add the name and number of their favourite England player.
---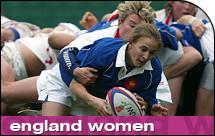 England Women's Rugby Elite Squad 2008/9 England Head Coach Gary Street named his Elite Squad of 44 players to spearhead England's international season this term. England face one of their toughest season's this year since the 2006 IRB Rugby World Cup, with the RBS 6 Nations and the IRB inaugural Women's Rugby World Cup 7s running concurrently in March.
Street has named Bath's Catherine Spencer as captain for the second year running. He has also called up 11 new players to the elite squad which includes several players that ran out for the successful England Under 20s side last season.

Clifton's Monica Lewinska, who has progressed through the RFUW's equally successful regional programme, has also been called up while Wasps' Heather Fisher, Saracens' Sonia Green, Lichfield's Lois Moulding and Clifton's Kim Oliver are also welcomed back into the squad.
Street said: "This is an exciting squad. We have got lots of experience here but also youth and these young players have demonstrated their potential through a really good Under 20s campaign. I am also pleased to welcome back the likes of Kim Oliver, who has been sidelined with an injury, while players like Heather Fisher and Lois Moulding have worked really hard to get back into the squad."

England Elite Squad 2008/2009

Claire Allan Saracens Centre
Margaret Alphonsi Saracens Flanker
Charlotte Barras Saracens Winger
Sarah Beale Lichfield No 8
Natalie Binstead Wasps Second Row
Rachael Burford Saracens Centre(V.Capt)
*Rowena Burnfield Richmond Second Row
Rochelle Clark Blaydon Team Northumbria Prop
Rosemarie Crowley Lichfield Prop
Becky Essex Richmond Flanker
*Heather Fisher Wasps Flanker
Amy Garnett Saracens Hooker
*Sonia Green Saracens Flanker
*Sarah Guest Worcester Scrum Half
Sophie Hemming Clifton Prop
Sarah Hunter Lichfield Flanker
Vicki Jackson Lichfield Centre
Karen Jones Richmond No 8
*Dani Knight Lichfield Fly Half
Emma Layland Richmond Hooker
Tina Lee Clifton Fly Half
*Monica Lewinska Clifton Prop
*Latoya Mason Wasps Scrum Half
Victoria Massarella Saracens Fullback
Francesca Matthews Richmond Winger
Joanna McGilchrist Wasps Second Row
Katy McLean Darlington Mowden Park Sharks Fly Half
Katherine Merchant Worcester Winger
*Lois Moulding Lichfield Flanker
*Kimberley Oliver Clifton Centre
*Olivia Poore Lichfield Hooker
Fiona Pocock Richmond Winger
Claire Purdy Wasps Prop
Sam Reeves(Nee Dale)Worcester Hooker
Alice Richardson Richmond Fly Half
Georgina Rozario Plymouth Albion Scrum Half
*Emily Scarratt Lichfield Centre
Gemma Sharples Worcester Flanker
Catherine Spencer Bath No8 (Captain)
Michaela Staniford Wasps Winger
Katy Storie Blaydon Team Northumbria Prop
Tamara Taylor Darlington Mowden Park Sharks Second Row
Amy Turner Richmond Scrum Half
Danielle Waterman Blaydon Team Northumbria Fullback

*Indicates new Elite Squad 44 member
---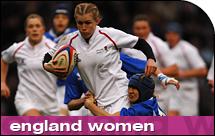 And finally, we ran a feature on the England Women's Rugby 7's squad for 2008/09
England Women's 7s Head Coach Simon Amor announced his training squad for the 2008/2009 season, which will see England compete in the inaugural IRB Women's Rugby World Cup 7s in Dubai (March 5-7).

The 20-player squad features six players who starred in England's XV aside 2006 IRB Women's Rugby World Cup Final, including two former England captains in Sue Day and Jo Yapp.

The England squad will be looking to impress Amor ahead of the World Cup in March with good performances in the Dubai 7s in November and the San Diego 7s in February. England head into this season on the back of a clean sweep of tournament wins in 2008, which included the Amsterdam 7s, the London Emirates Airline 7s and the Home Nations Cup.
Amor, the former England men's 7s captain, said: "I am really happy with the strength and balance we have got in this squad. I have also brought in some exciting new 7s players in Maggie Alphonsi and Sarah Beale, who I think have the potential to make a big impact.
England 7s squad 2008/2009

Claire Allan Saracens
Margaret Alphonsi Saracens
Charlotte Barras Saracens
Sarah Beale Lichfield
Rachael Burford Saracens
Sue Day Wasps
Heather Fisher Wasps
Sonia Green Saracens
Emma Layland Richmond
Vicky Massarella Saracens
Katherine Merchant Worcester
Alice Richardson Richmond
Georgina Roberts Darlington Mowden Park Sharks
Gemma Sharples Worcester
Michaela Staniford Wasps
Amy Turner Richmond
Danielle Waterman Blaydon Team Northumbria
Joanne Yapp Worcester
---
Unofficial England Rugby - Message Board