ENGLAND RUGBY
JUNE 2010: IN REVIEW


---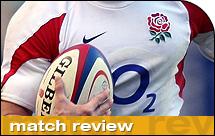 England hold off second half fightback to beat Barbarians
The match had a lot to live up to after the thrilling Guinness Premiership final on the same ground, the day before. In the end, although not quite as enthralling, the crowd at Twickenham were treated to an engaging 8-try match with more than a bit of tension in the final ten minutes.

England manager Martin Johnson fielded what basically amounted to a scratch England XV, filled with players who'd more or less never played together before. Combinations were brand new and it was never going to be perfect.

The home side opened in determined and attacking fashion, taking an early six-nil lead thank to two penalties from Sale Sharks fly half Charlie Hodgson on his return to international rugby.
---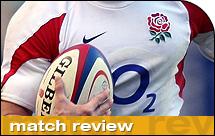 England v Barbarians - In Pictures
England warmed up for their summer tour of Australasia with a well-earned victory, but Martin Johnson's team were forced to withstand a strong second half fight back from the invitational side. Some photos from the match...
---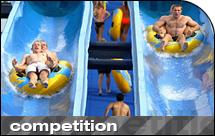 For Your Eyes Only Competition - Win rugby prizes!
The rules are simple, identify the players shown below, with each correct answer gaining points over the five rounds the competition. The person with the highest score at the end of the five rounds, will be the winner.
The competition is now closed, but have a look through our forum for previous rounds and see how many players you can identify!
---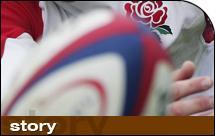 The Secret Diary of Matt Banahan, height 6' 6 and ¾
Well, we've been gone almost a week now and I can certainly say that the training - and bonding - is going well, here in Perth.
It took the boys a good few days to get over the jetlag, some more so than others, but it's one of those things, you've got to make sure they whole squad's ready before you start the high intensity training.
On Thursday all the boys said they were good, so we went flat out all into it then and Friday. We did a bit more Saturday and Sunday, as we get ready for Tuesday. The team was announced this morning and I'm really looking forward to the chance to get out there.
---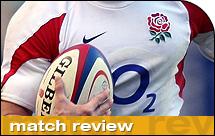 Australian Barbarians 28 - 28 England - Match Review
Not nearly physical enough up front, stopped dead or driven backwards at just about every contact, then out fought on the floor, never 'sucked in' Aussie defenders leaving midfield packed, we didn't pick backs who punch holes, but ones who exploit them, there were no holes. Though I do agree England tried 2 or 3 times to find a hole, then kicked from a lack of any further ideas. Started reasonably, keeping Aus back in their own half, but failed to take real advantage from the pressure created (sound familiar), I beleive we made a major mistake when taking the second penalty offered us. The penalty came as a result of Aus collapsing a scrum, we had them under the cosh, should have taken another scrum, but kicked the goal and relieved the pressure, Aus found their confidence and never looked back..
---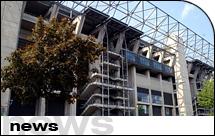 RFU unveils John Steele as new Chief Executive
The Rugby Football Union (RFU) can announce that John Steele will become its next Chief Executive Officer (CEO).

Steele joins from UK Sport where he is Chief Executive Officer and replaces Francis Baron, who signalled his intent to step down from the role last November after nearly 12 years. Since that time an Executive Recruitment Panel drawn from the RFU Management Board has undertaken a comprehensive and exhaustive search process which culminated in the appointment.

Steele was chosen as having the outstanding mix of leadership skills, rugby expertise and business experience required for what is one of the most complex and demanding roles in sport globally. His background in rugby covers a successful playing and coaching career at the elite level, culminating in leading Northampton Saints to Heineken Cup success in 2000.
---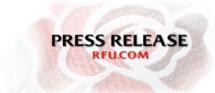 Nick's Notes: The Nick Easter Column
THERE has been a lot of talk about this tour to Australia being very similar to an old school rugby tour and with some aspects, this is very true. With three midweek fixtures and two Tests, there's a lot to cram in. In the past we would have a squad of 32 and usually you would find six or seven guys wouldn't ever play, but this time all of the 44 have a meaningful and beneficial part to play.

A successful tour is judged by what happens on the pitch, but in order to get a successful and cohesive environment on the field, everyone has to bond off it and so far, the spirit has been great in the camp. There is so much to do in Australia. On our day off we're going to Rottnest Island, famous for spectacular scenery and wildlife. We've adopted the 'when In Australia, do what the Australians do' attitude so in true Aussie style we'll be having a barbie. It would be rude not to.

---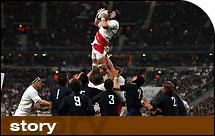 Mike Catt on England, Jonny Wilkinson & the 2011 World Cup
Fabio Capello's England side aren't the only ones flying the flag of St George on Saturday. The England rugby team is also in the southern hemisphere playing Australia in the first of two tests. They come into the game off an exciting 28-28 draw against the Australian Barbarians earlier this week where they looked strong in the scrum but were outclassed in the back division.
England's finest moment playing down under was undoubtedly the rugby World Cup win against the Aussies in 2003, and a key member of that side was Mike Catt. Catt, who has just retired from the game to move into coaching, played 75 times for England and appeared in four World Cup tournaments, so there are few better qualified to talk about the current set up.
Full story including video interview here

---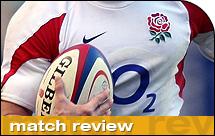 Australia 27 - 17 England - Match Review and player ratings
England suffered a disappointing defeat in the first Test in Perth despite dominating at the scrum and forcing the Wallabies to concede two penalty tries.

It turned out as most people thought it would be, England power against Aussie guile. The former came to the fore more and more as the game went on, but truth be told the Australian backline would regularly be making metres in attack, whilst the England attack looked predictable and lethargic for most of the match. Their off-loading game was nearly non-existant, allied with slow pick and go tactics that went nowhere and a tendency to kick the ball away to the talented Aussie backline was unfortunately clear for all England supporters to see.
Things looked bleak for England at half time as they went in 14-0 down, but a spirited second half display saw Martin Johnson's men reduce the deficit to 14-10 thanks to a penalty from Leicester Tigers fly half Toby Flood and a converted penalty try given after persistent fouling from the Wallabies scrum.
---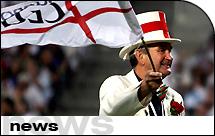 Duncan Locke appointed new Senior Performance Analyst
Duncan Locke has been named as the new Senior Performance Analyst appointed to work with the RFU's Elite Rugby department.

Locke, 28, takes up the role in August after five years at for the English Institute of Sport, initially in a multi-sport role before four years with British Cycling, where his work included supporting gold medal winners Sir Chris Hoy and Victoria Pendleton in the build-up to the Beijing Olympics.

"We're delighted Duncan is joining us and he adds an extra dimension to our team working with the senior England side," said John Hall, managing director of PGIR Limited, who supply performance analysis for the RFU.

"He's a new breed of performance analyst who can support the integration of a wide range of data sources to provide the broadest possible picture from an analysis perspective to the England coaches and players."
---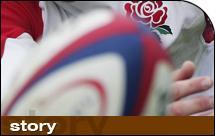 British Columbia Bears 7 - 46 England Counties - In Pictures
England Counties Manager Danny Hodgson said that he was the happiest man in Canada after his team completed a hat trick of tour wins by beating BC Bears with a rousing performance at Klahanie Park in Vancouver.
The game was an especially emotional experience for the Northumberland farmer, who stands down from the Counties management team after this game having been involved as Assistant Manager and Manager since the side was put together in 2002.
And how well his latest group of players – average age 22 – responded to the challenge of providing the hugely popular Hodgson with a perfect send-off. They scored seven tries in all, with fly half Paul Humphries converting two and his replacement Ross Winney adding two conversions and a penalty.
Full story and more photos here

---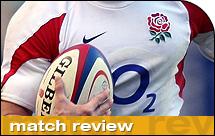 Australia 20 - 21 England - Match Review and player ratings
England claimed an historic 21-20 victory over Australia in their clash at the ANZ Stadium in Sydney on Saturday.

In arguably their finest display since they lifted the Rugby World Cup at the same ground, tries from scrum-half Ben Youngs and winger Chris Ashton inspired England to their first win in the southern hemisphere since that famous night in 2003 with fly-half Toby Flood and his replacement Jonny Wilkinson keeping the Wallabies at bay. Two tries from returning centre Matt Giteau, who contributed all of his side's points, ensured the contest went down to the wire but he was wide with a crucial late penalty that could have won his side the game. In the end, the hosts were undone by a much-improved performance from England packed with energy and vigour.

From the word go the difference form last week couldn't be more noticeable. Whilst in the first Test England seemed to be doing their best to slow the passages of play down to a crawl at every attempt, this week, they played with pace, accuracy and looked dangerous throughout as a result. Predictable and lethargic in attack last week, offering easy targets for the Australian defenders to hit, England managed to switch the point of attack and offload the ball in contact well. They managed to ask questions of the Aussie defence all game, with plenty of front foot ball to play with.

Full story and player ratings here

---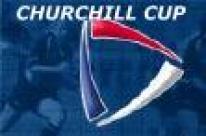 England Saxons Win Churchill Cup 2010
The England Saxons put in a tremendous performance winning the Churchill Cup for the fifth time.  Their display was even more remarkable when you factor in the severe heat they played under.  Thankfully they had 20 mins water breaks.
The first 10mins of the first half the Saxons just ripped into Canada but fair dues Canada never gave up and came very close at half time to almost drawing 3points adrift but failed to do so and the Saxons went in with a comfortable lead  23-15 lead at half time.
The second half was similar but the Saxons management had asked for more intensity and that is what they got.  Again the Canadians would not lie down though and fought to the end.
---

Walk4Matt 2010 was a huge success
With donations still coming in, it's already raised over £100,000, to be divided equally between SpecialEffect, the RPA Benevolent Fund, and the Matt Hampson Trust.

The 110-mile walk, which went along the Grand Union Canal, from Rugby to Brentford, and then along the Thames to Twickenham, began on Saturday the 22nd of May. Representatives of all the Premiership clubs were accompanied by a fleet of narrow boats, which provided the overnight accommodation.

The first three days coincided with the hottest weather of the year, and Monday the 24th was a very hard slog – 25 miles, in temperatures of around 30 degrees. That evening, though, Tring Park Cricket Club hosted a magnificent barbecue, which soon eased the pain of a very challenging day. The Tring Brewery provided the food and drink, and there was then a Q and A, compered by Leicester CEO, and former England and Lions hooker, Peter Wheeler. Taking part were Dusty Hare, who needs no introduction, England Saxons skipper George Skivington, London Irish hooker James Buckland, and Matt Hampson himself.


Full story and information here

---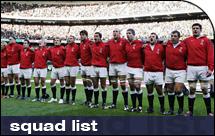 England U18 squad for South Africa international tournament
England will continue to accelerate the development of their best young players at a four-team tournament in South Africa next month.
The national Under 18 side takes on South Africa, France and a Namibia Invitation XV in the space of eight days in Port Elizabeth, George and East London.
England have recorded 18 successive international victories at this level - including three successive Grand Slams - since 2007, when their annual playing programme was expanded to include summer tours to the Southern Hemisphere.
Full squad and information here
---
Unofficial England Rugby - Message Board