Cardiff City Blue Dragons RLFC - History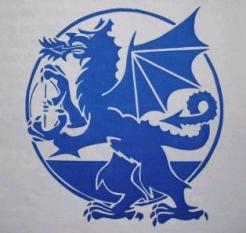 Blue, Blue, Blue Dragons
By Chris O'Brien
July 28 2009
The Cardiff City Blue Dragons were formed in 1981 and played out of Ninian Park. The club spent three seasons in the Welsh capital; before eventually moving to Bridgend in 1984. However, due primarily to poor crowds, the venture flopped and the club eventually folded.
The Blue Dragons enjoyed three seasons at Ninian Park but failed to win promotion from league's Second Division to the top-flight and eventually folded in 1985 following a year in Bridgend.
Dai Watkins, now President with the Celtic Crusaders, was one of the driving forces behind the Blue Dragons and the club did enjoy some success. Over 10,000 were at Ninian Park for their opening fixture - a narrow home reverse at the hands of Salford.
This section of the site will be used to pull together information from the club's history. If you wish to contribute, please drop us a line.

Cardiff City RLFC Results 1981/1982
Results, attendances and venues from the Blue Dragons' inaugural season in League's Second Division.