Premiership Rugby's Worst Nightmare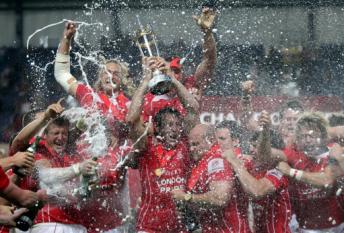 Prem Victory?
By KevinTheB
June 1 2012
London Welsh win the Championship, and want to be promoted. Other than out and out Newcastle supporters, a result everyone else wanted ... except the Management of Premiership Rugby, perhaps?
There would have been plenty of people in the far north of England and out in the wilds of the West Country who were rooting for the Pirates on Wednesday, but deep down, many people were wishing for a Welsh win to get some new blood in the Premiership.
The magnificent job Exeter have made in the top division this year shows that it is possible to get promoted and make an impact, and I don't suppose I'd be the only one more likely to travel to watch LW play (wherever that happens to be) than get my passport and wooly undies out and head for the frozen wastes of Northumbria.
However, the Premiership Management and the RFU must now face a challenge from Welsh about the criteria for promotion - a court case to establish whether one rule for Peter and a different rule for Paul is acceptable surely isn't what they were hoping for.
And as has been well reported already, the state of Newcastle's fate is still uncertain, (as is ours on the basis that if Wasps go into Administration due to the lack of a deal for a new owner a points deduction could relegate us potentially instead of Newcastle) and so any movement of players to top up their talent bank (ours seem to be coming through OK) is jeopardised. Same for Welsh.
Given the historic requirement for a full 7 course tasting menu plus wines selected by the sommelier to be organised and consumed before any action of any kind comes out of the Committee Rooms at Twickenham, I can see this getting into the Courts pretty quickly.
For me - let London Welsh take the place that they earned by right, even if their ground facilities are not as good as those demonstrated by Bath, and let rugby decide whether it is the right decision or not.
KtB