Sarries Report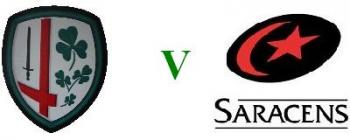 By aquacat2
April 15 2012
Before starting I would like to apologise, this is my first match report and it's likely to be poor however my hope is, if I add pictures then they may distract you from the actual content!
Prior to kicking off with the actual report I thought I should give you a bit about me I'm a final year student, have supported London Irish since I was 12 and have been enjoying it even since. In a normal season I don't go to many games, but this season I have been graced with very good fortune; cheap Heineken Ticket package, buying my brothers Digger club memberships for Christmas (which therefore meant my dad had to take me to a game to), my mother paying for St Pats. But the next and last two home games have to be my most jammy, by managing to guess the 6Nations scores of two games in the first round the closest I managed to bag myself free tickets. What's also worth noting is that all bar the Christmas game, I haven't seen Irish win this season. When I have gone to see them this season I have begun to think my trip to the Mad Stad is a bit of a bad omen for which I can only apologise considering Irish's current standing. Also before I get into the game, I must admit that I quite like Sarries as a team, they have a great bunch of fans and I have on occasion gone to Vicarage Road for a game and really enjoyed it.
There were 5 changes to Irish's side with Corb's being the Capitan for the first time, which makes him the youngest Capitan for London Irish in the professional era (congratulations). Saracens only had 4 changes since their knock-out Heineken Cup demolishing by Clermont.
The first half involved the usual exchange on penalties, Homer slotting the first on 7 minutes. Hodgson for the Sarries getting a drop goal only two minutes later. By the 23 minute the score was 9-6 all penalties. What may worry Saracens fans was the early substitution of Tagicakibau due to injury – hope he recovers soon.
27 mins in and Irish broke in the Saracens 22' on the West Stand Side. Good attacking work meant that the ball went through all the hands holding up the defensive line beautifully, providing enough room for Delon Armitage to squeeze in the corner, the conversion was missed but Irish were in the lead 14-6. Prior to the half concluding Saracens slotted further penalties in the 36th and 38th minute to reduce the half time deficit to 14-12.
At half time myself and my friend were surprised that it was not the drumming we expected from Saracens, but knew it wasn't quite over yet but Irish were in with a chance. Another point I picked up on the lack of functionality the Irish line out provided, which made it hard for any set piece to be used other than at scrums.
Second half kicked off and Irish for the first twenty minutes seem to completely different team. Starved of most of the possession they were forced to take clearance kicks, and absorbed a large proportion of pressure from Saracens. This went well until 52 mins in Irish gave away a penalty and Irish's Gibson got Yellow Carded, due to me being in the west stand I'm not sure what for however the kick at goal was duly converted by Hodgson. 4 minutes later the Sarries dominance was further rewarded following a fine rolling maul from Irish's 22' to the try line touched done by Saracen's number 7. It being near the posts meant that the conversion was knocked over and Saracens lead was 14-22.
Shortly after Saracens made 3 subs which included a change of scrum-half. This coupled with two Irish changes at number 8 and flanker seemed to stem the flow of Saracen dominance for the time being also Irish started to win a proper proportion of line out ball.
4 minutes after the Irish subs, Irish got another try through Armitage from what seemingly came from nothing other than possession. Going from West to East the ball was passed and what seemed like an amazing running line for Delon meant he skipped through 5 tacklers (1 being a rather desperate tap tackle before he crossed the white wash which completely missed so you might not want to count that one). Despite the conversion being missed by Homer the scored was poised at 19-22 with 15 minutes to go and I felt like this could become a very interesting end.
Further subs followed including Tagicakibau being swapped with Ojo, Saracens promptly nailed another penalty to drag their lead to 6 points meaning Irish needed a try or a miracle in the last 10 minutes to win. Literally a minute later Irish prayers were seemingly answered with the Saracen try scorer being yellow carded for a late/mistimed tackle on Homer. Despite Homer being decked, he didn't appear to be injured and shook it off after a couple of minutes. Irish had an attacking scrum well into the Saracen 22' which despite providing potential for a late score nothing further came of the man advantage and after Irish being penalised at the scrum Saracens booted clear. Saracens last visit in the Irish 22 meant resulted in a drop goal with the score now 19-28. From the following kick off Saracens kept the ball in their half and ate into time and simply kicked it out on the 80 minute mark into the North end of the West stand.
So another Irish game for me, that could have been and showed so much potential, by my calculations Irish now have nothing to play for with only Wasps, Warriors and Falcons under threat of the dreaded drop to National League one. Despite the top tier of European rugby looking increasingly unlikely to, I have to ask is it such a bad thing?! It's well understood that Irish are a team in transition and what better way to get easier silverware and test yourself against different sides than in the Amlin, it could prove a good spring board for success. Last time we were in it, we got to the final (if I'm correct we lost to Glous) and the next season we were massively improved and as Graham pointed out in today's programme last time Reading did well so did Irish, in which case fingers crossed they get promotion!!
Next game: Warriors (away) – can Irish keep them under threat of relegation?
Irish MotM: Delon Armitage
More London Irish headlines
London Irish Poll