A Famous Harlequin Returns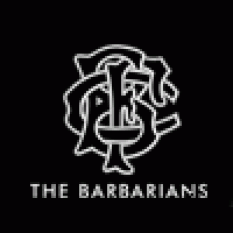 By AlanQuin
March 29 2007
On Wednesday next 4th April, the Army play a match at The Stoop that celebrates the centenary of the Army Rugby Union.   Their opponents are that famous invitational club, Barbarian F. C. 
It is a match that will bring to The Stoop a very famous former Harlequin.  He is none other than Micky Steele-Bodger, the President of the Barbarians and the man who more than any other has been tireless in keeping alive the reputation and existence of that great club and responsible for maintaining its prestige and place in the world of Rugby Union.
Michael Roland Steele-Bodger was born in 1925 and was educated at Rugby. His father was an eminent veterinary surgeon and in due course Micky followed him into that profession and the family practice in Tamworth.  He first played for Harlequins in 1946-47 joining them on coming down from Cambridge where he gained his Blue in 1945 and had captained the University in the Varsity Match of 1946.  The club history, Harlequin Story (H.B.T.Wakelam (1953)) describes him as "a wing forward of the light skirmishing type, making up for his lack of size by the amazing way in which he seemed to be everywhere at once and the fact that he was chosen for nine English teams in succession is surely enough to prove his worth."  He has not changed.
There is a famous story which illustrates his approach to life. In 1947 he was selected to play for England in the Calcutta Cup match against Scotland at Twickenham. He was at that time at Edinburgh University studying veterinary medicine. The country was going through the worst winter in living memory. There had been record low temperatures and record falls of snow.  Because of the weather, he set off on Thursday evening by train for London. This train journey was to take 30 hours. As the crowded train headed south, the weather deteriorated and the journey got slower and slower. Three times volunteers from the train, including Steele-Bodger, had to dig their way out of the deepening snow.
With Thursday soon becoming Friday and with little progress made, Steele-Bodger sent a telegram ahead to Twickenham confirming that he was on his way. By this time the train had only reached Carlisle.  Rationing restricted the availability of food in train buffet cars and Steele-Bodger had to rely on the rations he had taken with him, a tin of Ovaltine biscuits and a whole orange. Finally, the train rolled into London on the morning of the match at 4 a.m. He headed straight for the team hotel to get some rest before the game.
There was worse to come for, despite asking his roommate to wake him before the team bus left, he did not do so and Steele-Bodger awoke to find the team had left him behind. He took a taxi to where the team normally had their pre-match lunch only to find the place closed.  So he went to Twickenham, got changed and waited for his teammates to arrive.   Of course, after his three day ordeal the management did not expect him to play but after a "slight altercation" it was agreed he would take the field as planned. In spite of the traumas of the last couple of days, he took a full part in the game which England went on to win 24 - 5.
He played in the very first Barbarian International fixture in 1948 and scored the Babarians' opening try when the Australians were defeated 9 – 6.  He has been firmly connected with the Club ever since.  He has maintained, too, a close connection with Cambridge University rugby and the annual match against Steele-Bodger's XV which precedes the Varsity Match has been played every November since 1948 and his association with the University is marked by the room named after him on the first floor of the Grange Road Clubhouse.
Unfortunately, an anterior cruciate knee injury cut short his playing career in 1949 when he was still in his early twenties.  It did not stop him in devoting a large part of his life to the Rugby Union. He has been an England and Lions selector.  He has managed England touring teams abroad and has been Chairman of the International Rugby Board and has remained involved as an administrator for most of his life.   He was President of the Rugby Football Union in 1973-74.  He is also President of Tamworth RFC.
Now in his eighty-second year, he remains at the helm of The Barbarians. He spends hours on the telephone persuading the great players of the world into playing for the Club and most take little persuasion.  Much of the work is done in the premises of another great passion, The East India Club in St James's Square.  He was its Chairman for 11 years and on giving up that office he was appointed President for life.  His activity and work rate are still exactly in accordance with Wakelam's description of his play.  He is a tireless and much in demand after dinner speaker at a large number of rugby club dinners each year.
He has not been to The Stoop for many years and when he played for Harlequins they did not play there but at that other ground across the A316.  Nevertheless, I know he is looking forward to the occasion and still thinks kindly of Harlequins. 
There are other eminent former Harlequins attending.  The Barbarian's are coached for this match by Zinzan Brooke and although the Barbarians' website promises the participation of Andre Vos and Andrew Mehrtens neither is likely to be spared to play in advance of Quins' fixture against London Irish at the week-end.