World Exclusive Interview with James Hayter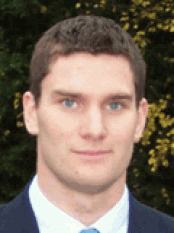 pic: Sleepy Hollow
By Sleepy Hollow
November 21 2002
Amid the drama of headline grabbing players returning to action in the 2nd XV game against Cambridge University at Grange Road the other night, there was a happier story hidden away
For one player it marked the end of nineteen months out injured as he finally got the chance to make his playing debut for NEC Harlequins. That player was one James William Hayter a 24 year old hooker.
I met James before the Wasps game in the West Stand membersí bar. Unfortunately the bearer of the Dictaphone was still a bit squiffy after the previous dayís England drubbing of Australia, so my notes were taken in scrawled long hand. So what follows is my version of a pleasant conversation rather than verbatim quotes.
SH: What was it like to finally get the Quins shirt on Tuesday night after 19 months out?
JH: Fantastic! More of a sense of relief rather than anything else, I now feel part of the club.
SH: Turn the clock back, you were playing for Coventry, how did you hear Quins were interested in you? What went through your mind?
JH: I already knew Evs through Sarries. I had three options, Cambridge University, Sarries or Coventry. Sarries had several hookers at the time. So I chose Coventry who gave me a contract. I got to play week in week out. I learnt a lot from the regular rugby. It was a good decision to go there. When Mark came to Quins he made contact with me, it wasnít a hard decision to come here!
SH: Going back even further, you started at Orrell. Why there? Family connection, locality, school connection?
JH: I had played with (or against, sorry bad handwriting!) Dave Slemen, had got to know Mike (Slemen). He invited me up, they arranged a tie up with Liverpool University where I did my degree. I had three happy years there. Iíve been very lucky with the coaches that I have come in contact with, all have influenced me, particularly Mike, Peter Rossborough and Sammy Southern. I got to teach at the local secondary school as well, some coaching in the mornings.
SH: Did you start as a hooker or what happened?
JH: Spent a little time as a centre, but was a small lad so quickly gravitated towards the front row from about 13 onwards.
SH: Family, brothers and sisters?
JH: Two brothers both younger, one 13 the other 21 who plays at Moseley.
SH: Whereís the family roots?
JH: The family have always moved around a bit, but itís the midlands these days.
SH: What were your first reactions when you turned up for the first squad session at Aldershot?
JH: It was very close to the end of season, only about 10 or 12 players there. So it was easy to get to know people. I was taken aback with how professional everything was. Absolutely everything. Itís so easy to take all this for granted.
SH: The injury Ė Dippy did it! Ė was it some sort of daft initiation rite or did you nick his parking space?
JH: It was very close to the end of a training session. We were practicing restarts, Tofty said he was going to kick it up short and I should chase it!
(Methinks, a novice up against one of the best restarters in the game anywhere in the world. So itís Toftyís kicking against Dippyís catching. Tofty v Dippy. Tofty v Dippy. Now let me see, which one would I back!)
JH: We connected and I game down hard on my ankle. It didnít seem that bad at first, probably thought it was just a turn or sprain. But after four weeks it hadnít responded to treatment. It was then it was diagnosed as being a little worse.
SH: Many low points on the long road to recovery, letís not dwell on them. What was the precise nature of the injury, why did it take so long to heal?
(To demonstrate he held out his hand and pointed to the bones on the back of his hand between thumb and index finger.)
JH: All the toes had shifted across, no bones were broken, but the foot had to be reset.
SH: That sounds like an unusual injury?
JH: Not as unusual as you would think. Itís very common amongst line backers in American football. It can be career threatening in some cases. Indeed I was told that there was an element of risk by my surgeon.
SH: What kept you going, after all you were out for a very long time?
JH: It wasnít as hard as you would think. Rugby is my dream job. It would have been harder to give it all up and walk away.
SH: How did you occupy yourself (education? learning new skills?)?
JH: I did a bit of everything. I spent the first three months in plaster, did a computing course, some coaching and a variety of odd jobs. Iíve been training full time since February. With the exercises and dietary regime Quins put me on Iíve increased my weight by one and a half stones.
SH: So now youíre playing, whatís it like being a forward in a squad that has three international captains (Woody, Vos and Jase) and players of the stature of Dippy amongst the forwards?
JH: Woody was a big pull for me when I signed. Heís a special guy, always encouraging and telling me things. Jase is special too, you canít help to learn when youíre around him. Heís a great communicator. They are both fantastic. I donít know Andre so well yet, but he has great presence as a leader.
SH: Youíre 24 now, what are you personal rugby goals say, for the next three or four years?
JH: I donít set goals any more. I probably did before the injury. But the injury changed a lot, things arenít set in stone anymore. Every time Iím on the pitch I try my hardest to do my best. I want to play first team rugby and my contract's up at the end of the year! I want to be able to say whatever happens I gave it my best shot. I know I have to be patient.
SH: In traditional terms, youíre tall for a hooker at over 6 foot 2. Is the modern game changing for the good? Very mobile packs, the gameís very physical, lots of injuries, multi-skilling amongst forwards and backs and so on.
JH: This all follows on from professionalism. This was bound to happen, players are fitter and faster. We will possibly get to the position where more guys are the same size and shape, just that eight might be a little bigger and seven a little faster. But hooking is still a specialist position. One of the few left. Occasionally hookers can play elsewhere, such as Ace. But its very rare to find someone who moves in the other direction.
SH: If you couldnít be a hooker Ö.. what other position would you like to play, and why?
JH: Thatís easy. Fly half and kicker. You get to run the game then!
SH: When youíre away from rugby how do you relax?
(He paused and sat back and for the first time he hesitated before answering.)
JH: Youíre going to think this sounds a bit sad Ö..
(I thought as long as itís not paint balling Ö.)
JH: Cinema!
SH: Oh thatís not so bad! What type of film?
JH: Iím a big Bond fan, Iím looking forward to the latest film coming out. Iíve never been a big drinker and I donít like golf!
SH: How do you intend to use the couple of days you get as a summer break?
JH: Well itíll probably be three weeks this year. Itíll depend on where I am. But Iíll probably go away for a couple of weeks with the girl friend, then Iíll start training on my own. I can never go too long without doing some training!
(I gather Paul and Sean must read these player interviews then!)
SH: So on holidays are you a ďbeach bumĒ or a ďget-up-and-doerĒ?
JH: Well I can survive about four hours on the beach before I have to get up and do something. Iíve never had too many summer holidays as Iíve always been touring or injured.
SH: How important is the crowd and their vocal support? Do you think it makes a difference?
JH: Massively. It makes a huge difference. The players feel it as well. Such as games like the cup win against Leicester (the first one, although it would apply to the second one as well!) and Leeds last year. Occasions like that are worth a couple of scores.
SH: What are you nicknames and why?
JH: So do I have to answer that?
SH: Go on, I shouldnít think anybody will get this far down the article!
JH: Toby Maguire (of Spiderman fame)!
SH: Do you have any musical talents (playing or singing)?
JH: Absolutely none. Tone deaf and Iíve two left feet as well.
SH: How easy is it to communicate with Laurent Gomez?
JH: His English has come on fine. So has Pablo Cardinaliís. They understand most things most of the time.
SH: Would you ever model Sloggis?
JH: As in the menís underwear?
SH: Yes (giggling somewhat)
JH: Yes, but I canít believe that they would want me!
SH: Be honest now, do you read any of the rugby web sites? (if so which ones)
JH: Yes. I read Quins official one and the supporters site. Also the one Zinny writes for Ö whatís that called?
SH: Er Ö..
JH: I think itís Rugby World.
SH: Have you ever appeared in a police surveillance video?
JH: NO!
(A very definite clear and precise answer!)
SH: (Now came the token daft question!) If you could change one incident in your life what would it be and why?
JH: Oh thatís easy. The ball I went up for with Dippy!
SH: The squad have two wingers as social organisers this year. Whatís that like how does it work?
JH: Well itís worked well. Many of the players live miles away, weíre very spread out so these get togethers are very important. Both for the fun of it and for team building. Matt and Rob and Powelly Ö..
(Some sniggering started at this point)
SH: Powelly likes to have his fun!?
JH: They do a very good job!
So the interview ended and we wandered back to the East Stand bar. After thirty minutes I knew a lot about James. Heís a focussed lad with a bright future. Heís also from a new generation of rugby players that never experienced rugby in the old amateur days.
I was also very impressed with Quins. They had taken it very seriously, showing that communication with the fans is a high priority and the CAW web site is a vital cog in this. I had been greeted by Nick Melton, the PR and Marketing guru and Scotty had helped set things up. So I thank all of them for their time and effort.