Quins Legends: Ronnie Poulton Palmer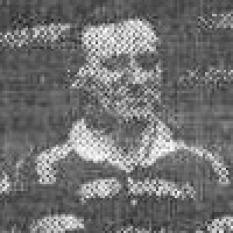 By Kevin Lyle
September 6 2004
It is of course difficult to compare players from different eras, but in any definitive "all time greatest" list it would be hard not to include the peerless R.W. Poulton, who played for Harlequins and England between 1908 and 1914.
When he was in his seventies, the outstanding Royal Navy fly half W.J.A. Davies (one of the few to have played for internationals both before and after the First World War and captain of England in the early 1920s) was asked in an interview to nominate the greatest player he'd ever played with. Without hesitation he identified Poulton as not just the greatest he'd ever played with, but the greatest he'd ever seen, the greatest captain he'd ever played under, and indeed "the finest man I ever met".
Adrian Stoop is rightly credited with revolutionizing rugby back play with his Harlequins team in the first decade of the Twentieth Century, but it took a player of unique genius like Poulton to help his ideas achieve acceptability and capture the public imagination.
Forget Jonny Wilkinson, Ronnie really did have it all. The son of an Oxford professor, blond, good-looking, modest yet incredibly charismatic, he was already being talked of as a future England international when he arrived at Balliol College, Oxford with an exhibition and a reputation as the finest athlete Rugby School had produced in fifty years (Stoop had already invited him to play for Harlequins at 17 but the school had deemed him too young). It seems extraordinary now, but though he was one of the stars of the 1908/09 season with his elusive but unorthodox running, he was dropped from the Oxford team just before the Varsity Match when the captain, conscious he already had a complete threequarter line of international Blues in residence and that none of them had any idea what he was going to do, decided not to take the risk.
Nevertheless, on Stoop's recommendation, England did. A month later Poulton made his international debut (against France in January 1909) and from that moment he became the most-talked about player of his generation in the colours of Oxford, Harlequins and England, for whom he won 17 caps at wing or centre, becoming captain in the Grand Slam season of 1913/14 in which - in the last international before the First World War – he scored four tries against France in Paris.
Although a great strike runner in his own right – he scored five tries on the left wing for Oxford in the 1909 Varsity Match and contemporary match reports are littered with examples of his brilliance – Poulton was also an outstanding team player and leader of men who epitomized the ideal of Corinthian good sportsmanship to the extent that he was universally popular with all who met him or saw him play – he was instant "box office" at the turnstiles.
Sadly, with the dearth of surviving newsreel footage and action photographs from the Edwardian era, it is almost impossible to for modern fans to imagine what Poulton was like as a player. We are left with snippets such as this match report from The Times after the epic 10-9 victory over Wales at Twickenham in 1914: "In the circumstances of this game England's victory was alone made possible by the soundness and resource of the greatest threequarter back that this country has had for a quarter of a century … did ever man do so much for his side as Poulton? When over and over again England looked to be 'in extremis' it was some wonderful kick by Poulton, some electrifying cut through, some steadying influence amongst the backs that kept the fifteen together … Wales, the better team of the day, retired beaten by fate and Poulton." Rugby author and journalist H.B.T. Wakeham, who played with Poulton, wrote many years later of how " … I have only to shut my eyes to see him again, with his head flung back, his fair hair waving, threading his way through the opposing defence as if they were mere stationary obstacles in a gymkhana, and though I, being rather of the humbler fry, cannot claim ever to have had a close personal relationship with him, I knew him well enough to realize that his skill at football and most other games was only a small part in the make up of a wonderful personality."
Although Ronnie came from a privileged background (he inherited a fortune in 1913 from his uncle G.W. Palmer of the Huntley & Palmer biscuit-making business, hence his name change) he spent much of his spare time doing social work in working men's and boys' clubs and was undoubtedly destined for great things once his playing career was over. Sadly, however, the First World War intervened. After seven month's training, he arrived in Belgium as a Lieutenant in the Royal Berkshires and just after midnight on 5th May 1915, five weeks after arriving at The Front, he was shot dead by a sniper. He was just 25 years old.
Links - Google
More Harlequins headlines
Harlequins Poll