Stuart Abbott Joins Harlequins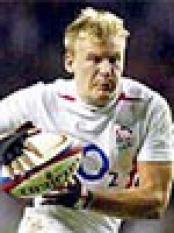 By Prof
March 28 2006
There have been a fair few worried faces around the Stoop ever since Will Greenwood announced that he is going to retire at the end of the season but today's announcement of the signing of Stuart Abbott MBE for the next 3 years from 'local' rivals London Wasps will alleviate a lot of those fears.
Name:
Stuart Abbott
Nickname:
Silent Assassin, Sonic
Date of birth:
3rd June 1978
Place of birth:
Cape Town, South Africa
Nationality:
English
Height:
6' (1.83m)
Weight:
14st 2lbs (90Kg)
Position:
Centre
International Honours:
England, England A, South Africa U23
International Caps:
8
International Debut:
August 2003 (v Wales)
Latest Test:
23rd March 2006 (v Ireland)
International Record:
2003: W, F (3), RWC Sam, U, W(R); 2004: NZ (1 (R), 2); 2006: I
Test Points:
10 (2t)
Previous Clubs:
Northern Free State Griffons, Western Province, Stormers, Villagers, Leicester Tigers, London Wasps
Education:
Western Province Prep School, Diocesan College, Stellenbosch University
Hero:
Michael Johnson
Hobbies:
Surfing, wakeboarding, waterskiing
Contract:
3 Years (2006/7, 2007/8, 2008/9)
Abbott was born in Cape Town, South Africa and went to the same prep-school as his former Wasps centre partner Fraser Waters. After University he played for the Griffons in the Curry Cup where he was noticed by the Western Province selectors.
During the 1999 Rugby World Cup he was signed by Dean Richards for the first time - Leicester Tigers were suffering from a lot of international call ups Joey Stransky suggested that Abbott might be the answer to their problems, they signed him on a two month contract and he played two games for them.
In 2001 he was back in South Africa playing for the Stormers before he joined London Wasps in the November of that year and less than two years later he became the eighth South African born player to win a full cap for England when he played against Wales, much to the annoyance of South African coach Rudi Straeuli who had tried to coax him back to play for the nation of his birth. He was then selected for the victorious 2003 RCW squad where he played in three tests against Samoa, Uruguay and Wales. Stuart Abbott qualifies for England because his mother is from Manchester.
Like many of the World Cup winners he hasn't had much luck since, he had to come back from the 2004 summer tour to New Zealand with a shoulder problem and soon after returning he broke his leg in a Heiniken Cup match against Biarritz when he was tripped by Serge Betsen.
He recovered fully for the 2005/6 season and his performances for London Wasps earnt him a well deserved return to the England set up although Andy Robinson continued to select Tindall and Noon until the last game of the 2006 Six Nations when he showed good skills to set up a try for his centre partner Noon.
He is certainly a fine signing and all credit to Dean Richards and his management team for landing him. Back in October at the Quinssa Meet The Management Evening Deano said that he wanted to not only get Quins back into the Premership at the first asking but also to survive and to be pressing for Heiniken Cup qualification as soon as possible. The signing of this three time Premiership and one time Heineken Cup winner is certainly a step towards that goal and even the purported £550,000 he'll be receiving for his three year contract he'll be well worth it.
While Quins are very happy at the announcement Wasps are less than happy: Nolan Miller, the Wasps team manager, said. "It'll be sad to see him go." Wasps coach Shaun Edwards told the Daily Mirror: "It's very disappointing news and I'm surprised by it. I'm surprised anyone would want to leave Wasps. He's been a big part of our squad." He added: "Watching him train is like seeing poetry in motion.
Speaking to the Wasps web site about his departure, Abbott said, "I've been made a once in a lifetime offer by Harlequins to go and play there next season. It was obviously a difficult decision to make, after having enjoyed so much success with Wasps since I joined. I have had some of the best moments anyone could ask for in a rugby career during my time with Wasps, and I would like to thank all the coaches, supporters and admin staff for their help and support over the last 5 years."
Director of Rugby Ian McGeechan said "Stuart has been a valuable part of the squad this season. There is no denying his quality as a player and we are disappointed to be losing him in the summer. However, we are lucky enough to have good strength in depth in the centres, and there are some hungry young players keen to inherit the Wasps No12 shirt. We wish Stuart all the best at his new club when he departs at the end of the season."
If he really thought he was so talented one has to wonder why he didn't select him more often and when he did why he often substituted him.
He is well respected by his colleagues and opponents alike with All Black Tana Umaga counting him as a particularly tough opponent for his "great all round game, strong in defence and attack."
Retiring Harlequin, England and Lions centre Will Greenwood said in the Times "I had no idea that he was coming to Quins, but Stuart Abbott as a player is fantastic. I've always felt he's as close to an out-and-out inside centre that we've had for a while, in terms of England. He's relaxed to the point of being laid-back, which will be a tremendous culture shock when he meets Dean (Richards, the Harlequins director of rugby), although he was at Leicester with Dean and me, so he's not completely alien to the ways. He'll say himself he hasn't got the greatest kicking game, but Quins would be signing an organiser and a great attacking threat. He's an incisive runner, he's not a crash-bang tackler, he adapts well to whichever system he's playing, whether he's blitzing or coming up aggressively. Conversely, when he's asked to come into an England side and use the more conventional slide, he doesn't look out of place"
Dean Richards said "Stuart is arguably the most creative centre in England at present and we are delighted to have secured his services, he has had a big part to play in Wasps dominance of the Premiership in recent years and has developed into a world-class player. He is very strong in defence, has a tremendous amount of pace and a great reading of the game, making him one of the most complete footballers around."
Deano told Quinssa "There are different formulae, you can sit down and guys might say you need six or seven present internationals whether they be Samoan, Tongan, English, Welsh, Irish, Scots, French, or whatever. You might need a certain amount of world class athletes in your squad and by that you mean not only players who are world class in their own abilities but also in their leadership abilities."
With this first signing we've got one extra current international, if the 5-10 further signings due to be announced before the start of the next season are anywhere near the quality of this one then Quins will certainly have a Premiership quality squad for next season.
Here's hoping that Stuart Abbott can not only work alongside Andrew Mehrtens to fire the Quins back line but that he can also use his experience to bring on some of the exciting youngsters in the Harlequins Academy.
I'd like to welcome Stuart Abbott MBE to NEC Harlequins and wish him all the very best in his time at The Twickenham Stoop.