OH CAPTAIN, MY CAPTAIN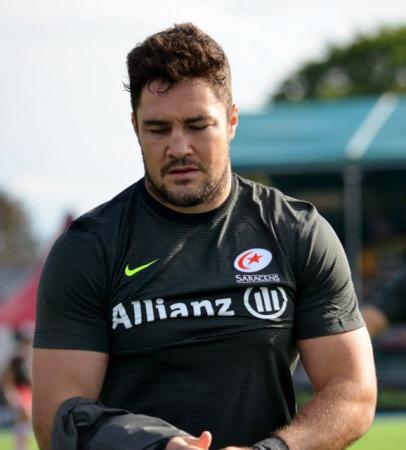 By Darraghgirl
October 11 2020
How do you summarise in a few paragraphs what Bradley Barritt has meant to Saracens, and to all of us who support the club? My prose is sadly not adequate enough but Brad's retirement has to be marked so I'll do my best.
In many sports, the Captain wears an armband but does little else but in cricket and rugby, s/he is so much more. He has to make real time decisions on the field and his judgement changes the course of the game and ultimately the result. In cricket, Australia always used to name their team and pick a captain from among them. In England it was different because of how highly the art of captaincy was valued. Talking of the "Art of Captaincy", Mike Brearley, its author and probably England cricket's finest captain, was the first to admit he wasn't worth his a place as a batsman and yet his was the first name on the team sheet because of his value as a Captain. Of course Brad is worth his place in any team but his value as a Captain is beyond question. He would have been there on the Titanic going down with his ship, he would have been in the cockpit with Captain McCormick piloting his stricken plane to a safe landing on the Hudson, he would have been Horatius holding the bridge against the Etruscans then despite injury making it safely back home.
It's hard to believe that that scarred face, that dodgy nose, that granite chin won't be there leading out the team any more. The sight of Brad on the pitch was hugely reassuring. You felt that his very presence brought a solidity to the team. The defence was stronger, the team were bonded together, none shall pass.
Who would have thought when Brad joined the club in 2008, he would become such a special guy. The epitome of everything it means to be a Saracen. Interestingly he could have signed for Bath after a trial in the England Academy (how different it all might have been). Born in South Africa, Eddie Jones persuaded him to come to England after a final, successful, Currie Cup-winning season with The Sharks. Saracens website said at the time: "The 21 year old can play fly half or centre….his leadership skills haven't gone unnoticed as he was recently made vice-captain of the Sharks side". He made his debut against Gloucester in place of Andy Farrell. Brad said "There had been some really talented players who had come and gone, but I don't think there was an overwhelming sense of pride in what it meant to wear the Saracens jersey." Then along came Brendan Venter. Brad survived Brendan Venter's night of the long knives and scored a try in Sarries historic victory over South Africa in 2009. This was the beginning of a new era at Saracens. Gone were the journeymen, the superstars there to earn their pension and not much else. "Brendan and then Mark McCall instilled a culture in which every person feels valued," Barritt says. "They recruit players who fit the mould. Regardless of guys going over to international recognition, or a Lions tour, or whatever it may be, the moment they step back into a Saracens frame of mind, it's only about Saracens and it's not about the individual."
He was there when Ernst Joubert captained Sarries to that heart-breaking defeat in the 2010 Premiership final, the first of 10 successive seasons when Saracens made the play-offs. He was there, playing his heroic part in that stonewall defence, in 2011 when Sarries finally turned the tables and won the trophy for the first time. Already his body was taking a bashing with a dislocated finger and the first of many injuries to that famous nose.
The next 2 seasons saw the building of a team which would change the face of English rugby. Saracens were also becoming a force in Europe moving from quarter finalists to semi-finalists to finalists in 2014. They topped the premiership in 2013 and 2014. Brad was there at Twickenham when Sarries demolished Clermont in one of the finest performances the club ever put together and he was there again for that agonising defeat by Northampton Saints in the premiership final. All the time Brad was learning his leadership stuff from Steve Borthwick.
But the following season, with the retirement of Borthwick, it was Alistair Hargreaves who took over the Captain's armband. Brad was there, bloodied as I recall, when Sarries defeated Bath for their 2nd Premiership title in 2015.
On the International scene, Saracens supporters at least felt he was never truly appreciated. Having qualified to represent England because of English grandparents, he played for his adopted country 26 times. In many of these he was out of position (what is it about England managers which makes them do this?) – the best inside centre in England frequently took the field in the 13 shirt! He scored 2 International tries – a memorable one against New Zealand in 2012 and a second against South Africa in 2014. He was one of those who carried the can for England's failure to get out of the group in the 2015 World Cup. Stuart Lancaster forced him into a "dance of death" with Sam Burgess which helped neither of them. Ironically the eventual winner was Owen Farrell who claimed the 12 shirt even though back at Saracens we knew he was nowhere near the inside centre that Brad was.
2016 was truly historic for the club with Sarries becoming both Premiership and European Champions. And of course Brad was there. By now he had taken over the armband from Hargreaves who was forced to retire from rugby following multiple concussions and it was Brad who lifted the trophy on that fantastic night in Lyon when Sarries defeated Racing to become Champions of Europe. He lifted a second trophy just a couple of weeks later when Sarries defeated Exeter to retain their Premiership crown and complete the double. It was no surprise when the following season he was formally named as Captain. Mark McCall stated "Brad is someone who leads through example - through his actions, attitude and application. He is one of the most competitive players I have ever come across." In 2017, not only did Brad lead Sarries to a fabulous victory over Munster at Lansdowne Road but he was there in Edinburgh as Sarries retained their title over Clermont although injury prevented him completing the 80 minutes. His absence in the Premiership semi-final against Exeter which followed was one of the biggest reasons for the defeat. Injuries were something that started to be-dog our Captain Fantastic, not least to his face.
In 2018 he fractured a cheekbone in Sarries game with Quins. Typical of Brad he didn't realise the bone was broken until he blew his nose after the game and his face inflated like a balloon! A little thing like a fractured cheekbone wasn't getting in the way though and he underwent heroic surgery to insert a titanium plate under local anaesthetic in order to be fit to face Leinster in the European Quarter finals. Following this Sean Maitland referred to his captain as "The Terminator".
The following season tested even Brad's super-human powers when it came to injuries. Brad's face continued to take a battering. Even he lost count of the number of times he broke his nose. He needed a repair to his eye socket in 2019 after catching a knee to his face against Bath. Then many of us will remember that cry of agony which led to him being stretchered off in Sarries' quarter final victory over Glasgow in the 2019 Champions Cup. We thought that was that for our captain but no, 3 weeks later he was there leading the team out against Munster at the Ricoh. He lasted until half time but his very presence made all the difference. With just 3 weeks before the Final in Newcastle against Leinster it was always going to be a race against time but Brad was always winning that race and of course he led the team to that heroic win over Leinster. As Innings put it in his match report "We all knew that Captain Brad would start, even if he had to play on one leg and hop around for 80 minutes."It shouldn't have surprised any of us that he was Man of the Match, leading from the front to drag his team back into the game and retain the trophy. Brad became only the 2nd Captain (following Leo Cullen) to lift the trophy 3 times. Mark McCall, his long-time partner in crime said "He is a magnificent captain for our club. In games like these games, he's as tough as they come, and the way he defended, the way he set targets was inspirational."
But that effort took its toll. He was clearly not fit for the Premiership semi-final against Gloucester and disappeared quite early on but his presence was enough. As with Newcastle, wild horses weren't keeping him off the Twickenham turf for another shot at the double. He wasn't fit against Exeter but he played the first half of the game and although he wasn't on the pitch for Sarries' incredible last 10 minute revival, his spirit, as they say, was with them. The boys wanted Brad to lift that trophy once more and they did it for him.
In many ways this season has been the most challenging for Brad. Before it even kicked off there were rumours it would be his last and with the ramifications of the salary cap and inevitable relegation, he decided to call it a day at the end of the season. Sarries tried so hard to give him one last trophy but it was not to be. Brad's premature departure was probably crucial and coupled with a minute of magic from Vakatawa, Racing snatched that opportunity away. It was his 262nd and final appearance for Saracens. Brad has said he won't play for another English team but his native South Africa may tempt him for one last hurrah – although his body may have another opinion. He has his successful Tiki Tonga coffee business to fall back on in retirement. Oh yes, Saracens have been criticised mercilessly but the club has always looked after its players and supported them to develop new ventures so they have a life after rugby. Tiki Tonga is a shining example.
Brad has always been respected by opponents and officials alike. He learnt the art of captaincy. He learnt how to have a quiet, polite word with a referee at the right time, not shouting in his ear every minute, not harassing him but knowing when to say something and more importantly what to say. Nigel Owens described him as "A credit to the game of rugby on and off the field."
During all the approbation and insults the players have had to put up with this season, Brad has remained the perfect captain, polite, loyal, the ultimate ambassador. He didn't feel that the efforts of himself or his team were tarnished by the Salary Cap business. "Anyone who has been a part of those teams know what sacrifice, what hard work went into achieving anything, especially (given) where Saracens was in 2008. For me, I'll always hold those special, special memories very close to myself. You can't stop what people think, you can only look back and look yourself in the mirror and I know what I personally put into a journey and what I felt at the time and how it made me feel. At no point did I ever feel that those memories are tarnished."
When the story first broke last November Brad said "The relationship between players and staff is going to be tested like no other year. But it is going to be the true sign of our culture and the resilience of this group. We have invested a huge amount of pride into those relationships and they are going to stand the test of time. We are a hugely resilient bunch and a team that's going to fight to the end." He wasn't wrong and stand behind him they did. Against all the odds they made us proud of them this season and they did it for Brad, for their Captain Fantastic.
So I'll leave the final word to those who know him best, his friends and colleagues and to Brad himself.
"You are one of the toughest competitors I have the pleasure to play with" Marcelo Bosch
"It's been a privilege to take the field next to you and follow you out of the tunnel. It's been an honour really". Billy Vunipola
"You will rate up there, Brad, as one of the best, one of the people that really lived the dream that we've got" Brendan Venter
"I regard myself incredibly fortunate to have happened upon a leader like yourself, somebody who had all the great qualities of the great captains. I truly believe we wouldn't have achieved everything we have achieved over the past 5 years if we didn't have you" Mark McCall
"When people reminisce about the greatest leaders, the most influential players, not just of past seasons, but past generations, you'll be on that list mate" Alex Sanderson
"The example that you set…both on and off the field…is an example that has been set….look no further than yourself." Neil de Kock
"You're probably the toughest player I've ever played with" Jamie George
"As a friend, as a captain, as a person, you've had an incredible impact on all of our lives" Schalk Brits
"You will go down as one of the greatest captains…that the world's ever seen" Alastair Hargreaves
"I don't know if you'll find a more heroic captain, leader and figure in the European game." Brian O'Driscoll
And finally from the man himself: "What's most important is that if you want to call one of these guys up in 20 years you've got some friends for life. That's what you take from Saracens: incredible memories and friends that will be close to you for ever".
From all of us at Saracens, thanks for the memories Captain Brad. Enjoy every moment of what is to come, you deserve it.
View a Printer Friendly version of this Story.
OH CAPTAIN, MY CAPTAIN
Discussion started by TheSaracens.com , 11/10/2020 20:27
TheSaracens.com
11/10/2020 20:27
What do you think? You can have your say by posting below.
If you do not already have an account
Click here to Register
.
jonnybrowne
12/10/2020 06:50
Wonderful piece of writing and a very fitting tribute to a great leader and a great man, DG - thank you.

I've got something in my eye now...
You capture the man very well. No doubt about his being one of the most influential people who was ever at Sarries. No sportsperson is ever greater than their club, but some define their club's greatness.

I enjoyed the slight dig at the England set-up, and the nonsense about Sam Burgess and Brad. If things had been better handled, England would have not been the first home side ever to be KO'd in the pool stages of the RWC.

We are fortunate to have followed the journey.

Innings

Points win matches: tries win hearts and minds.
Eloquent as ever DG; wonderful piece about an awesome bloke.
OldMarovian
12/10/2020 15:44
Lovely piece of writing and whilst I don't expect we'll see his like again at Saracens, others will take up the mantle and leave their own mark. Legend of a player and man.
The Bard
19/10/2020 20:12
Superb resume of a stellar career. Fitting that him and Robshaw going at the same time, two incredible servants for their clubs who unfairly took the brunt of the RWC 2015 fiasco.
Sorry, only registered users may post in this forum.