Sam Underhill on hopes for RWC 2019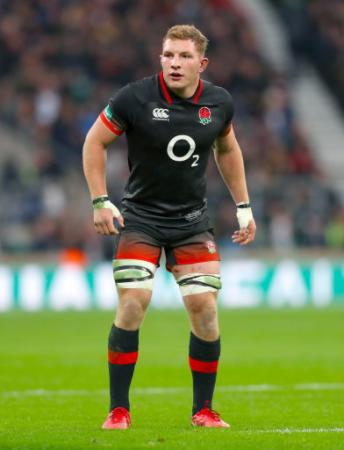 By Sportsbeat
May 8 2019
THOUGHTS of representing England in his first Rugby World Cup could not be further from Sam Underhill's mind as he focuses on finishing the season with a bang for Bath Rugby. The 22-year-old flanker has been out of action for club and country since undergoing surgery after damaging his ankle ligaments during Bath's victory over Leicester in December last year. Underhill's injury resulted in him being side-lined for the entirety of the Six Nations as Tom Curry and Mark Wilson appeared to cement their place on the plane to Japan in his absence. But despite the openside flanker returning just in time to stake a claim for his inclusion in Eddie Jones' World Cup squad, Underhill's response to the England question is emphatic.
"There's no thoughts about England beyond the end of this season," he said. "It's kind of in the back of my mind, obviously I want to get to a World Cup, but now I can't think about it. "Anything you want to get to you can't get too distracted from the here and now because ultimately the here and now is what is going to affect whether you get there.
"If I'm going to get to a World Cup it's because I've played well for Bath and then I get picked for England and then I'll try and play well from there. "For me that's how I think about it as you can't get too caught up in thinking too far ahead in anything you do as plans tend not to go by the book."
Underhill is three games into his comeback for Bath after a three-month lay-off having made his return to action as a replacement in the West Country side's defeat to Exeter Chiefs. And after spending so long on the sidelines going through a gruelling rehabilitation process to get back to full fitness, the Red Rose star admits it feels good to be back out on the pitch.
"It's brilliant being back out there playing as it is frustrating being out injured but it's part of the game," he said. "It feels good to be back and you definitely get a rekindled enthusiasm. "Every now and then you play for a long period of time and you think, 'This is pretty tough', but then you get injured and you can't wait to play again. It's nice to be back."
"For us as a group it's about delivering the performance we want and getting the last few wins, and winning convincingly, and if results go our way and we finish to four then brilliant," he said.
"If the results don't go our way but we put ourselves in a position where it could have done then I think we'll be happy with that. I think everyone is trying to find that consistency.
"When you get that consistency that's when you become a Premiership-winning club, or when you're a regular finalist, and consistency sounds like the easiest thing to get. "It's probably the most difficult to get in sport, but I think we've improved compared to where we were earlier in the season and we've improved in our consistency in performance."
Underhill was speaking at a Gallagher 'Train with your Heroes' session with Melksham RFC after their U11s side won a nationwide competition launched by Gallagher, a passionate community insurance broker and proud title partner of Premiership Rugby.