Twickenham Tales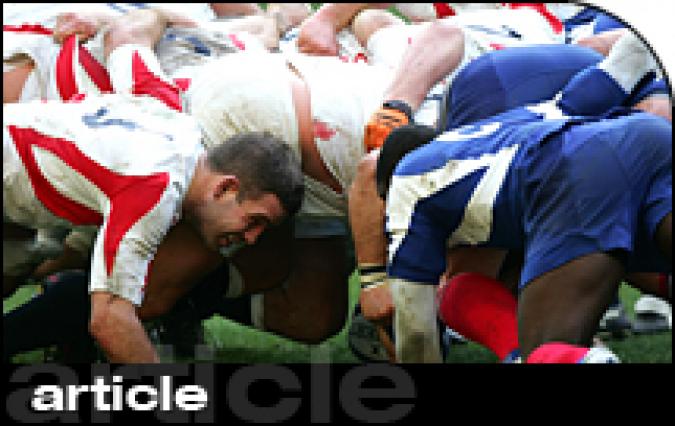 By Kath 5/3/05
March 6 2005
Many lucky fans go to Twickenham (The Home of Rugby) for the Six Nations Home International Championship and also the Autumn International matches every year. Some fans as I say go regularly others it can be their first experience and a fantastic experience at that!
Twickenham Tales
Twickenham Tales of The Unexpected Kind
England v France 13th February, 2005:
Well there we were Hubby and I once again up at the crack of dawn 0530 and setting off at 0635 from Newcastle bound for Twickenham. Hurtling down the A1 and then the M1 - I was on first drive duty. It was a cold sunny day our sarnies prepared the night before, soup and hot water flasks at the ready and comfort stops all planned out.
First stop Tipshelf at 0855 having driven 156 miles, we were ready for the comfort stop and something to eat. Not long though, off again at 0917 this time Hubby on drive duty. Making excellent headway no traffic problems thank goodness. Next comfort stop Watford Gap 1030ish - and so we parked up as you do!

Hubby desperate for the loo, decides he would go first. At this point we both noticed a car coming into the car park area the wrong way - both of us said to each other as we watched - what a pillick! Anyway, out dashes Hubby on an important mission - passing the guy that got out of that came in the wrong way, hubby totally oblivious. Now as I watched all this I though, hang on a minute I know that person driving that car!
Dorian West
I looked again at the guy who had got out of the car passing my Hubby to put something into the bin and then realisation dawned on my - Oh my good lord I screamed to myself in our car, it is was Dorian West and the driver of the car who was non other than Austin Healey. They parked alongside another car directly in front of us.. Well at this point I started jumping up and down like someone not right in our car looking for a pen and something I could get them to sign their autographs on.
And then.......from the car they parked next to, out stepped none other than my hero..... Martin Johnson, at this point I had lost it, I came over all unnecessary and was like a woman possessed. Could I find anything to write on NO! Realising they were transferring stuff from one boot to another I knew I did not have much time.
So armed with a pencil and the only thing in my Barbour pocket that you could sign a name on and dashing over to them. I said, guys, guys I just have to have your autographs please. I said I cannot believe I am seeing you all and I only have a pencil and my Falcons Season ticket!!!! Please will you sign it for me but being bossy as I can be - said quickly mind don't go signing on a ticket I have to hand in for the next match.
Austin was really nice and laughed as I handed him the pencil. I then said - Do you know you are my Hero! - Austin said 'who me', to which I replied - Nah! not you Martin! Well as you would appreciate Dorian and Austin laughed - Jonno true to form straight face nothing! He did say where are you from when he was signing the Falcons Season ticket for me ( you would think that would have given him a clue???) - I told him Newcastle and he grimaced and said that is a long way - and in a matter of factly type voice I said - oh we do it every match!
By then they were ready to leave, I waved them goodbye and my hubby came back just a few seconds later. I told him about the whole adventure and he just laughed because he had not recognised Dorian West as he passed him and in actual fact, had given him a dagger like look for coming in the car park the wrong way.
As England got beat by France that day, after throwing the match away, my highlight of that day was meeting some wonderful Tigers at Watford Gap and my Hero Martin Johnson.
Kath :)