A Look Back to 1967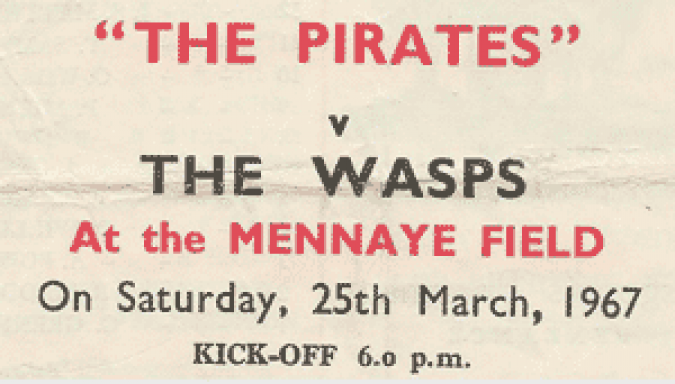 By Phil Westren
May 17 2017
You know you're getting older when you see an old news clip in a paper or on the television, or hear something memorable on the radio.
For many of us, such has been experienced recently - can it really be 50 years this past March that the tanker 'Torrey Canyon' struck Pollard's Rock in the Seven Stones reef between the Isles of Scilly and Land's End? Yes, old chap, it is.
On the music front in 1967, Procul Harum's 'Whiter Shade of Pale' was a number 1 chart hit. However, on our shoreline the colour had a much darker tint - of brown sludge, remembering the doomed vessel leaked much of her cargo of oil along the sea between Britain and France, killing much of the marine life it touched along the whole of the south coast of Britain and the shores of Normandy, and blighting the region for many years after.
Easter was early in that year, with the Pirates playing Wasps at the Mennaye Field on the 25th March – just a week after the disaster.
Back in those days, from 1955 to 1976 we played Wasps and Saracens alternately on Easter Saturday, and enjoyed occasional success, but not in 1967. We lost that match by 9 points to nil, the points for the visitors kicked by their skipper David Rosser who was one of five internationals in their side.
Games followed on Easter Monday and Tuesday against St. Thomas' Hospital and St. Mary's Hospital, again traditional fixtures, the Pirates winning 8-3 and 12-6.
The weather against Wasps had been poor, especially in the second half, but our captain and fly-half, the diminutive Roger 'Paco' Pascoe, still had an excellent game.
As for the 'Tommy's' match, there had been a hailstorm, but it was our first win against them since 1964, and deservedly so.
The inclusion of a young Richard Evans, yes 'Dicky', had given greater penetration to the three-quarter line, and Robin Harvey, as ever, had a useful game at full-back.
In the forwards John White, always prominent, scored a try, and Alvin Williams (pic below) was his usual influential self.
Indeed, he kicked a conversion to celebrate his 600th game as a Pirate – a tremendous achievement when considering numerous other games he had played when at St. Luke's College and for Cornwall.
About the Duchy, 1967 was one of those years which really did provide quite considerable interest to look back upon. The year opened with a big game played at the Recreation Ground, Camborne, when on Tuesday 3rd January a combined Cornwall & Devon team, captained by Ron Glazsher, faced the touring 'Wallabies'.
Skippered by John Thornett, the Australians stayed three nights at the Queen's Hotel, Penzance, and also took the opportunity to visit Land's End, Trengwainton and St. Ives. And the result? The Aussies won 11-6, the combined team's points made up of a try (then worth 3 points) scored by prop D.J. "Bill" Carling (Wadebridge Camels & Cardiff – and father to Will), and a drop goal slotted by fly-half Tommy Palmer (Truro).
As for Cornwall, we highlighted recently that the first Saturday in March was one of ultimate disappointment. Playing in the County Championship the campaign had been memorable and exciting, but it came to a sad end when losing 14-3 against Surrey in the semi-final second replay played at Redruth.
In April, a good England side was also left frustrated. Heading for the Triple Crown against Wales, their hopes were dashed at Cardiff Arms Park by 18-year-old Keith Jarrett, who on his debut scored 19 points in a 34-21 Welsh victory.
Up until 1967 little rugby was ever witnessed west of Penzance. The former Newlyn club had played its last game back in 1939, whilst the Cable & Wireless Station at Porthcurno played just the occasional rugby fixture.
Out at Pendeen and St. Just, however, both football strongholds but an area that also produced one or two fine rugby players, a little extra interest was rekindled in the game. For the first time in 40 years rugby was played at Pendeen, when a Pirates XV took on a County Representative side in aid of Cancer Research. Pendeen Silver Band entertained, and the County side was led by 'Barbarian' Harold Stevens.
The match at Pendeen was a one off occasion, but in September the Pirates were again involved when the St. Just club officially played its first game. I remember it well, being in the Pirates team that formed the opposition, for an occasion to be elaborated upon - on another day!
View a Printer Friendly version of this Story.
A Look Back to 1967
Discussion started by Unofficial Pirates , 17/05/2017 11:01
Unofficial Pirates
17/05/2017 11:01
What do you think? You can have your say by posting below.
If you do not already have an account
Click here to Register
.
cornishbob
17/05/2017 12:02
Great memories for you Phil and many more. I remember the year well!!Yep you're right, when your memory goes that far back you know you're getting old(er). Great read and thanks for sharing.
Eastanglianpirate
17/05/2017 19:27
Yes, we had a lot of highlights in the fixture list back then with the many touring teams, early season and at Easter usually. I was persuaded by our teacher, Rodda Williams at St Paul's, to get a schoolboy season ticket. Which ,subsidised by mum and dad, I duly did. It cost 2/6d. ( 12.5p for younger readers!). Hell, Phil , if you played against St Just in 1967 , you must only have been 15 or 16. In later years such a callow youth would have been eaten alive over at St Just!
Halcyon days indeed.
*Stalwart
18/05/2017 08:30
Easter was brilliant back in those days. There would often be four games on Ester Saturday - 1st XV, 2nd XV, 3rd XV and Colts. Then another game Easter Monday and yet another on the Tuesday evening.
EAP - I was just 17 at the time and the one Colt representative. Good old 'Jethro', who later played for the Pirates, was in the St. Just team.

Mentioning age, 17 at St. Just was not a problem - I actually played on the wing and seem to remember scoring a try. In my first senior game, however, playing Stithians away, was perhaps just a little more daunting, on that occasion playing at prop!

Stalwart - you are right about the fantastic Easter fixtures. A word also for our terrific volunteer kitchen ladies who fed all the teams. Over the years they provided truly wonderful input - not just cooking and serving the meals but also covering the cost, besides keeping a healthy balance safely in the kitty!

Phil W
Ah, I meant to mention that when I first played against Stithians I was actually just 15.

My good pal Colin Dymond and I played quite a few reserve games when we were in the Colts, as did another friend Dudley Richards who unfortunately broke a collar bone in that Stithians outing.

Phil W
DaveAitch
18/05/2017 19:07
Thanks for posting that. A very interesting article. I wasn't in your neck of the woods in 1967 (and I'm not now), but I did see the Wales-England game. Had the ball bounced the other way, Keith Savage would have taken it and scored rather than Jarrett taking it and scoring for Wales: at least that's how I remember it. Roger Hosen was playing full back for England in that day.
Sorry, only registered users may post in this forum.