Linking For Dummies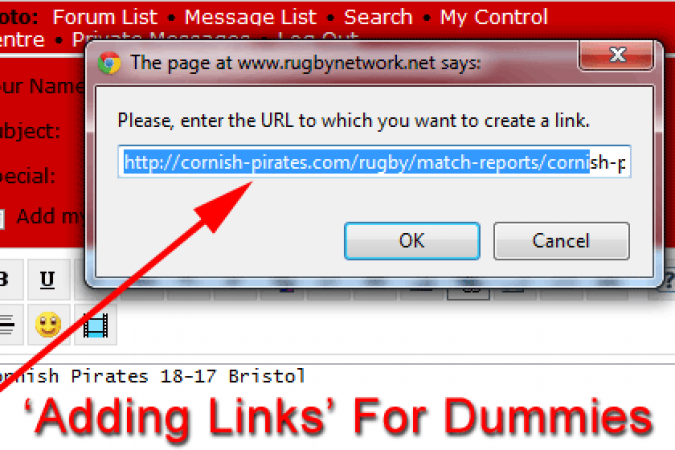 By DC
April 28 2012
As there are still some who find adding links to their postings a mystery, here is a reminder of how to do it. . . . . . .
Just pasting a website address in to a message board posting is not adding a link and can be frustrating to readers who have to copy and paste the address in to a new browser window!!
( A browser is the application you are using to view this page.)
The World Wide Web or Net, is so called because everything is designed to link up and just like the spider, creates a web or a net.
---
You don't need to be an IT expert to communicate via the web.
Adding links is very simple – most message boards and other interactive mediums follow a similar process to Sportnetwork:
HOW To Add Links
1 - Once you are at the forum or board you want to post on
Open the web page you want to link to, then highlight and copy the address
Remember you want people to go to the story of your choice, not make them find it or hit the back button.
An easy way to copy is to press the ctrl key and C key together.
2 Type or paste the words for the link into the new message/reply box
Then Highlight the link words and click the link icon
3 Paste the address you have copied into the text box and click OK
You can press Ctrl + V to paste
4 You can then preview the result before you post
You don't need to understand what's between the [ ] s because its done for you. But if you take the time to read it you can spot any mistakes you may have made
Everything between the [ ] is the hidden code – the text for the link (highlighted in red) is what the viewer will see, as is shown in the preview pane below
5 - If you're happy with your post click the post button, if not you can carry on with your edit and preview as many times as you want until you are happy with your post
Easy Peasy!!
More Cornish Pirates headlines